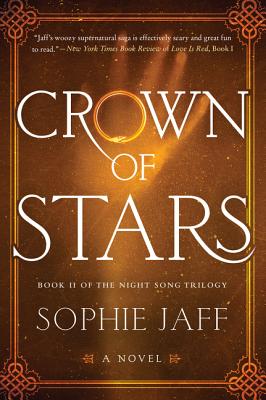 Crown of Stars
Book II of the Night Song Trilogy
Paperback

* Individual store prices may vary.
Other Editions of This Title:
Digital Audiobook (9/4/2017)
Description
"The kick of this ridiculously entertaining book is the haze of delirium it creates in the reader's brain…. Jaff's woozy supernatural saga is effectively scary and great fun to read." — New York Times Book Review
In Sophie Jaff's spellbinding sequel to Love is Red, two women living centuries apart are bound together by an ancient prophecy, which ignites a dark story of obsession, betrayal, and revenge
Rumors of witchcraft have haunted Margaret ever since she was born. A strange child, she was feared and shunned by her medieval English village after her mother's brutal murder. When her father remarries, Margaret—now a young woman—realizes that she must leave the village for good.
Hundreds of years later, as fall comes to Manhattan, Katherine Emerson prays her horrific summer is over. She survived a killer's attack, but her roommate Andrea was not so lucky and now Katherine is raising Andrea's son, Lucas. However, the rest of her world is in ruins: the man she loves has left her and she's pregnant with his child. She accepts she'll be a single mother—until he insists on doing "the right thing", which means taking her and Lucas with him to London for his new job. Katherine hopes that maybe she too can start over.
But starting over doesn't mean that the disturbing and dangerous encounters with strangers will end. As Katherine begins to fall apart, Margaret's fight to survive in a hostile world reveals she has inherited her mother's extraordinary gifts—but will she use them for good or evil? Can Margaret change the destiny of Katherine and her unborn child? And what will happen if she succeeds?
Praise For Crown of Stars: Book II of the Night Song Trilogy…
"One dynamic novel. This thriller is brilliantly well written…. The plot takes readers deeper into a beautifully dark world that is just beginning. I highly recommend this stunning read…. I was hooked instantly." — San Francisco Book Review
"Intelligent, poetic, captivating and chilling…. The mystery at the core of Love is Red is so gripping you will find yourself carrying the book around with you until you're done.… You will want to re-read it as soon as you're finished." — Elizabeth Haynes, New York Times bestselling author of Into The Darkest Corner and Under A Silent Moon
"Hard to put down…. We can look forward to two more of this exciting new work. This is an unusual read by a talented new writer." — BookLoons
"An impressive debut….[Jaff] hooks the reader with her captivating writing style." — Diabolique Magazine
"It's been awhile since a book made me scared, like REALLY scared…. An enthralling and chilling start to a new trilogy which will have readers at the edge of their seat! [A] stellar debut." — Short & Sweet Reviews
"Jaff builds a tale of fear and romance…. Her interplay between the protagonists keeps you guessing…. The narrative of the killer as he chooses his prey and continues until he releases them in death is both sick and dramatic." — BlogCritics.com
"A serial killer is on the loose this summer in New York, and Katherine Emerson doesn't know she was destined to be placed in the killer's path. Emerson is also dating two men…. Talk about complications." — CNN.com, "Best Summer Beach Reads"
"Love is Red is a tornado of a novel. Jaff twists through so many suspenseful places. I couldn't turn the pages fast enough, but I wanted to linger, too. This is seriously scary stuff, offered up in high style and with wild narrative invention." — Laura Kasischke, nationally bestselling author of Mind of Winter and The Raising
"If you would like to try an occult-tinged thriller with a contemporary urban setting, Love Is Red would be the perfect read. This debut novel by Sophie Jaff is a haunting tale of love, revenge, fear and faith seasoned with just a touch of gothic terror." — Night Owl Reviews
"I read it in one sitting. I cannot remember the last time I was so completely enthralled with a book…. It's good. Real good." — Smart Bitches, Trashy Books
"Mesmerizing, magical and wickedly sexy—Love is Red will keep you on the edge of your seat until the very last page." — New York Times and USA Today bestselling author Karina Halle
"This is a very creepy book…[that] makes for a shudder worthy read, with the supernatural aspects only heightening the building sense of dread. Keep an eye on Sophie Jaff, and read this one with the lights on." — MyBookishWays.com
"Unbelievable for a debut novel.… Jaff writes brilliantly, with a touch of dark poetic language that is edgy, raw and compelling. I was caught from the very first." — Book Reader's Heaven
"One of the most unique and amazing books I have ever had the pleasure of reading.… Simultaneously beautiful and terrifying." — Fresh Fiction
"One of the summer's most compelling reads." — DuJour
"The excitement (and there's plenty of it) comes from the serial killer's creepy, second-person accounts of his moves and from watching the cat-and-mouse game with Katherine.… Frightening." — Booklist
"The kick of this ridiculously entertaining book is the haze of delirium it creates in the reader's brain…. Jaff's woozy supernatural saga is effectively scary and great fun to read." — New York Times Book Review
"Set against the backdrop of a New York City on high alert for a serial killer murdering young, single women, Sophie Jaff's gothic romance novel…will have you on the edge of your seat." — PopSugar.com
"Honestly, this is one of my absolute favorite reads of the year…. Of course that means that I'm waiting, along with everyone else who's so far enjoyed the book, with baited breath to see what will happen next." — BookBitch.com
Harper Paperbacks, 9780062346285, 432pp.
Publication Date: June 6, 2017
About the Author
A native of South Africa, Sophie Jaff is an alumna of the Graduate Musical Theatre Writing Program at Tisch School of the Arts, New York University, and a fellow of the Dramatists Guild of America. Her work has been performed at Symphony Space, Lincoln Center, the Duplex, the Gershwin, and Goodspeed Musicals. She lives in New York City.
or
Not Currently Available for Direct Purchase