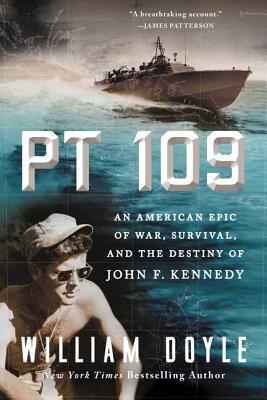 PT 109
An American Epic of War, Survival, and the Destiny of John F. Kennedy
Hardcover

* Individual store prices may vary.
Other Editions of This Title:
Digital Audiobook (10/5/2015)
Paperback (6/7/2016)
Compact Disc (10/6/2015)
Compact Disc (10/6/2015)
Description
The extraordinary World War II story of shipwreck and survival that paved John F. Kennedy's path to power – hailed as a "breathtaking account" by James Patterson, "masterfully written" by historian Douglas Brinkley, and "the finest book" ever written on the subject by Lt. Commander William Liebenow, the man who rescued JFK and the PT 109 crew in August 1943.
In the early morning darkness of August 2, 1943, during a chaotic nighttime skirmish amid the Solomon Islands, the Japanese destroyer Amagiri barreled through thick fog and struck the U.S. Navy's motor torpedo boat PT 109, splitting the craft nearly in half and killing two American sailors instantly. The sea erupted in flames as the 109's skipper, John F. Kennedy, and the ten surviving crewmen under his command desperately clung to the sinking wreckage; 1,200 feet of ink-black, shark-infested water loomed beneath. "All hands lost," came the reports back to the Americans' base: no rescue was coming for the men of PT 109. Their desperate ordeal was just beginning—so too was one of the most remarkable tales of World War II, one whose astonishing afterlife would culminate two decades later in the White House.
Drawing on original interviews with the last living links to the events, previously untapped Japanese wartime archives, and a wealth of archival documents from the Kennedy Library, including a lost first-hand account by JFK himself, bestselling author William Doyle has crafted a thrilling and definitive account of the sinking of PT 109 and its shipwrecked crew's heroics. Equally fascinating is the story's second act, in which Doyle explores in new detail how this extraordinary episode shaped Kennedy's character and fate, proving instrumental to achieving his presidential ambitions: "Without PT 109, there never would have been a President John F. Kennedy," declared JFK aide David Powers.
Featuring castaways on a deserted island, a spy network of Solomon Island natives, an Australian coast watcher hidden on the side of a volcano, an S.O.S. note carved into a coconut, and a daring rescue attempt led by Kennedy's fellow American PT boats, PT 109 is an unforgettable American epic of war and destiny.
Praise For PT 109: An American Epic of War, Survival, and the Destiny of John F. Kennedy…
"Cinematic. ... Doyle expertly... brings this remarkable saga back to life."
— Christian Science Monitor

"A revealing and breathtaking account about what happened to John F. Kennedy's Patrol Torpedo boat 109, and the famous war story's engrossing aftermath."
— James Patterson

"William Doyle's PT 109 is a masterfully written book on John F. Kennedy's World War II service. Every page sparkles with keen insight and fresh research. Highly recommended!"
— Douglas Brinkley, author of Cronkite

"I have to say, William Doyle's PT 109 is the finest book I've ever read on the subject: the best written; the most well-researched and accurate. It covers every aspect and brings many new things to light. Doyle has done a wonderful job."
— William Liebenow, Lt. Commander, USNR (ret.), skipper of PT 157, John F. Kennedy's tentmate, battle colleague and boat commander of the mission that rescued Kennedy behind enemy lines in August 1943

"Impressive. ... [An] engrossing combination of adventure and analysis. ... Doyle's work has all the makings of a definitive account -- the last word on the story. And as such, it's a tale few are likely to forget."
— USA Today

"A cinematic story of survival."
— Boston Globe

"This one is exceptional--an intimate, blow-by-blow account of the saga of PT 109 and its young skipper who was destined to later take the helm of the nation. A fascinating read."
— Dick Couch, author of When Honor Bound and Navy SEALs: Their Untold Story (with William Doyle)

"Fast-paced, gripping, and superbly researched, William Doyle's PT 109 conveys the dramatic story of JFK's wartime service and its surprising aftereffects with a refreshing, brisk authority. Doyle's gift for details and vivid descriptions put the reader squarely in the middle of this epic tale."
— Dan Hampton (USAF, Ret.), New York Times bestselling author of The Hunter Killers

"Compelling. ... Explosive."
— Daily Mail (London)

"A gripping account of John F. Kennedy's monumental test of leadership and survival during World War II, and how his actions set him on the path to political greatness."
— Library Journal

"[A] fast-paced narrative. … Dramatic and revealing."
— Kirkus Reviews

"A terrific history. ... William Doyle's PT 109 infuses an iconic tale with new information and insights, and in the telling deepens our understanding of the young John F. Kennedy's courageous 'origin' story."
— David Rensin, co-author with Louis Zamperini of the New York Times bestsellers Devil at My Heels and Don't Give Up, Don't Give In

"William Doyle's PT 109 not only provides a highly accurate and researched account ... but it also brilliantly charts how those six days of survival, being alone, isolated and at times thought to be abandoned, transformed Kennedy's very fiber--and his destiny."
— Bridgeman Carney, PT boat historian and author of First Up: Chronicles of the PT 157

"A gripping, well-told story of courage in the face of disaster."
— Booklist

"Powerful. ... Today's candidates should read this account to learn from Kennedy's leadership skills."
— American Thinker
William Morrow, 9780062346582, 352pp.
Publication Date: October 6, 2015
About the Author
William Doyle has written or cowritten seven books, including PT 109: An American Epic of War, Survival, and the Destiny of John F. Kennedy and American Gun: A History of the U.S. in Ten Firearms (with "American Sniper" Chris Kyle). He served as director of original programming for HBO and was coproducer of the PBS special Navy SEALs: Their Untold Story. He lives with his family in New York City.
or
Not Currently Available for Direct Purchase