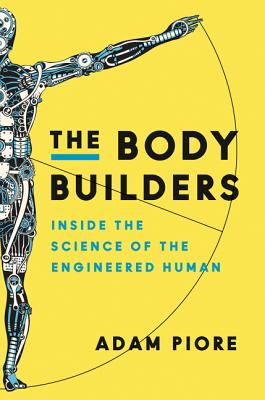 The Body Builders
Inside the Science of the Engineered Human
Hardcover

* Individual store prices may vary.
Other Editions of This Title:
Digital Audiobook (3/13/2017)
Paperback (2/13/2018)
Compact Disc (3/14/2017)
Compact Disc (3/14/2017)
Description
Fareed Zakaria GPS Book of the Week
Weaving together vivid storytelling and groundbreaking science, The Body Builders explores the current revolution in human augmentation, which is helping us to triumph over the limitations and constraints we have long accepted as an inevitable part of being human
For millennia, humans have tried—and often failed—to master nature and transcend our limits. But this has started to change. The new scientific frontier is the human body: the greatest engineers of our generation have turned their sights inward, and their work is beginning to revolutionize mankind.
In The Body Builders, Adam Piore takes us on a fascinating journey into the field of bioengineering—which can be used to reverse engineer, rebuild, and augment human beings—and paints a vivid portrait of the people at its center. Chronicling the ways new technology has retooled our physical expectations and mental processes, Piore visits people who have regrown parts of their fingers and legs in the wake of terrible traumas, tries on a muscle suit that allows him to lift ninety pounds with his fingertips, dips into the race to create "Viagra for the brain," and shadows the doctors trying to give mute patients the ability to communicate telepathically.
As science continues to lay bare the mysteries of human performance, it is helping us to see—and exist—above our expectations. The Body Builders will take readers beyond the headlines and the hype to introduce them to the inner workings and the outer reaches of our bodies and minds, and explore how new developments are changing, and will forever change, what is possible for humankind.
Praise For The Body Builders: Inside the Science of the Engineered Human…
"Engaging . . . [and] engrossing."
— New York Times Book Review

"This is a mind-blowing book about the human body. Piore takes us inside the technological revolution that is fixing broken limbs and enhancing the human body through bioengineering. He is pointing us to a future in which we will all have the ability to be Superman or Superwoman. Fascinating."
— Fareed Zakaria GPS Book of the Week

"A fascinating dive into what's happening right now in bioengineering research — from brain-computer interfaces to bionic limbs — that will redefine human-machine interactions in the years to come."
— Salon

"A spellbinding journey into the field of bioengineering."
— The Daily Beast

"Piore's informative and optimistic account will fascinate popular-science fans and all readers following developments in therapeutics."
— Booklist

"An upbeat and appealing overview of cutting-edge biomedical research."
— Library Journal

"Mind-blowing. Piore tells the stories of the doctors and engineers and patients who are together part of an amazing scientific revolution. A wonderful book that will excite your intellect and emotions."
— Fareed Zakaria, author of The Post American World

"An exhilarating look. . . . A mind-bending read that will expand your perception of self."
— Kirkus (Starred Review)

"Piore writes gracefully, and with deep insight, about complex scientific endeavors that could ease human suffering but are fraught with myriad ethical perils."
— Publishers Weekly

"Adam Piore is a gifted and assiduous reporter. He embeds himself in frightening and complicated places and he gets the story."
— Jon Ronson, author of So You've Been Publicly Shamed

"The Body Builders reveals a fresh and surprisingly moving tale of people fighting against the odds to overcome their limitations and the visionary inventors with a passion to help them."
— Fred Guterl, author of The Fate of the Species

"Deftly captures the lives of remarkable people propelled by circumstance and their own considerable courage onto the blazing frontier of science and medicine. . . . a profound look at what the future holds not only for the disabled but for all humanity."
— Brad Stone, author of The Everything Store

"The Body Builders is revelatory. . . . . After reading about the untapped powers within us, you'll come away with a profound appreciation for the reserves of strength and creativity we all hold but, in all likelihood, never dreamed of."
— Sharon Begley, author of Train Your Mind, Change Your Brain

"Adam Piore has created an often-inspiring and always-enthralling portrait of a world where the blind see with sound, a boy remembers every day of his life and a man with paralyzing Lou Gehrig's Disease can manipulate objects with nothing more than his brain. A captivating read."
— Bill Mesler, coauthor of A Brief History of Creation

"The Body Builders does what all great books do: They shock us and then make us believe in the future. Piore tells us about the radical science and tech that just a few years ago was science fiction, but now is starting to make it's way into mainstream society."
— Zoltan Istvan, author of The Transhumanist Wager and founder of the Transhumanist Party
Ecco, 9780062347145, 384pp.
Publication Date: March 14, 2017
About the Author
Adam Piore is an award-winning journalist. A former editor and correspondent for Newsweek Magazine, his narrative features have appeared in Conde Nast Traveler, GQ, Nautilus, Discover Magazine, Mother Jones, Playboy, Scientific American, the Atavist, BusinessWeek, and many others.
or
Not Currently Available for Direct Purchase