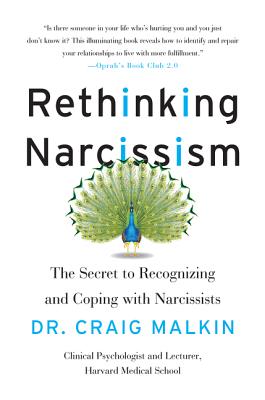 Rethinking Narcissism
The Secret to Recognizing and Coping with Narcissists
Paperback

* Individual store prices may vary.
Other Editions of This Title:
Digital Audiobook (7/6/2015)
Compact Disc (7/7/2015)
Description
"[Dr. Malkin's] reassuring tone and plethora of case histories offer considered advice and generous encouragement." — Kirkus Reviews
When most of us hear the word narcissism or narcissist, we envision vain, preening, braggarts who can't stop talking about themselves. But most of the time, we've got it wrong; many narcissists aren't driven by looks,fame, or money—some may even be shy or soft spoken. The startling truth is we've been distracted by an empty stereotype that blinds us to far more reliable signs of danger—and an entire generation is suffering because of it. 
In Rethinking Narcissism Harvard Medical School psychologist Craig Malkin addresses the "narcissism epidemic" by illuminating the spectrum of narcissism, identifying ways to control the trait, and explaining how too little of it may be a bad thing. Readers will learn that there's far more to narcissism than its reductive invective would imply. The reality is that we all fall somewhere between utter selflessness and grandiosity. A healthy middle—a healthy degree of narcissism—is essential for a strong sense of self. Malkin deconstructs our misconceptions of narcissism and offers clear, step-by-step guidance on how to protect ourselves and how to promote healthy narcissism in our partners, our children, and ourselves.
Praise For Rethinking Narcissism: The Secret to Recognizing and Coping with Narcissists…
"A fresh approach to the way we regard one of psychology's most complex conditions. In a book that's persuasive, insightful, and never dry, Dr. Malkin offers the right mix of analysis and advice and presents compelling, ground-breaking evidence that narcissism is necessary—in the right doses, of course." — Peggy Drexler, PhD, Assistant Professor, Weill Cornell Medical College, author of Raising Boys Without Men and Our Fathers, Ourselves
"This is an enthralling book. It takes the clichés of narcissism and unpacks them to help us understand and accept our human need to feel special while also coping with the dangers of self-absorption. It will become a classic." — Dr. Sue Johnson, author of Love Sense: The Revolutionary New Science of Romantic Relationships
"... a book that will have readers rethinking themselves and, paradoxically, those around them." — Publishers Weekly
"This is a true gem on the subject of narcissism." — Library Journal
"[Dr. Malkin's] reassuring tone and plethora of case histories offer considered advice and generous encouragement." — Kirkus Reviews
"A gripping and sometimes terrifying book that will make you look anew at your spouse, your parents, your children, your friends, your enemies, your fellow workers and - perhaps most pertinently - your reflection in the mirror." — The Daily Mail (UK), "Book of the Week"
"Dr. Craig Malkin offers a surprising, accessible analyis of narcissism—and explains why a healthy dash of narcissism can be a good thing." — Gretchen Rubin, bestselling author of Better Than Before and The Happiness Project
"In Rethinking Narcissism, Dr. Malkin reveals the surprising good news about narcissism, exploring the complexities of narcissistic traits and deflating popular myths. Most importantly, he shows us how to develop a healthy sense of narcissism and how to manage relationships with narcissistic partners, friends, colleagues, and family." — Dr. Drew Pinsky, author of The Mirror Effect
"Certainly one of the best books I've read this year. Don't be fooled by the title.. this book is for anyone trying to better understand themselves and other people." — Todd Kashdan, PhD, author of The Upside of Your Dark Side
"[A] fascinating book." — The Independent
"Among all the books that have been published on the topic in the past 10 years, Rethinking Narcissism: The Bad - and Surprising Good - About Feeling Special stands out as a definite must-read." — Psych Central
"Thank you, Dr. Malkin, for saying what needed to be said and clearing things up for me. For all of us." — BookTrib
"If you're to buy just one book on narcissism, this is the one to purchase." — Leon Seltzer, author of Paradoxical Strategies in Psychotherapy
"Malkin, a therapist and psychology instructor at Harvard Medical School, takes a more inspirational attitude..." — New York Times Book Review
"...gives us all a coherent way of talking about a much-discussed but often over-simplified and over-dramatized subject in these 'look at me' times." — Peg Streep, bestselling author of Mean Mothers: Overcoming the Legacy of Hurt
"Rethinking Narcissism brings much needed compassion and clarity to one of the most vexing problems in mental health without ever resorting to false hope or naivete. In that way, the book itself is special." — Tom Wootton, Huffington Post blogger and author of The Bipolar Advantage
"The book that protects you from narcissists...Is there someone in your life who's hurting you and you just don't know it? In this Harvard researcher's illuminating, reads-like-a-novel-book, he reveals how to identify and repair your relationships to live with more fulfillment." — Oprah Book Club 2.0
"Is there a narcissist in your life? Chances are, the answer's yes-here's how to spot them." — Red Magazine
"Narcissists. They're everywhere…Not according to Dr. Craig Malkin, whose new book suggests we've got it all wrong." — Sunday Times Magazine (London)
"If you're only going to read one book about narcissism this is it. Eminently accessible for the lay audience and professional alike, Dr. Malkin's penetrating insights, his superb ability to tell a good story, and his courage in disclosing elements of his own story, combine to make this remarkable book." — Joseph Shay, PhD, Lecturer Harvard Medical School, co-author of Psychodynamic Group Psychotherapy and co-editor of Odysseys in Psychotherapy and Complex Dilemmas in Group Therapy.
"...will interest anyone who is intrigued about narcissism, what it means, where it comes from... [Dr. Malkin's] empiricist side shines through." — New England Psychologist
"Craig Malkin's book is another step in the direction of a broad and inclusive psychological understanding of human behavior and a step away from prejudice and narrow concepts of the human mind." — Irene Oestrich, Chefspsykolog, PhD
Harper Perennial, 9780062348111, 256pp.
Publication Date: July 5, 2016
About the Author
Dr. Craig Malkin is an author, clinical psychologist, and lecturer for Harvard Medical School with two decades of experience helping individuals, couples, and families. His articles, advice, and insights on relationships have appeared in newspapers and magazines such as Time, the New York Times, The Sunday Times (London), Psychology Today, and Women's Health, as well as countless other magazines and websites. He's also been featured multiple times on NPR, CBS Radio, and the Oprah Winfrey Network channel; appeared on various local morning shows; and been a guest on more than sixty radio stations here and abroad. Dr. Malkin is president and director of the Cambridge, Massachusetts–based YM Psychotherapy and Consultation, Inc., which provides psychotherapy and evidence-based couples workshops. He lives in Boston with his wife and twin girls.