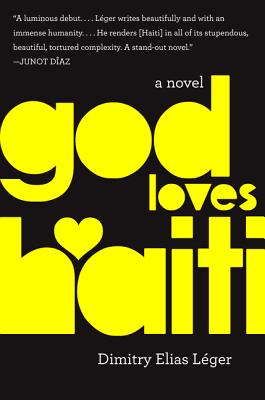 God Loves Haiti
A Novel
Hardcover

* Individual store prices may vary.
Other Editions of This Title:
Paperback (2/2/2016)
Description
A native of Haiti, Dimitry Elias Léger makes his remarkable debut with this story of romance, politics, and religion that traces the fates of three lovers in Port-au-Prince, Haiti, and the challenges they face readjusting to life after an earthquake devastates their city.
Reflecting the chaos of disaster and its aftermath, God Loves Haiti switches between time periods and locations, yet always moves closer to solving the driving mystery at its center: Will the artist Natasha Robert reunite with her one true love, the injured Alain Destiné, and live happily ever after? Warm and constantly surprising, told in the incandescent style of José Saramago and Roberto Bolaño, and reminiscent of Gabriel García Márquez's hauntingly beautiful Love in The Time of Cholera, God Loves Haiti is an homage to a lost time and city, and the people who embody it.
Praise For God Loves Haiti: A Novel…
"So powerful as to be mesmerizing. I don't think I've seen the Haitian earthquake of 2010 represented with such compassion and insight. One of those books that leave you wishing the author could produce a tome every month." — Gary Shteyngart
"A fully mature novel in scope and perspective, as rich in ideas as in humanity. Funny, street-smart, and keenly observed, God Loves Haiti establishes Léger as one of contemporary fiction's most distinctive and irresistible new voices." — Edwidge Danticat
"The Port-au-Prince earthquake of 2010 may seem like an odd setting for a romantic comedy, but then Haiti really is an amazing place! Dimitry Elias Léger has brought it off, with a smile, a tear, and a peppery dash of satire as a lagniappe." — Madison Smartt Bell
"A luminous debut . . . Léger writes beautifully and with an immense humanity. . . . He renders [Haiti] in all of its stupendous beautiful tortured complexity. A stand-out novel." — Junot Diaz
"A work of fiction that combines breathless narrative movement with memorable writing and unabashed Big Ideas. [An] impressive debut novel." — Andrea Lee
"The heat, the horror, the taste of ashes: Reading this vivid debut novel about the Port-au-Prince earthquake of 2010-and the risky love triangle that survives it-is jolting and exhilarating." — More magazine
"With empathy and wit, Léger captures the intricacies of a country that is at once beautiful and tortured….There is no doubt that God Loves Haiti will leave readers wanting more from this talented author." — M&V Magazine
[God Loves Haiti] shows undeniable strength and a powerful message about creating something new out of such devastation. — Publishers Weekly
"[Léger ]deftly sketches his country's postcolonial struggles as well as its faith, resilience and promise….his Haiti-in-crisis, richly seen and unforgettable, is all too real." — New York Times Book Review
"Léger's use of imagery when describing the aftermath of the earthquake is remarkable and unparalleled; it offers a refreshing perspective. God Loves Haiti is a detailed and gripping account of the tragic events that occurred, infused with a story of romance, courage and change." — AfroPunk
Amistad, 9780062348135, 272pp.
Publication Date: January 6, 2015
About the Author
Dimitry Elias Léger was born in Haiti and educated at St. John's University and Harvard University's Kennedy School of Government. A former staff writer at Fortune magazine and the Miami Herald, he has been an adviser to the United Nations' missions in Haiti and Geneva, and is a former global leadership fellow at the World Economic Forum.
Coverage from NPR
or
Not Currently Available for Direct Purchase