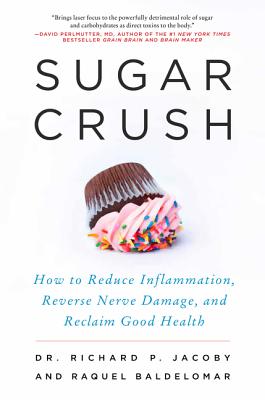 Sugar Crush
How to Reduce Inflammation, Reverse Nerve Damage, and Reclaim Good Health
Hardcover

* Individual store prices may vary.
Other Editions of This Title:
Paperback (2/16/2016)
MP3 CD (2/25/2020)
Compact Disc (2/25/2020)
Description
What Grain Brain did for wheat, this book by a leading peripheral nerve surgeon now does for sugar, revealing how it causes crippling nerve damage throughout the body—in our feet, organs, and brain—why sugar and carbohydrates are harmful to the body's nerves, and how eliminating them can mitigate and even reverse the damage.
Sugar Crush exposes the shocking truth about how a diet high in sugar, processed carbohydrates, and wheat compresses and damages the peripheral nerves of the body, leading to pain, numbness, and tingling in the hands and feet, along with a host of related conditions, including migraines, gall bladder disease, and diabetes. If you suffer from ailments your doctors can't seem to diagnose or help—mysterious rashes, unpredictable digestive problems, debilitating headaches, mood and energy swings, constant tiredness—nerve compression is the likely cause.
Over the years, Dr. Richard Jacoby has treated thousands of patients with peripheral neuropathy. Now, he shares his insights as well as the story of how he connected the dots to determine how sugar is the common denominator of many chronic diseases. In Sugar Crush, he offers a unique holistic approach to understanding the exacting toll sugar and carbs take on the body. Based on his clinical work, he breaks down his highly effective methods, showing how dietary changes reducing sugar and wheat, coinciding with an increase of good fats, can dramatically help regenerate nerves and rehabilitate their normal function.
Sugar Crush includes a quiz to assess your nerve damage, practical dietary advice, and the latest thinking on ways to prevent and reverse neuropathy. If you have diabetes, this essential guide will help you understand the dangers and give you the tools you need to make a difference beyond your doctor's prescriptions. If you have the metabolic syndrome or prediabetes, or are just concerned about your health, it will help you reverse and prevent nerve damage.
Praise For Sugar Crush: How to Reduce Inflammation, Reverse Nerve Damage, and Reclaim Good Health…
"Sugar Crush brings laser focus to the powerfully detrimental role of sugar and carbohydrates as direct toxins not just to the peripheral nerves, but to the body in general. This is up to date and incredibly well-researched information that helps rewrite our understanding of disease prevention."
— David Perlmutter, MD, author of the #1 New York Times Bestseller Grain Brain and Brain Maker

"Dr. Jacoby has the uncanny ability to recognize relationships in seemingly unrelated fields… Now, he ushers us into a new paradigm by 'connecting the dots' for the treatment of neuropathy."
— Dr. Robert G. Parker, DPM, FACFAS, FASPS, PA, Fellow of the Association of Extremities Nerve Surgeons

"Sugar Crush is a great contribution to the lay literature. Another weapon in our fight against obesity and diabetes!"
— John P. Cooke, MD, PhD, Presidential Distinguished Chair in Cardiovascular Disease Research, Director of the Center for Cardiovascular Regeneration and Chair of the Department of Cardiovascular Sciences at Houston Methodist Research Institute

"An intriguing detective story, readers interested in their own health, and the health of their families, will treasure Sugar Crush, and use it as a roadmap to improved health."
— A. Lee Dellon, MD, PhD, Professor of Plastic Surgery and Neurosurgery, Johns Hopkins University
Harper Wave, 9780062348203, 256pp.
Publication Date: April 14, 2015
About the Author
Dr. Richard Jacoby is one of the country's leading peripheral nerve surgeons. He practices in Scottsdale, Arizona, and specializes in the treatment of peripheral neuropathy. He is one of the cofounders of the Scottsdale Healthcare Wound Management Center and is the former president of the Arizona Podiatry Association and the Association of Extremity Nerve Surgeons. He is a diplomate of the American Board of Podiatric Sur-gery and is a member of the American Podiatry Association, the Arizona Podiatry Association, and the Association of Extremity Nerve Surgeons. He lives in Scottsdale with his wife and two children.
RaqueL Baldelomar is the founder of Quaintise, a health care marketing and advertising agency. An expert in medical marketing strategies, she helps organizations transform sick care into true health care. She is a contributing writer for Advertising Age, Modern Healthcare, and Physician magazine, and is a reporter on how digital health and wireless technology empower consumers to take control of their own health. She lives in Santa Monica, California.
or
Not Currently Available for Direct Purchase