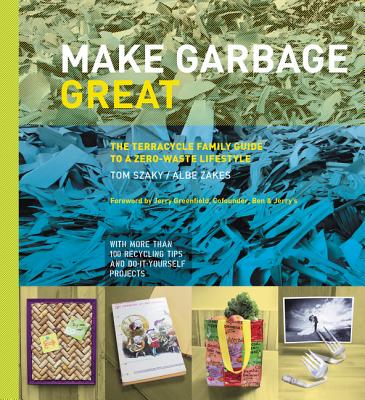 Make Garbage Great
The Terracycle Family Guide to a Zero-Waste Lifestyle
Hardcover

* Individual store prices may vary.
Description
In this fun, pop culture exploration, two ecological entrepreneurs examine the materials we use in our daily lives, show how they impact the environment, and provide project ideas—from recycling to upcycling and more—to lessen our impact and protect our world.
Jam-packed with information, more than 200 photographs and illustrations, and approximately twenty DIY projects, this engaging, graphic volume shows us how we all can cut down, reuse, and repurpose the garbage we produce. With its easy hands-on design, Make Garbage Great contains information, little known facts, compelling graphics, and colorful illustrations and photos on a variety of common household waste-stream materials: Plastics, Glass and Ceramics, Paper, Wood, Textiles, Metal, Rubber, and Organics.
Tom Szaky, the founder of the award-winning nonprofit, environmental company TerraCycle, introduces each and explains what he's learned about it in his personal life and with TerraCycle. He and Albe Zakes then provide a graphic historical timeline of each material's use in commercial goods—from how it's manufactured to what happens when it's throw out—an analysis of its impact on the environment now and tomorrow; suggestions for DIY projects to save it from the trash bin, and lists of helpful resources. They also include sidebars and definitions, fun and quirky facts, lists of reuse ideas, quotes, and illuminating interviews that add depth and insight.
All of us have a responsibility to protect our environment. Informative and inspirational, Make Garbage Great shows us how to be creative custodians today—and for the rest of our lives.
Harper Design, 9780062348852, 224pp.
Publication Date: July 7, 2015
About the Author
Tom Szaky is the founder and CEO of TerraCycle, an international leader in the collection and repurposing of hard-to-recycle post-consumer waste, from used chip bags to cigarette butts. On a yearly basis and across 23 countries, TerraCycle collects and repurposes billions of pieces of waste, creating millions of dollars of donations for schools and charities in the process. Many of the world's largest consumer product companies contract with TerraCycle to collect and recycle post-consumer products and packaging. Through TerraCycle, Tom has pioneered a process, involving manufacturers, retailers, consumers, and community groups, to create circular solutions for waste that otherwise would go to landfills or be incinerated.  
Tom is the author of two other books, Revolution in a Bottle (April 2009) and Outsmart Waste (January 2014). He is an acclaimed international public speaker, making presentations to corporate and academic audiences regularly. Tom created, produces, and stars in a new reality TV show, Human Resources, currently airing on Pivot TV. Tom and TerraCycle have received more than 100 social, environmental, and business awards from a range of organizations including the United Nations, World Economic Forum, and the Environmental Protection Agency.
Albe Zakes is the Global Vice President of Marketing & Communications for TerraCycle. Albe was integral in transforming TerraCycle from a small startup into a successful and highly visible recycling innovator that runs pre- and post-consumer packaging reclamation programs for major manufacturers such as Kraft Foods, Frito-Lay, L'Oreal, 3M, Kimberly-Clark, Proctor & Gamble, and Newell Rubbermaid. PR News named Albe one of its Rising Stars of PR in 2012 and Social Media MVP in 2014; he received Cause Marketing Forum's Golden Halo Award in 2013. Albe also manages, stars in, and produces TerraCycle's Pivot TV show, Human Resources. He writes and edits the company's blogs and columns for major publications including the New York Times Magazine, TreeHugger, Sustainable Brands, and Huffington Post.
or
Not Currently Available for Direct Purchase