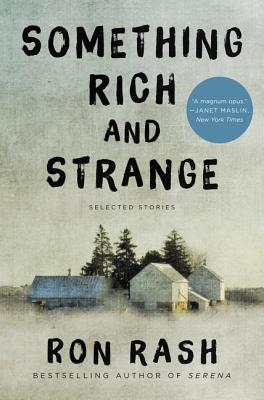 Something Rich and Strange
Selected Stories
Hardcover

* Individual store prices may vary.
Other Editions of This Title:
Digital Audiobook (11/3/2014)
Paperback (8/11/2015)
Compact Disc (11/1/2014)
Compact Disc (11/1/2014)
Description
From the acclaimed, New York Times bestselling award-winning author of Serena and The Cove, thirty of his finest short stories, collected in one volume.
No one captures the complexities of Appalachia—a rugged, brutal landscape of exquisite beauty—as evocatively and indelibly as author and poet Ron Rash. Winner of the Frank O'Connor International Short Story Award, two O Henry prizes, and a finalist for the PEN/Faulkner Award, Rash brilliantly illuminates the tensions between the traditional and the modern, the old and new south, tenderness and violence, man and nature. Though the focus is regional, the themes of Rash's work are universal, striking an emotional chord that resonates deep within each of our lives.
Something Rich and Strange showcases this revered master's artistry and craftsmanship in thirty stories culled from his previously published collections Nothing Gold Can Stay, Burning Bright, Chemistry, and The Night New Jesus Fell to Earth. Each work of short fiction demonstrates Rash's dazzling ability to evoke the heart and soul of this land and its people—men and women inexorably tethered to the geography that defines and shapes them. Filled with suspense and myth, hope and heartbreak, told in language that flows like "shimmering, liquid poetry" (Atlanta Journal Constitution), Something Rich and Strange is an iconic work from an American literary virtuoso. 
Praise For Something Rich and Strange: Selected Stories…
Rash is the master of his craft…The poet in Rash comes out in every story, in language so choice that even his shortest stories pack a serious wallop… Readers will want to read slowly, dipping into the contents judiciously to extend the pleasures of this stunning collection.
— Booklist (starred review)

"This selection of 34 stories from four collections signals the growing prominence of a fine author… These superbly suspenseful stories evoke a world of hurt, but what makes them so deeply satisfying is that they enlarge our capacity for empathy."
— Kirkus Reviews

"No one writes better about the misunderstood, bedeviled, mule-stubborn inhabitants of Southern Appalachia than Rash... Something Rich and Strange is a bonanza for short-story fans, and another great introduction to Rash for those who haven't read the originals yet."
— Atlanta Journal-Constitution

"For those unfamiliar with the beautiful and searing short stories of Ron Rash, Something Rich and Strange is a generous, well-timed introduction…. Rash's stories tell in crisp, gripping prose the emotional travails of life on the Appalachian outback… Powerful and beautifully told."
— Lisa Ko, author of The Leavers

"Rash's stories show the highs of lows of life in the Appalachians through the decades, from the hardscrabble years of the Great Depression through the current challenges of meth addiction… Something Rich and Strange showcase[s] Rash's narrative powers and convey why his work has won so many accolades."
— Asheville Mountain Express

"[Rash] brings his poet's eyes to the images of his people and place and his native ears to the language of that locale… Rash's writing resonates with our lives."
— New York Journal of Books

"Ron Rash's stories portray the Appalachian landscape in all its brutal, exquisite complexity… It is not an easy feat for a writer to portray a region so fully that enduring truths are found in local circumstance… [Rash] beautifully illustrates the appeal and vexation of the South."
— New York Times Book Review

"Ron Rash occupies an odd place in the pantheon of great American writers, and you'd better believe he belongs there…Something Rich and Strange is a major short-story anthology that can introduce new readers to this author's haunting talents and reaffirm what his established following already knows."
— New York Times, Janet Maslin

"Expect to be good for nothing for a long time after you read Ron Rash. His writing is powerful, stripped down and very still... Rash's spectacular stories may originate in the peculiar soil of Appalachia, but their reach and their rewards are vast."
— NPR's Fresh Air

"[R]ich and strange are two words that aptly apply to this book. I have two other words to continue with: Simply beautiful... some of the stories are so searing, it's as if someone has taken a stick from a blazing fire and pressed it into your hand."
— NPR's All Things Considered

"These are among the 'rich' and 'strange' tales Ron Rash shares from his Appalachian region, stories of country life so true, they are sure to strike deep chords among rural readers across the country…"
— Clarion-Ledger (Jackson, MS)

"Ron Rash merges sound and sense in [this] new collection… Rash's themes are universal: man's struggle with nature, with others, with himself. "
— Charlotte Observer

"Ron Rash knows that shadows are waiting to eclipse our lives, knows that no matter how desperately we search for places of respite, there are likely to be none…[This book] remind[s] us of that truth and of the unforgiving, barren landscape in which that truth resides."
— Anniston Star

"…beautiful new collection…. The prose in every story is sensual and expressive. [Rash] swings easily between humor and pathos, the mundane and the momentous. "
— Chicago Tribune

"This anthology of Rash's earthy, often eerie short stories is like a forest you can get lost in for hours, small but affecting tales of poverty, addiction, pride, love, and despair threaded with life-altering acts of violence and a firm sense of humanity... Grade: A-"
— Entertainment Weekly

"Mr. Rash is one of the great American authors at work today, and this short-story anthology confirms that stature. His prose rings clear and true… his awe-inspiring stories are startlingly attuned to nature, human and otherwise, in all its power both to create and destroy."
— New York Times, Janet Maslin's 10 Favorite Books of 2014

"Short story lovers would be hard-pressed to find a better release this year than Ron Rash's Something Rich and Strange. Throughout this masterful collection… Rash brings authority and compassion to a broad range of mountain folk…Rash's stories may have heart, but they also flash some formidable teeth."
— Nashville Scene, Reviewers Favorite Books of 2014

"Rash will scare you, enlighten you, dazzle and surprise you. But he'll never bore you. These 34 muscular stories brim with Appalachian characters who live (and sometimes die) by their wits and by their pride."
— Raleigh News & Observer

"Most of the 34 stories are from the author's previously published collections. Two stories are published in book form for the first time. All contain language and characters as rich and strange as the southern Appalachian landscape that they have come from."
— Anniston Star

"These stories are so visual as to be palpable to the senses… Ron Rash is known to be conscious of every word he writes and each syllable stressed in each sentence illuminates the cadence of his prose."
— Authorlink

"Mr. Rash is one of the great American authors at work today, and this short-story anthology confirms that stature. His prose rings clear and true.
— Janet Maslin, NYT, Top Ten Books of 2014
Ecco, 9780062349347, 448pp.
Publication Date: November 4, 2014
About the Author
Ron Rash is the author of the 2009 PEN/Faulkner finalist and New York Times bestseller Serena and Above the Waterfall, in addition to four prizewinning novels, including The Cove, One Foot in Eden, Saints at the River, and The World Made Straight; four collections of poems; and six collections of stories, among them Burning Bright, which won the 2010 Frank O'Connor International Short Story Award, and Chemistry and Other Stories, which was a finalist for the 2007 PEN/Faulkner Award. Twice the recipient of the O. Henry Prize, he teaches at Western Carolina University.
Coverage from NPR
or
Not Currently Available for Direct Purchase