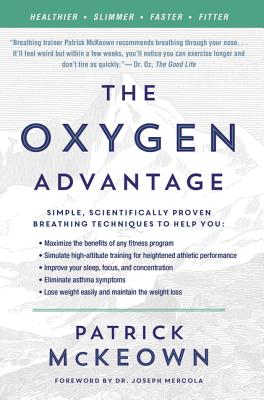 The Oxygen Advantage
Simple, Scientifically Proven Breathing Techniques to Help You Become Healthier, Slimmer, Faster, and Fitter
Paperback

* Individual store prices may vary.
Other Editions of This Title:
Digital Audiobook (4/18/2016)
Paperback, Chinese (10/1/2019)
MP3 CD (4/19/2016)
Compact Disc (4/19/2016)
Compact Disc (4/19/2016)
Description
A simple yet revolutionary approach to improving your body's oxygen use, increasing your health, weight loss, and sports performance—whether you're a recovering couch potato or an Ironman triathlon champion. With a foreword by New York Times bestselling author Dr. Joseph Mercola.
Achieve more with less effort: The secret to weight loss, fitness, and wellness lies in the most basic and most overlooked function of your body—how you breathe. One of the biggest obstacles to better health and fitness is a rarely identified problem: chronic over-breathing. We often take many more breaths than we need—without realizing it—contributing to poor health and fitness, including a host of disorders, from anxiety and asthma to insomnia and heart problems.
In The Oxygen Advantage, the man who has trained over 5,000 people—including Olympic and professional athletes—in reduced breathing exercises now shares his scientifically validated techniques to help you breathe more efficiently. Patrick McKeown teaches you the fundamental relationship between oxygen and the body, then gets you started with a Body Oxygen Level Test (BOLT) to determine how efficiently your body uses oxygen. He then shows you how to increase your BOLT score by using light breathing exercises and learning how to simulate high altitude training, a technique used by Navy SEALs and professional athletes to help increase endurance, weight loss, and vital red blood cells to dramatically improve cardio-fitness.
Following his program, even the most out-of-shape person (including those with chronic respiratory conditions such as asthma) can climb stairs, run for a bus, or play soccer without gasping for air, and everyone can achieve:
Easy weight loss and weight maintenance
Improved sleep and energy
Increased concentration
Reduced breathlessness during exercise
Heightened athletic performance
Improved cardiovascular health
Elimination of asthmatic symptoms, and more.
With The Oxygen Advantage, you can look better, feel better, and do more—it's as easy as breathing.
Praise For The Oxygen Advantage: Simple, Scientifically Proven Breathing Techniques to Help You Become Healthier, Slimmer, Faster, and Fitter…
"McKeown introduces readers to the "Oxygen Advantage," an innovative but complex breathing technique that purportedly improves overall health… McKeown's confident attitude should help his book appeal to a wide audience." — Publishers Weekly
"I'm an NFL wide receiver and my Bolt Score was 13. Three weeks later it's 30 and improving; running has gotten so much easier. I'm in better shape for another opportunity because I'm so much better at the simple act of breathing. It really does add up!" — Jay Wisner, NFL Free Agent
"Patrick McKeown, breathing trainer and author of The Oxygen Advantage, recommends breathing through your nose…It'll feel weird, but within a few weeks, you'll notice you can exercise longer and don't tire as quickly." — Dr. Oz The Good Life
William Morrow Paperbacks, 9780062349477, 368pp.
Publication Date: November 29, 2016
About the Author
Patrick McKeown has helped thousands of people to substantially improve their sports performance and overall health by incorporating simple, medically proven principles and exercises into their lives. In 1997, after graduating from Trinity College in Dublin, McKeown applied the work of Dr. Konstantin Buteyko to address his lifelong asthma, soaring stress levels, and sleep-disordered breathing. The Oxygen Advantage is an extension of this work, combining simulation of high-altitude training and specifically formulated exercises not only for significantly improving anyone's health, but also to empower athletes to improve their sports performance safely, legally, and at no cost. In addition to running workshops throughout his native Ireland, each year he gives workshops in North America, Europe, and Australia on maximizing one's life's potential through breath.