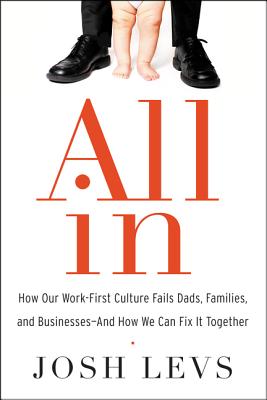 All In
How Our Work-First Culture Fails Dads, Families, and Businesses--And How We Can Fix It Together
Hardcover

* Individual store prices may vary.
Other Editions of This Title:
Digital Audiobook (5/11/2015)
Compact Disc (5/12/2015)
MP3 CD (5/12/2015)
MP3 CD (5/12/2015)
Compact Disc (5/12/2015)
Description
Winner of the Nautilus Gold Award for "exceptional literary contributions." Previous winners include the Dalai Lama and Deepak Chopra.
To advance businesses, societies, and families, it's time to treat dads as equal caregivers to their children.  Time for all of us, men and women, to correct our understandings of men. All In shatters myths about fathers. It shows that women can't get equal opportunities in the workplace if men can't get equal opportunities at home. It is being called a "rallying cry," the "anthem" of our time, igniting a revolution for gender equality.
"Fantastic" - New York Times columnist Charles M. Blow
"A must-read" - Washington Post's Brigid Schulte
"Fascinating" - Chicago Tribune
"One of the top books of the year" - NewsOne
"Groundbreaking... Should be mandatory reading for every CEO" - Debra Isaacs Schafer, CEO of Education Navigation  
See endorsements from Maria Shriver, Bob Saget, top officials at Change.org and Twitter, and more on the book jacket and at joshlevs.com.
Josh Levs spent 20 years reporting for NPR and CNN, where he became a lead on-air fact checker. He then turned his attention to modern parenthood, stunning viewers with frank discussions among men. Then, Levs was denied fair parental leave to care for his preemie daughter and sick wife. He responded with legal action against CNN/Time Warner and a public campaign that landed him on the front page of the New York Times. His effort drew support from all sectors across the United States and worldwide. The company ultimately revolutionized its policy for the better -- and other numerous other corporations have followed suit.
Topics covered in All In include:
Why paternity leave is a crucial women's rights issue
Why paid family leave is a baby's human right
How Mad Men thinking still plagues businesses
How men and women can work together to update our work structures
The solutions that lift profits and expand the economy
The toll this problem is taking on men's and women's mental and physical health
The truth about parents and sex
And much more.
Praise For All In: How Our Work-First Culture Fails Dads, Families, and Businesses--And How We Can Fix It Together…
"A manifesto of work and life for men that aims to be for working fathers what Sheryl Sandberg's Lean In was to working mothers: a cogent analysis of the systemic problems in work culture that make it so difficult to be a parent."
— Time

"CNN reporter Levs issues an articulate call for men to fight against the laws, policies, and stigmas preventing them from fully participating in their families' lives."
— Publishers Weekly

"Well-documented and easy-to-comprehend data on why men need more paid time off to be with their newborn children."
— Kirkus Reviews

"A new generation of fathers is joining legions of women in the fight for equality. All In shows how men and women can unite to overcome outdated policies and gender-based stigmas holding them back and make big changes that help families, businesses, and the entire nation."
— Maria Shriver, mother of four, award-winning journalist and producer, six-time bestselling author, and activist for social change and equality

"All In is an inspired, positive and original approach to the ideal of loving being a father. Josh Levs has touched me. Not literally, but philosophically—as being proud to be a man in our society whose voice can be heard if we simply employ the contents of this wonderful read."
— Bob Saget, comedian, actor, director, and author of bestseller Dirty Daddy

"A must read. All In crushes outdated yet powerful stereotypes and—with fresh voices, insightful research and a passionate call to action—offers a more expansive, more hopeful and ultimately more human vision of what it means to be a good man."
— Brigid Schulte, author of New York Times bestseller Overwhelmed

"Levs says it well: 'the first months of life have a huge impact on the following years.' We all benefit when families—moms and dads—get more quality time at home with their kids from the get-go. Let's go all in to fix the policies that make it so."
— Gabriel Stricker, Twitter Chief Communication Officer

"Dads matter! Josh Levs passionately makes the case that society has marginalized the role of fathers, and it's time we pay attention to this unbalance. I hope All In leads to a serious national discussion."
— Roland S. Martin, host and managing editor of News One Now, TV One Cable Network

"Josh Levs leaves virtually no stone unturned in cataloging the state of modern fatherhood, uncovering its game—changing impact on masculinity, relationships, media, marketing, and more. His insights and conclusions will serve as a roadmap to the coming decade of parenting and relationship research, family leave policies, and product marketing efforts."
— John Pacini, cofounder of XY Media and Dad 2.0 Summit

"One of the most important books written about fatherhood. Engaging and entertaining, All In should be read by fathers, mothers, CEOs, policy makers, and anyone who cares about improving American society."
— Cynthia Calvert, president of Workforce 21C

"The changes we need in the workplace—from paid parental leave to additional flexibility and more—will not only be better for families, they'll also be better for business. Josh Levs lays out a clear and compelling path for how dads can join with moms to make these changes happen."
— Jen Dulski, President and COO of Change.org

"…All In does a superb job of showing how we can make positive changes that benefit organizations, employees and their families, and our society."
— Stewart D. Friedman, founder of the Wharton Work/Life Integration Project and author of Leading the Life You Want

"All In represents the voice of any parent who feels boxed in by gender stereotypes, at home and at the office. Josh's energetic style and exhaustive research…comprise an important treatise on how to reboot our obsolete instincts and policies toward working parents."
— Doug French, cofounder of XY Media and Dad 2.0 Summit
HarperOne, 9780062349613, 272pp.
Publication Date: May 12, 2015
About the Author
Josh Levs, father of three, has spent years reporting for CNN on air and online and serving as the network's "dad columnist." Prior to CNN, he was a reporter for NPR. His many prizes include six Peabody Awards, two Edward R. Murrow Awards, and a designation as a Journalist of the Year from the Atlanta Press Club. Levs is also a motivational and keynote speaker. He lives in Atlanta, Georgia, with his wife and children.
or
Not Currently Available for Direct Purchase