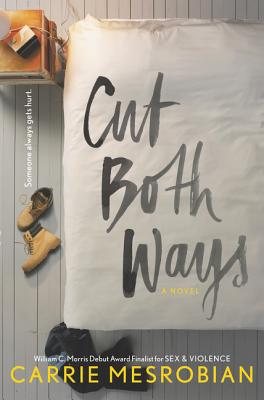 Cut Both Ways
Hardcover

* Individual store prices may vary.
Other Editions of This Title:
Paperback (2/28/2017)
Description
A TOP 10 RAINBOW LIST BOOK
William C. Morris YA Debut Award nominee Carrie Mesrobian delivers a "raw, sympathetic coming-of-age story [that] uncovers the messy, painful, yet vitally important process of self-discovery" (Booklist, starred review) when a high school senior comes to terms with his attraction to both his girlfriend and his male best friend.
It took Will Caynes seventeen years to have his first kiss. He should be ecstatic…except that it was with his best friend, Angus, while they were both drunk and stoned. Will's not gay, but he did sort of enjoy whatever it was he felt with Angus. Unsettled by his growing interest in Angus, Will avoids his friend and even starts dating a sophomore, Brandy. When he's hooking up with her, he's totally into it, so he must be straight, right? Then why does he secretly keep going back to Angus?
Confusing as Will's feelings are, they're a welcome distraction from his complicated home life. His father has started drinking earlier each day when he should be working on never-ending house renovations. And his mom—divorced and living in a McMansion with her new husband—isn't much help, unless she's buying Will a bunch of stuff he doesn't need. Between the two of them, neither feels like much of a parent—which leaves Will on his own in figuring things out with his girlfriend and best friend. He loves them both, but deciding who to be with will ultimately hurt someone. Himself, probably the most.
Praise For Cut Both Ways…
"Mesrobian writes about sex—what it feels like, its power to satisfy and confuse—bluntly and effectively." — Publishers Weekly
"Mesrobian once again employs a fearless and honest tone. Her portrayal of bisexuality is thoughtful, and realistic. The respect with which Mesrobian speaks to her teen audience adds weight and validity. A great addition for most libraries, and perfect for older teens looking for nuanced and realistic fiction." — School Library Journal
"In Will's unapologetic voice, Mesrobian's raw, sympathetic coming-of-age story uncovers the messy, painful, yet vitally important, process of self-discovery. A unique, imperative novel." — Booklist (starred review)
"Pitch perfect, raw, and moving." — Kirkus Reviews (starred review)
"Mesrobian's novel is brutally honest and unsentimental. A rare examination of bisexuality in fiction for teens." — Voice of Youth Advocates (VOYA)
"Arresting and raw, Mesrobian's deft prose cuts to the quick, shining a light on the limbo so many of us feel-both inside and out-assuring us that we are not alone." — Aaron Hartzler, Lambda Award finalist for Rapture Practice
HarperCollins, 9780062349880, 352pp.
Publication Date: September 1, 2015
About the Author
Carrie Mesrobian teaches writing to teens in Minneapolis, where she lives with her husband and daughter. Her debut novel, Sex & Violence, was named a Kirkus Reviews and Publishers Weekly Best Book of the Year, in addition to being nominated for the William C. Morris YA Debut Award. She has also written Just a Girl, Perfectly Good White Boy, and Cut Both Ways. Learn more about her and her fake boyfriends at www.carriemesrobian.com, or follow her on Twitter @carriemesrobian.
or
Not Currently Available for Direct Purchase