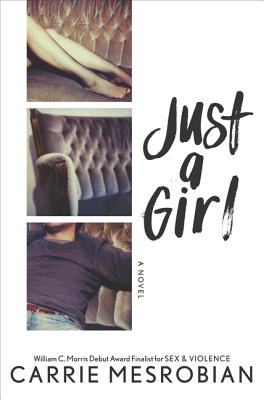 Just a Girl
Hardcover

* Individual store prices may vary.
Description
Taking a hard look at the societal constraints on teenage girls, Morris Award nominee Carrie Mesrobian tells one girl's story with bracing honesty and refreshing authenticity.
By her senior year of high school, Rianne has exhausted all the fun there is to have in small-town Wereford, Minnesota. Volleyball season is winding down, the parties feel tired, and now that she's in a serious relationship with reformed player Luke Pinsky, her wild streak has ended. Not that she ever did anything worse than most guys in her school...but she knows what everyone thinks of her. 
Including her parents. Divorced but now inexplicably living together again, Rianne wonders why they're so quick to point out every bad choice she's making when they can't even act like adults—or have the decency to tell Rianne whether or not they're getting back together. With an uncomfortable home life and her once-solid group of friends now dissolving, the reasons for sticking around after high school are few. So why is Rianne locking step when it comes to figuring out her future?
That's not the only question Rianne can't answer. Lately she's been wondering why, when she has a perfect-on-paper boyfriend, she wants anything but. Or how it is that Sergei, a broken-English-speaking Russian, understands her better than anyone who's known her all her life? And—perhaps the most troubling question—why has Rianne gotten stuck with an "easy girl" reputation for doing the same exact things as guys without any judgment?
Carrie Mesrobian, acclaimed author of Sex & Violence and Cut Both Ways, sets fire to the unfair stereotypes and contradictions that persist even in the twenty-first century.
Praise For Just a Girl…
"There's nothing simple about being just a girl, and this resonant, thoughtful novel makes that abundantly, stunningly clear."
— Booklist (starred review)

"An authentic, smart read for older teens."
— Kirkus Reviews

"Mesrobian offers another honest and emotionally charged look at the secret lives of teenage girls. Raw and never sensationalized, this title is for readers who like contemporary YA fiction with a realistically dark edge."
— School Library Journal

"Mesrobian writes meaningfully about the complexity, intensity, and double standards of teenage sexuality."
— Publishers Weekly
HarperCollins, 9780062349910, 304pp.
Publication Date: March 28, 2017
About the Author
Carrie Mesrobian teaches writing to teens in Minneapolis, where she lives with her husband and daughter. Her debut novel, Sex & Violence, was named a Kirkus Reviews and Publishers Weekly Best Book of the Year, in addition to being nominated for the William C. Morris YA Debut Award. She has also written Just a Girl, Perfectly Good White Boy, and Cut Both Ways. Learn more about her and her fake boyfriends at www.carriemesrobian.com, or follow her on Twitter @carriemesrobian.
or
Not Currently Available for Direct Purchase