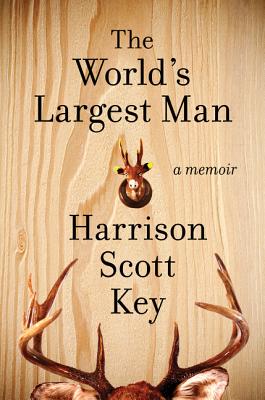 The World's Largest Man
A Memoir
Hardcover

* Individual store prices may vary.
Other Editions of This Title:
Digital Audiobook (7/31/2017)
Paperback (5/17/2016)
MP3 CD (8/1/2017)
Compact Disc (8/1/2017)
Description
Winner of the 2016 Thurber Prize
The riotous, tender story of a bookish Mississippi boy and his flawed, Bunyanesque father, told with the comic verve of David Sedaris and the deft satire of Mark Twain or Roy Blount, Jr.
Harrison Scott Key was born in Memphis, but he grew up in Mississippi, among pious, Bible-reading women and men who either shot things or got women pregnant. At the center of his world was his larger-than-life father—a hunter, a fighter, a football coach, "a man better suited to living in a remote frontier wilderness of the nineteenth century than contemporary America, with all its progressive ideas, and paved roads, and lack of armed duels. He was a great man, and he taught me many things: How to fight, how to work, how to cheat, how to pray to Jesus about it, how to kill things with guns and knives and, if necessary, with hammers."
Harrison, with his love of books and excessive interest in hugging, couldn't have been less like Pop, and when it became clear that he was not able to kill anything very well or otherwise make his father happy, he resolved to become everything his father was not: an actor, a Presbyterian, and a doctor of philosophy. But when it was time to settle down and start a family of his own, Harrison started to view his father in a new light, and realized—for better and for worse—how much of his old man he'd absorbed.
Sly, heartfelt, and tirelessly hilarious, The World's Largest Man is an unforgettable memoir—the story of a boy's struggle to reconcile himself with an impossibly outsized role model, a grown man's reckoning with the father it took him a lifetime to understand.
Praise For The World's Largest Man: A Memoir…
"A loose and rollicking compendium of stories that's billed as a memoir but comports itself more like a killer concept album." — Garden & Gun
"You don't need to be a hunter or even a man to enjoy this exceptional memoir." — New York Journal of Books
"Consistently seasoned with laughs, this memoir is adroitly warm and deep when it is called for. An uncommonly entertaining story replete with consistent wit and lethal weaponry." — Kirkus Reviews (starred review)
"The World's Largest Man [is] a collection of essays, a memoir that reads like fiction. It truly is a gem." — The Bitter Southerner
"[Key has] a comic voice that puts him in the choir with other humorists you may have heard of—such as P.J. O'Rourke, Roy Blount Jr., Garrison Keillor, Lewis Grizzard, Dave Barry and others. Maybe even Mark Twain. 'The World's Largest Man' is a triumph of a comic memoir." — Mississippi Business Journal
"Funny as well as tender." — New York Times
"Ever the raconteur, Key fills this rollicking memoir with tales of growing up with a larger-than-life father and being raised in the country, where boys would learn to fish and hunt and farm." — Publishers Weekly
"It reads like fiction that is too crazy to be anything but truth. Fans of memoir, personal essays, and humor writing will devour this in one sitting." — Library Journal
"Indeed, like many of the great Southern humorists, Key relies on wit to bridge the deep emotional fissures that many people, at least of the thinking persuasion, have to cross when trying to reconcile the historic evils of the South with their own enduring love for it." — Memphis Commercial Appeal
"Blessedly, Key writes with a parched sense of humor, because his stories might otherwise qualify as tragedy. The line here between gasping and guffawing is piano-wire thin, but mostly you enjoy, swept up how Key ekes some brow-furrowing wisdom from most experiences. He's a masterful writer and observer." — Minneapolis Star Tribune
"Both laugh-out-loud funny and observant about the ways we become our parents while asserting ourselves, The World's Largest Man is a wise delight." — BookPage
"The sardonic tone and spicy language may prompt comparisons to David Sedaris, another humorist who has perfected the narrative stance of put-upon outsider vs. risible eccentrics." — Atlanta Journal-Constitution
"What I have read of Harrison Key's memoir makes me want to read more." — Roy Blount Jr., Author of Long Time Leaving: Dispatches from Up South
"Harrison Key will make you laugh and cry in his compelling essays. And whatever emotion he evokes, you will admire the style, grace and clarity of his prose." — Lee Gutkind, Founder and Editor of Creative Nonfiction
"I haven't laughed like this in years. I felt like I stumbled upon an undiscovered treasure when I read Harrison Scott Key's The World's Largest Man. I couldn't wait to tell my friends. Rare hilarity, indeed, in these asinine times." — Neil White Author of In the Sanctuary of Outcasts
Harper, 9780062351494, 352pp.
Publication Date: May 12, 2015
About the Author
HARRISON SCOTT KEY's writing has been featured in The Best American Travel Writing, the New York Times, Outside, Salon, The Chronicle of Higher Education, McSweeney's Internet Tendency, Southern Living, Reader's Digest, Image, Creative Nonfiction, The Mockingbird, The Green County Independent, The American Conservative, Brevity, Gulf Coast, and Oxford American, where he is also a contributing editor. He teaches at SCAD in Savannah, Georgia, where he lives with his wife and three children. Harper published his first memoir, The World's Largest Man, which won the Thurber Prize for American Humor.
or
Not Currently Available for Direct Purchase