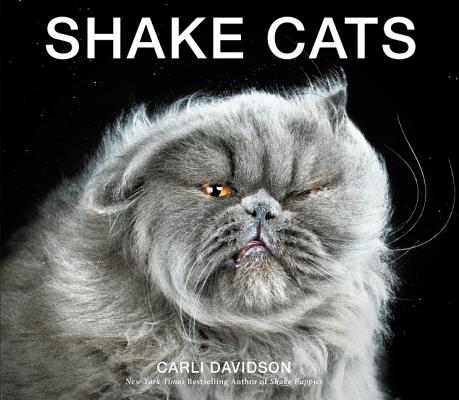 Shake Cats (Hardcover)
Harper Design, 9780062351746, 144pp.
Publication Date: October 27, 2015
* Individual store prices may vary.
Description
The fur flies in this irresistible third installment in the bestselling Shake series by popular pet photographer Carli Davidson, featuring adorable and hysterical color photographs of more than sixty cats caught mid-shake.
Pet photographer Carli Davidson has enchanted readers around the world with her adorable photographs of man's best friend in Shake and Shake Puppies. Now, she turns her lens on felines in this sweet and heartwarming volume that is pure catnip for cat lovers.
Shake Cats includes more than 130 gorgeous, highly detailed color pictures of felines in mid-shake. Like its predecessors Shake and Shake Puppies, it showcases a charming double-page layout—each spread features two images of the same cat placed side by side to capture the unique movement of the shake.
Inside, fans will find a roster listing the names, ages, and breeds of cats photographed. Davidson also provides outtake images of her shoots with the cats, a short, insightful description that explains her process, and information about animal rescue to encourage people considering a new cat to choose a rescue animal.
A truly incomparable book—as beautifully designed as it is humorous—Shake Cats is the ultimate gift for every cat lover.
About the Author
Carli Davidson is a crazy cat lady. She talks to her own cat, Yushi, more than any other creature on the planet and is pretty much always covered in cat hair. She lives in Portland, Oregon, with her husband, Tim, pets Saul and Yushi, and a rotating cast of foster animals.
Praise For Shake Cats…
"You may recognize Davidson's work from her previous portraits of shaking dogs and puppies. This new series proves to be equally humorous—if not more so..."
— This is Colossal

"You will not be able to stop looking at these portraits of shaking cats."
— Mashable

"...features photos of animals as they shake it off...the result is a hilarious series of expressions."
— Refinery29

"Watch out Shake Puppies. The new Shake Cats show how whipping your fur back and forth is really done."
— Cosmopolitan

"Get ready, cat lovers! You fell in love with photographer Carli Davidson's Shake and Shake Puppies, and now you get to do it all over again with her newest book, Shake Cats!"
— Animal Planet's "Bites Blog"

"Davidson not only snaps portraits of some of the most handsome felines around, she photographs them shaking their pristine bodies, sometimes feverishly and other times lazily, in what amounts to a laughably captivating photo series fit for Lil Bub. (No, really, she's in the series.)"
— Huffington Post

"Davidson shows even cats like to shake it off sometimes."
— People

"Cute cate alert! Check out these adorably weird photos of shaking felines."
— Fast Company's Co.Create

"...here is a book for the cat lovers."
— San Antonio Express News

"...captures cats cleaning or drying themselves off mid-shake, producing some pretty hilarious results."
— Buzzfeed

"You have to see these 'Shake Cats' in action"
— Bust Magazine

"will make a true cat fan purr."
— New York Post