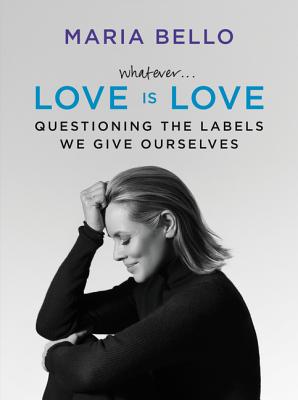 Whatever...Love Is Love
Questioning the Labels We Give Ourselves
Hardcover

* Individual store prices may vary.
Other Editions of This Title:
Digital Audiobook (4/27/2015)
Paperback (1/26/2016)
Compact Disc (4/28/2015)
Compact Disc (4/28/2015)
Description
The acclaimed actress and dedicated activist shares her personal journey of discovery, and destroys outdated ideas about partnership, love and family that will resonate with anyone in an unconventional life situation.
Actress and activist Maria Bello made waves with her essay, "Coming Out as a Modern Family," in the New York Times popular "Modern Love" column, in which she recalled telling her son that she had fallen in love with her best friend, a woman—and her relief at his easy and immediate acceptance with the phrase "Whatever Mom, love is love." She made a compelling argument about the fluidity of partnerships, and how families today come in a myriad of designs.
In her first book, Bello broadens her insights as she examines the idea of partnership in every woman's life, and her own. She examines the myths that so many of us believe about partnership—that the partnership begins when the sex begins, that partnerships are static, that you have to love yourself before you can be loved, and turns them on their heads. Bello explores how many different relationships—romantic, platonic, spiritual, familial, educational—helped define her life. She encourages women to realize that the only labels we have are the ones we put on ourselves, and the best, happiest partnerships are the ones that make your life better, even if they don't fit the mold of "typical."
Throughout this powerful and engaging read, Bello shares intimate stories and lessons on how she has come to discover her happiest self, accept who she is, and live honestly and freely, and tells the stories of those who came to her after her Times' columns, grateful that someone gave voice to their life choices.
Whatever...Love Is Love is not a memoir about an actress. It is a frank, raw, and honest book about the way every woman questions the roles she plays in love, work, and life, filled with wisdom, questions, and insights relevant to us all.
Dey Street Books, 9780062351838, 240pp.
Publication Date: April 28, 2015
About the Author
Maria Bello is an activist, actor, and writer. Her essay "Coming Out as a Modern Family" was one of the ten most popular to appear in the New York Times's Modern Love column. She lives in Los Angeles, California.
Whatever . . . Love Is Love is about finding out who we are beyond the labels others put on us. Maria Bello poses a series of questions to herself, questions that she uses to explore her life and everything in it. Which of her questions resonate with you? What are some "labels" that define you and where did they originate? Do they fit your life and the person you see in the mirror? How can we get beyond these labels?
What are the qualities that make a partner for you? Who are some of your partners and what do they bring to your life?
From reading the book, how does faith, family, work, love, and humanitarianism blend in Maria's life? And in your own?
Maria's friend from college, Father Ray, taught her about living a worthy life. What does it mean to be worthy? How can we be worthy, and make a difference to others' in our busy daily lives?
In talking about her father, Maria explores the notion of forgiveness, which she defines as acceptance. How does her definition fit with your own ideas of forgiveness? What do we need to do to truly forgive another?
Maria discusses the ide of moving from one phase to another in our lives. Why do so many people fear change? How do you handle transitions? How might you approach the next change in your life and how might it be different from previous experiences?
What significance does Haiti hold for Maria? How have her experiences in Haiti affected her? Do you have a "Haiti" in your own life? if so, how has it impacted who you are? Do you think it is selfish to be a "humanitarian"?
Maria also explores feminism. What is a feminist? Do you think of yourself as a feminist? How has feminism changed over the past 40 years?
Maria reveals how her mother is very influenced by her Catholic faith, and one of its most revered symbols, the Virgin Mary. She also talks about appreciating signs in her own life, specifically in the form of a gold shoe she once found. "Signs are everywhere," Maria tells us. How can we open ourselves to receive signs like these as messages from the universe?
If you are familiar with Maria Bello from her work as an actor, how did reading the book affect your perceptions of her? What did you learn about her as a mother, an actor, a daughter, a friend, a partner? Did reading the book help you see your own life differently?
Maria had a number of ordinary yet remarkable people who helped her see and be herself throughout her life, and mentioned books that have touched her. What people have shaped the person you are? Do you have favorite books or movies that have transformed you as well?
Would you call Whatever . . . Love Is Love a memoir? Did you get a full picture of Maria the person from reading the book? What expectations did you have before you read Whatever . . . Love Is Love? Did the book surprise you or challenge you? What did you take away from reading it?
Coverage from NPR
or
Not Currently Available for Direct Purchase