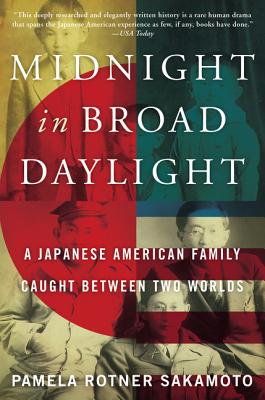 Midnight in Broad Daylight
A Japanese American Family Caught Between Two Worlds
Paperback

* Individual store prices may vary.
Other Editions of This Title:
Digital Audiobook (1/4/2016)
Hardcover (1/5/2016)
Compact Disc (1/5/2016)
MP3 CD (1/5/2016)
MP3 CD (1/5/2016)
Compact Disc (1/5/2016)
Description
Meticulously researched and beautifully written, the true story of a Japanese American family that found itself on opposite sides during World War II—an epic tale of family, separation, divided loyalties, love, reconciliation, loss, and redemption—this is a riveting chronicle of U.S.–Japan relations and the Japanese experience in America.
After their father's death, Harry, Frank, and Pierce Fukuhara—all born and raised in the Pacific Northwest—moved to Hiroshima, their mother's ancestral home. Eager to go back to America, Harry returned in the late 1930s. Then came Pearl Harbor. Harry was sent to an internment camp until a call came for Japanese translators and he dutifully volunteered to serve his country. Back in Hiroshima, his brothers Frank and Pierce became soldiers in the Japanese Imperial Army.
As the war raged on, Harry, one of the finest bilingual interpreters in the United States Army, island-hopped across the Pacific, moving ever closer to the enemy—and to his younger brothers. But before the Fukuharas would have to face each other in battle, the U.S. detonated the atomic bomb over Hiroshima, gravely injuring tens of thousands of civilians, including members of their family.
Alternating between the American and Japanese perspectives, Midnight in Broad Daylight captures the uncertainty and intensity of those charged with the fighting as well as the deteriorating home front of Hiroshima—as never told before in English—and provides a fresh look at the dropping of the first atomic bomb. Intimate and evocative, it is an indelible portrait of a resilient family, a scathing examination of racism and xenophobia, an homage to the tremendous Japanese American contribution to the American war effort, and an invaluable addition to the historical record of this extraordinary time.
Praise For Midnight in Broad Daylight: A Japanese American Family Caught Between Two Worlds…
Deeply reported and researched… Midnight in Broad Daylight" not only tells one family's remarkable story but also makes an important contribution to our knowledge of the Japanese-American experience in World War II, on both sides of the ocean and the hyphen.
— New York Times Book Review

[S]ublime prose and prodigious research…"Midnight in Broad Daylight" is as riveting and moving a book as has ever been written about World War II, made all the more compelling by the blending of American and Japanese perspectives.
— Seattle Times

"An intimately detailed look at the agony of a Japanese American family struggling to maintain American loyalty amid discrimination and war. . . . A richly textured narrative history. . . . A beautifully rendered work wrought with enormous care and sense of compassionate dignity."
— Kirkus Reviews (starred review)

"[O]ne of the most wrenching, inspirational-and until now unknown-true epics of World War II….luminous, magisterial…[Sakamoto] has helped shape and set the standard for a vital and necessary new genre: transpacific literature. Her readers will want more."
— Ron Powers, Pulitizer Prize winner and author of Mark Twain: A Life

"Riveting in its alternating American and Japanese perspectives, and a fresh look at the dropping of the atom bomb over Hiroshima, this story is inspirational as well as educational. A great addition to World War II literature."
— Jeanne Wakatsuki Houston, coauthor of Farewell to Manzanar

"This deeply researched and elegantly written history is a rare human drama that spans the Japanese-American experience as few, if any, books have done…. a cultural document that immerses the reader…"
— USA Today

"Midnight in Broad Daylight is a deeply moving, well-written work that ranks among the better accounts of the injuries inflicted in wartime on civilian and ethnic populations. Students of war crimes and crimes against humanity are sure to notice this book."
— Herbert Bix, Pulitzer Prize–winning author of Hirohito and the Making of Modern Japan
Harper Perennial, 9780062351944, 480pp.
Publication Date: January 31, 2017
About the Author
Pamela Rotner Sakamoto is an  American historian. Fluent in Japanese, she lived in Kyoto and Tokyo for seventeen years. She works as an expert consultant on Japan-related projects for the United States Holocaust Memorial Museum in Washington, D.C., and has taught in the University of Hawaii system. She is on the faculty at Punahou School in Honolulu.