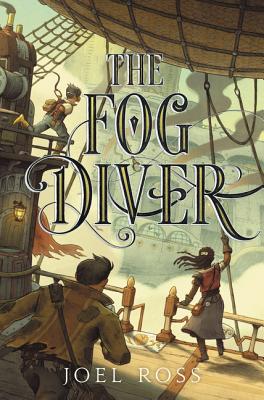 The Fog Diver
Hardcover

* Individual store prices may vary.
Other Editions of This Title:
Paperback (5/24/2016)
Prebound (5/24/2016)
Description
Joel Ross debuts a thrilling adventure series in which living in the sky is the new reality and a few determined slum kids just might become heroes. This Texas Bluebonnet selection—a fantasy filled with daring and hope and a wonderfully imaginative world—is perfect for fans of Rick Riordan and Brandon Mull.
Once the Fog started rising, the earth was covered with a deadly white mist until nothing remained but the mountaintops. Now humanity clings to its highest peaks, called the Rooftop, where the wealthy Five Families rule over the lower slopes and floating junkyards.
Thirteen-year-old Chess and his friends Hazel, Bea, and Swedish sail their rickety air raft over the deadly Fog, scavenging the ruins for anything they can sell to survive. But now survival isn't enough. They must risk everything to get to the miraculous city of Port Oro, the only place where their beloved Mrs. E can be cured of fogsickness. Yet the ruthless Lord Kodoc is hot on their trail, for Chess has a precious secret, one that Kodoc is desperate to use against him. Now Chess will face any danger to protect his friends, even if it means confronting what he fears the most.
Praise For The Fog Diver…
"Ross wastes no time with his worldbuilding, establishing Chess and his crew as a misfit found family working the Fog by day and sharing stories by night. It's a fresh approach, reminiscent of Dickens…the only thing missing is a sequel, which readers hope won't be far behind. "
— Kirkus Reviews (starred review)

"With plenty of action, and characters who are as precocious as they are prodigious at their airship duties, this is a fun beginning to a unique new series. An abundance of pop culture references gone hilariously wrong add appeal for reluctant readers. Oh, and there are air pirates!"
— School Library Journal

"Complex, lovable characters; a magical, dangerous world; and a struggle to survive against overwhelming odds. I couldn't put it down!"
— Sage Blackwood, author of the Jinx trilogy

"Fast-paced and clever, filled with brave, talented characters—my favorite! It's a classic adventure novel with a postapocalyptic flair and witty reimaginings of modern folklore."
— Merrie Haskell, author of The Castle Behind Thorns
HarperCollins, 9780062352934, 336pp.
Publication Date: May 26, 2015
About the Author
Joel Ross is the author of The Fog Diver, which received the Cybils Award and the YouPer Award from the Michigan Library Association and was named to the Texas Bluebonnet Award Master List. He is also the author of The Lost Compass as well as two World War II thrillers for adults (Double Cross Blind and White Flag Down). He lives in Santa Barbara, California, with his wife, Lee Nichols, who is also a full-time writer, and their son, Ben, who is a full-time kid. To find out more information, go to www.fogdiver.com.