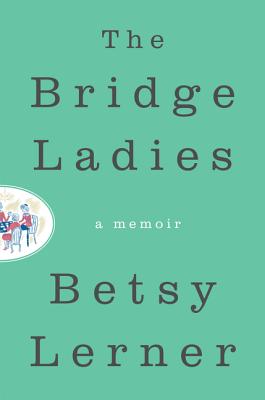 The Bridge Ladies
A Memoir
Hardcover

* Individual store prices may vary.
Other Editions of This Title:
Digital Audiobook (5/2/2016)
Paperback (5/2/2017)
Compact Disc (5/3/2016)
Description
A fifty-year-old Bridge game provides an unexpected way to cross the generational divide between a daughter and her mother. Betsy Lerner takes us on a powerfully personal literary journey, where we learn a little about Bridge and a lot about life.
After a lifetime defining herself in contrast to her mother's "don't ask, don't tell" generation, Lerner finds herself back in her childhood home, not five miles from the mother she spent decades avoiding. When Roz needs help after surgery, it falls to Betsy to take care of her. She expected a week of tense civility; what she got instead were the Bridge Ladies. Impressed by their loyalty, she saw something her generation lacked. Facebook was great, but it wouldn't deliver a pot roast.
Tentatively at first, Betsy becomes a regular at her mother's Monday Bridge club. Through her friendships with the ladies, she is finally able to face years of misunderstandings and family tragedy, the Bridge table becoming the common ground she and Roz never had.
By turns darkly funny and deeply moving, The Bridge Ladies is the unforgettable story of a hard-won—but never-too-late—bond between mother and daughter.
Praise For The Bridge Ladies: A Memoir…
"Lerner's memoir makes a case for spending time together under the rules of neutrality imposed by a game, and approach to living that refrains from over-sharing and outward complaining to concentrate on the task at hand. The bridge ladies are there for one another, even as they keep their feelings to themselves and play on." — New York Times Book Review
"A heartfelt and affecting memoir." — Washington Post
"A smart and colorful memoir." — Maureen Corrigan, NPR's Fresh Air
"A deeply affecting memoir...a generous and honest examination, she honors these women's lives" — Boston Globe
"In her absorbing memoir, Lerner probes marriage, career, motherhood, depression, aging, death, religion and sex, discovering that, although the Bridge Ladies' generation differs from hers, they share common values of love and kinship. This beautifully written, bittersweet story of ladies of a certain age and era will have wide appeal." — Publishers Weekly (starred review)
"A book for two generations." — Dallas Morning News
"The Bridge Ladies is an uplifting account of a baby boomer's attempt to understand her mother's generation. Lerner never lets herself off the hook, either, and the result is candid, fresh and enlightening." — Providence Journal
"Through the alchemy of a grand game, Betsy Lerner has woven a universal coming-of-age story for both mother and daughter. A poignant, humorous and often painful struggle through the pageantry of playing cards; a woman's face on every one." — Patti Smith, author of Just Kids and M Train
"Betsy Lerner's ladies are our ladies, our mothers, grandmothers, and aunts. Lerner takes us back to their tables, capturing a group of wonderful American women—growing older now and braving new battles—with sweetness, humor and sharp perceptiveness. This is a book with heart and feeling." — George Hodgman, author of Bettyville
"Lerner takes us on a journey of understanding: the card game, the women who play it, their lives and relationships. In Lerner's beautifully observed account, Bridge becomes both a literal and figurative pathway to repairing an even more precious bond: her own relationship to her mother." — Deborah Tannen, author of You Just Don't Understand and You're Wearing THAT?
"This is the best book about mothers and daughters I've read in decades, maybe ever. It's about mother-daughter conflict, the desire to love and be loved, aging and loss, discovery and renewal. Betsy Lerner is a beautiful, achingly honest writer, and The Bridge Ladies is at once heartbreaking and hilarious." — Amy Chua, Yale Law Professor and author of Battle Hymn of the Tiger Mother and The Triple Package: How Three Unlikely Traits Explain the Rise and Fall of Cultural Groups in America
"A searching, funny, warm memoir." — O, the Oprah Magazine
"The Bridge Ladies reminded me of Tuesdays with Morrie, except it takes place on Mondays and has five Morries. Exquisitely written, in this book are portraits of five women whose like we won't see again. I devoured it in one greedy sitting, and started re-reading as soon as I finished." — Will Schwalbe, author of the New York Times bestseller The End of Your Life Book Club
Harper Wave, 9780062354464, 320pp.
Publication Date: May 3, 2016
About the Author
Betsy Lerner is the author of The Forest for the Trees and Food and Loathing. She is a recipient of the Thomas Wolfe Poetry Prize, an Academy of American Poets Poetry Prize, and the Tony Godwin Prize for Editors, and was selected as one of PEN's Emerging Writers. Lerner is a partner with the literary agency Dunow, Carlson & Lerner and resides in New Haven, Connecticut.
Book Videos
Coverage from NPR
or
Not Currently Available for Direct Purchase