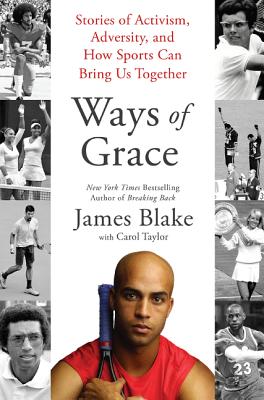 Ways of Grace
Stories of Activism, Adversity, and How Sports Can Bring Us Together
Hardcover

* Individual store prices may vary.
Other Editions of This Title:
Paperback (7/24/2018)
Description
Inspired by Arthur Ashe's bestselling memoir Days of Grace, a collection of positive, uplifting stories of seemingly small acts of grace from across the sports world that have helped to bridge cultural and racial divides.
Like many people of color, James Blake has experienced the effects of racism firsthand—publicly—first at the U.S. Open, and then in front of his hotel on a busy Manhattan street, where he was tackled and handcuffed by a police officer in a case of "mistaken identity." Though rage would have been justified, Blake faced both incidents with dignity and aplomb.
In Ways of Grace he reflects on his experiences and explores those of other sports stars and public figures who have not only overcome adversity, but have used them to unite rather than divide, including:
Aisam-Ul-Haq Qureshi, a Pakistani Muslim and Amir Hadad, an Israeli Jew, who despite the conflicts of their countries, paired together in the 2002 Wimbledon men's doubles draw.
Muhammad Ali, who transcended racism with a magnetic personality and a breathtaking mastery of boxing that was unparalleled.
Nelson Mandela, who spent twenty-seven years in prison for his commitment to social reform, peace, and equality yet never gave up his battle to end apartheid—a struggle that led to his eventual freedom and his nation's transition to black majority rule.
Groundbreaking tennis legend Arthur Ashe, who was a model of courage, elegance, and poise on the court and off; a gifted player who triumphed in the all-white world of professional tennis, and became one of his generation's greatest players.
Weaving together these and other poignant and unforgettable stories, Blake reveals how, through seemingly small acts of grace, we can confront hatred, bigotry, and injustice with virtue—and use it to propel ourselves to greater heights.
Praise For Ways of Grace: Stories of Activism, Adversity, and How Sports Can Bring Us Together…
"This book will appeal not only to sports fans who want to learn more about their heroes, but also for those seeking a better understanding of why sports matter in making the world a better place."
— Library Journal

"Blake's new book offers examples of the power of sports to unify...Blake is using his platform to educate, inspire positive change, and support athletes who are committed to acting on their views and attempting to make a difference."
— Booklist

"Ways of Grace displays not only [James Blake's] character, but that of all of the athletes who have advocated for causes of social justice. This book reminds us all of the power of sports."
— Venus Williams

"James Blake offers a long-overdue and remarkably thoughtful look at the contributions that professional athletes from across sports have made to improve their corner of the world by using their voices no matter the risk."
— Barry Scheck, founder of the Innocence Project

"In Ways of Grace, [James Blake] proves the vital role athletes have played in furthering discussion around society's most pressing issues. It is an inspiring and important work."
— John McEnroe

"Writing with poise and heart, James Blake gives us a timely look at how athletes have used their voices to stand up for what's right...The stories in Ways of Grace offer important messages of hope…and demonstrate that sports have always been…an important vehicle for healing our divisions."
— Marc Lasry, co-owner of the Milwaukee Bucks

"'Ways of Grace' came to life soon after Blake's false and rather brutal arrest...[Blake's] approach was to study the lives of many athletes…Along the way he also seeks to sort out his own quest to balance life as an athlete with the desire to make a difference."
— San Francisco Chronicle
Amistad, 9780062354525, 256pp.
Publication Date: June 27, 2017
About the Author
James Blake has been a professional tennis player since 1999, when he left Harvard to join the professional tennis circuit. He grew up in Fairfield, Connecticut, and currently resides in Tampa, Florida.
Carol Taylor is a bestselling author who has written nine books. A former Random House book editor, she lives in New York.
or
Not Currently Available for Direct Purchase