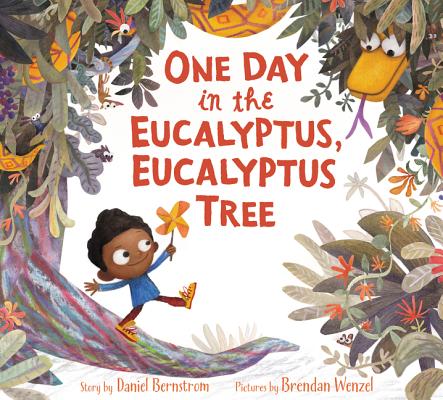 One Day in the Eucalyptus, Eucalyptus Tree
Hardcover

* Individual store prices may vary.
Description
"A hungry snake. A beautiful brown boy. What more can a young reader ask for?"—National Book Award winner Jacqueline Woodson
A sneaky snake has no idea that the captives in his belly are planning their escape! In the spirit of There Was an Old Lady Who Swallowed a Fly by Simms Taback, the reader sees a cutaway of the snake's belly and can even guess how the tale ends!
Classic and contemporary, timeless and fresh, One Day in the Eucalyptus, Eucalyptus Tree has a syncopated and rhythmically delightful text perfect for reading aloud. 
Daniel Bernstrom's debut picture book is nothing short of splendid, and is accompanied by magical illustrations from New York Times bestselling and 2017 Caldecott Medal-winning artist Brendan Wenzel (They All Saw a Cat).
And don't miss Daniel Bernstrom's next book, Gator, Gator, Gator!
Praise For One Day in the Eucalyptus, Eucalyptus Tree…
"Love the book. . . . A hungry snake. A beautiful brown boy. What more can a young reader ask for?"
— National Book Award winner Jacqueline Woodson

"What fun Daniel Bernstrom has with words! Living as we do in a society where the emphasis is on television, film, and videos, this book shows children how delightful language can be. The wonderful and colorful illustrations add to the playful joy of this book."
— Newbery Honor winner Julius Lester

"Bernstrom's spritely language rhythmically sings an exciting, laugh-filled, cumulative story. Bold, large print highlights the events as the snake slides, wiggles, and twists while the animals crinkle, munch, and buzz. Wenzel's wildly imaginative, brightly hued digital illustrations are a wonderfully goofy complement to the action . . .
— Kirkus Reviews (starred review)

"Debut author Bernstrom draw(s) in readers with lilting refrains and exuberant wordplay. Wenzel knows how to mix his media: there's a luxuriously whiskered cat, a sloth with a sweaterlike coating of moss, "an ape eating grapes,/ lounging like a queen," and a very big bear.'
— Publishers Weekly (starred review)

"Onomatopoeia and action words abound, as does the rhythm and repetition, making this cumulative tale skip along. The rainbow eucalyptus tree, its leaves, and the fanciful mix of critters are depicted in marvelously colorful digital illustrations."
— Booklist (starred review)

"Children will enjoy the rhythms of the musical text and eagerly anticipate each new meal, reveling in the inevitable outcome. VERDICT Pair this title with any version of "There Was an Old Lady" for a satisfying storytime.-Barbara Auerbach, New York City Public Schools."
— School Library Journal
HarperCollins, 9780062354853, 32pp.
Publication Date: May 3, 2016
About the Author
Daniel Bernstrom is the author of the critically acclaimed One Day in the Eucalytus, Eucalyptus Tree and Gator, Gator, Gator!. Dan earned an MFA in Writing for Children and Young Adults from Hamline University and currently works at the Learning Resource Center Coordinator at Minnesota State College Southeast, where he tutors students in math, writing, and science. He lives in Red Wing, Minnesota, with his wife, Heather; daughter, LaVonne; and sons, Grace, and Haven. Visit him at www.lillylabs.com.
Brendan Wenzel is an illustrator with a great affection for trees and all the furry, feathered, and scaly things that you can find in them (including snakes!). He has traveled to jungles, savannas, and everything in between in search of fascinating animals and has teamed up with many groups working to preserve wild places and creatures around the world. Brendan is the illustrator of Angela DiTerlizzi's Some Bugs. Brendan lives in New York with his wife, Magdalena.