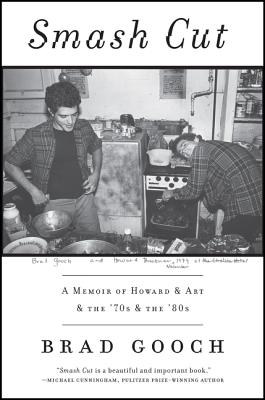 Smash Cut
A Memoir of Howard & Art & the '70s & the '80s
Paperback

* Individual store prices may vary.
Other Editions of This Title:
Hardcover (4/14/2015)
Description
The author of the acclaimed City Poet returns with a searing memoir of life in 1980s New York City—a colorful and atmospheric tale of wild bohemians, glamorous celebrity, and complicated passions—with cameo appearances by Madonna, Robert Mapplethorpe, William Burroughs, and a host of others legendary artists.
Brad Gooch arrived in New York in the late 1970s, yearning for artistic and personal freedom. Smash Cut is his bold and intimate memoir of this exhilarating time and place. At its center is his love affair with film director Howard Brookner, pieced together from fragments of memory and fueled by a panoply of emotions, from blazing ecstasy to bleakest despair.
As both men try to reconcile love and fidelity with the irresistible desire to enjoy the freedom of the age, they live together and apart. Gooch works briefly as a model in Milan, then returns to the city and discovers his vocation as an artist. Brookner falls ill with a mysterious virus that soon has a terrifying name: AIDS. And the story, and life in the city, is suddenly overshadowed by this new demon plague that will ravage a generation and transform the creative world. Gooch charts the progress of Brookner through his illness, and writes unforgettably about endings: of a great talent, a passionate love affair, and an incandescent era.
Beautifully written, full of rich detail and poignant reflection, recalling a time and a place and group of friends with affection and clarity, Smash Cut is an extraordinary memoir and an exquisite account of an epoch.
Illustrated with 30 black-and-white photographs.
Praise For Smash Cut: A Memoir of Howard & Art & the '70s & the '80s…
"The fact that a writer of Brad Gooch's significance has been witness to remarkable events and people, and has written about them, is a genuine gift to the world. Smash Cut is a beautiful and important book." — Michael Cunningham, Pulitzer Prize winning author
"A gorgeous memoir...a potent mix of love, art, and death." — Vanity Fair
"That Gooch is a splendid writer will not be left in doubt for anyone who delves into his new memoir. . . . Literary memoirs abound; this one excels in beautiful honesty." — Booklist (starred review)
"Brad Gooch's story is harrowingly honest written with love and in grief, a deftly articulated insightful history that is at once personal and deeply resonant. Brave and powerful--I couldn't put it down." — A.M. Homes, author of May We Be Forgiven
"So glamorous, so sexy, and so devastating, this love story will be the gay picture of the 70s/80s. That it took place between two beautiful, talented young men only makes it the more romantic and poignant." — Edmund White, author of CITY BOY
"Far more than a memoir, Smash Cut is a bold and tender anatomy of love in an age of ambition, art, and changing light." — Brenda Wineapple
"Smash Cut is a love story, an elegy, an intimate history written with enormous grace by a novelist and poet, who is also a master biographer. " — Honor Moore, author of The Bishop's Daughter
"Gooch brings the city to life with all its promise and possibility. A personal, intimate look at our country's creative history that will also keep you up all night and make you see the city in a new way." — Susan Cheever
"Engrossing, intimate. . . . This candid memoir lovingly evokes a life, and a world, lost." — Kirkus Reviews
"Like everyone who ever met Brad, I fell instantly in love. If YOU'VE not met him, reading this book will be the next best thing." — Andrew Tobias, author of The Best Little Boy in the World
"In Gooch's visceral, gut-punching narrative, the arrival of AIDS turns the city into a cemetery. . . . This is a memoir that needs to be read by those who remember and those who never knew." — Interview Magazine
"It is both unparalleled in its intimacy, focusing on his romance with the filmmaker Howard Brookner, and its universality, as a testament to the havoc wreaked by the AIDS pandemic, something he witnessed firsthand in Brookner's decline and eventual death in 1989." — Kirkus
"A powerful, poignant and especially frank memoir. . . Rife with humor, glamour, audacity and tragedy, Smash Cut is a witty, whimsical portrait of art and artists from an unforgettable time period." — Edge Media
"In his memoir Smash Cut, Gooch traces the life of '70s and '80s New York with the same fashionable tongue of a literary connoisseur, approaching the details of his life with humour and poignancy." — Pop Matters
"Gooch has documented his life... with unselfconscious ease that makes his memoir a literary achievement more than a simple biography... It's short but impactful, like a poem you didn't realize you'd been waiting your whole life to read and stumbled across by chance." — Boy Culture
"Acclaimed literary biographer Brad Gooch turns to the contours of his own life, particularly his romance with film director Howard Brookner, in this brave and intimate memoir... The elegiac book traces complex terrains of sex and drugs, ambition and love, and art and mortality with tender honesty." — GOOP
"Smash Cut is an eloquent, deeply felt exploration of love and ambition in dangerous times. . . Smash Cut [is] a moving, memorable and important book." — Miami Herald
"Gooch is a cool witness to the era's excess and his own conflicting behavior; his quiet honesty is bold. Smash Cut is a love story and an elegy. It's heady, sexy, heartbreaking, and most notably, even in the face of death, written not from anger, but love." — Bay Area Reporter
"Gooch excels when reporting on the cruelty wrought by H.I.V. that would eventually take Brookner's life-and on the complexity of a relationship that defied category." — New York Times Book Review
Harper Perennial, 9780062354969, 256pp.
Publication Date: April 19, 2016
About the Author
Brad Gooch is the author of the acclaimed biographies City Poet and Flannery: A Life of Flannery O'Connor, as well as other nonfiction and three novels. The recipient of the National Endowment for the Humanities and Guggenheim fellowships, he earned his PhD at Columbia University and is a professor of English at William Paterson University in New Jersey.