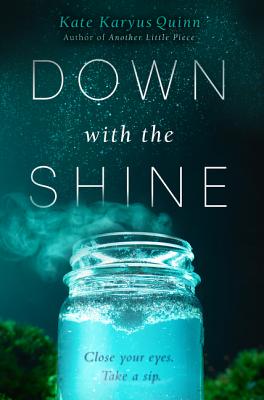 Down with the Shine
Hardcover

* Individual store prices may vary.
Description
Think twice before you make a wish in this imaginative, twisted, and witty new novel from the author of Another Little Piece.
When Lennie brings a few jars of her uncles' moonshine to Michaela Gordon's house party, she has everyone who drinks it make a wish. It's tradition. So is the toast her uncles taught her: "May all your wishes come true, or at least just this one."
The thing is, those words aren't just a tradition. The next morning, every wish—no matter how crazy—comes true. And most of them turn out bad. But once granted, a wish can't be unmade . . .
Praise For Down with the Shine…
"Vividly imagined and hard to put down. You'll think twice about what you wish for." — Mindy McGinnis, author of Not a Drop to Drink
"Sharp, funny, and amiable, Lennie's narration feels a lot like a modern-day Scout's. Contemporary fiction with a touch of magic and a hint of horror, Quinn's latest defies traditional labels and offers readers a different sort of fictitious escape." — Kirkus Reviews
"Successfully blends thriller and fantasy elements for a high-stakes, careful-what-you-wish-for story. A unique, often clever take on family legacies and high school desires with wide appeal." — ALA Booklist
"A darkly intelligent novel for readers who prefer flawed heroines and ambiguous endings that aren't tied up in a pretty little 'they all lived happily ever after' bow." — School Library Journal
"Quinn's previous titles have involved dark, labyrinthine plots, but here she moves into black humor, doing so with revelry and aplomb." — Bulletin of the Center for Children's Books
PRAISE FOR KATE KARYUS QUINN: "Quinn is a gifted writer. Understanding the rules of Gardnerville is like deciphering an intricate puzzle or being locked in a dream." — Publishers Weekly
"A distinctive, supernatural read." — Kirkus Reviews
"Quinn's newest mystery is a complicated thriller with lots of twists, turns, and a large dose of fantasy." — ALA Booklist
"Fans of Nova Ren Suma's Imaginary Girls (Dutton, 2011) will enjoy this dark and magical surrealism." — School Library Journal
"Quinn blends eloquent prose and startling imagery to create a truly creepy small town. Will find an audience among fans of Brenna Yovanoff (The Replacement) and Dia Reeves (Bleeding Violet)." — Bulletin of the Center for Children's Books
"A gripping ride. Quinn skillfully occupies the mind of a young woman who turns out to be a monster—yet one who's not beyond redemption." — Horn Book Magazine
"Stunning in its raw emotion. A taut, terrifying supernatural thriller." — Bulletin of the Center for Children's Books
HarperTeen, 9780062356048, 368pp.
Publication Date: April 26, 2016
About the Author
Kate Karyus Quinn is an avid reader and a menthol ChapStick addict. She has lived in California and Tennessee but recently made the move back to her hometown of Buffalo, New York, with her husband and two children in tow. She promised them wonderful people, amazing food, and weather that would . . . build character. She is also the author of Another Little Piece and (Don't You) Forget About Me. You can visit Kate online at www.katekaryusquinn.com.
or
Not Currently Available for Direct Purchase