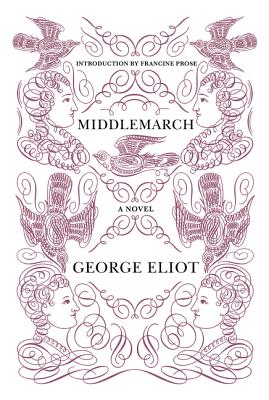 Middlemarch (Paperback)
Harper Perennial, 9780062356147, 864pp.
Publication Date: November 17, 2015
Other Editions of This Title:
Paperback (8/13/2018)
Paperback (12/7/2013)
Paperback (9/2/2013)
Paperback (11/11/2013)
Paperback (5/3/2018)
Paperback (2/16/2014)
Paperback, French (1/29/2015)
Paperback (6/27/2013)
Paperback, Large Print (8/19/2008)
Paperback (12/27/2015)
Paperback (8/20/2008)
Paperback (5/30/2012)
* Individual store prices may vary.
Description
A deluxe Harper Perennial Legacy Edition, with an introduction from Francine Prose, award-winning and New York Times best-selling author of Reading Like a Writer
George Eliot's beloved classic novel—hailed by Virginia Woolf as "masterful"—follows the life, loves, foibles, and politics of the residents of a fictional English town set amid the social unrest during the Industrial Revolution.
A sprawling work set in a provincial English town, Middlemarch boasts a large cast of characters whose stories interweave against a backdrop of political upheaval.
Instead of choosing to wed a wealthy landowner and settle for a comfortable life, Dorothea Brooke decides to marry Edward Casaubon—a dull scholar who is her senior by a few decades. Dorothea hopes the union will afford her with the opportunity to share in her husband's intellectual pursuits, but even her best efforts can't save the disastrous marriage. Meanwhile, idealistic doctor Tertius Lydgate has progressive ideas about the medical field, and he believes the village of Middlemarch is the place that will embrace his beliefs. But when he weds Rosamond Vincy, the mayor's beautiful daughter, his ideals come into stark contrast with his new bride's materialism and vanity, dooming their marriage from the start.
Lastly, Rosamond's brother, Fred, is reluctantly destined for the Church. But his childhood sweetheart Mary Garth refuses to accept him until he settles into a more suitable career and one that interests him. But when circumstances lead to Fred losing a sizeable fortune that sets off a calamitous turn of events, he must reevaluate the choices he has made.
As The Guardian notes, Middlemarch "looms above the mid-Victorian literary landscape like a cathedral of words," offering readers a pivotal shaping of literary realism. Middlemarch is a masterwork of fiction that is as timely today as when it was first published.
About the Author
George Eliot was the pseudonym for Mary Anne Evans, one of the leading writers of the Victorian era, who published seven major novels and several translations during her career. She started her career as a sub-editor for the left-wing journal The Westminster Review, contributing politically charged essays and reviews before turning her attention to novels. Among Eliot's best-known works are Adam Bede, The Mill on the Floss, Silas Marner, Middlemarch and Daniel Deronda, in which she explores aspects of human psychology, focusing on the rural outsider and the politics of small-town life. Eliot died in 1880.
Francine Prose is the author of twenty-one works of fiction, including Mister Monkey; the New York Times bestseller Lovers at the Chameleon Club, Paris 1932; A Changed Man, which won the Dayton Literary Peace Prize; and Blue Angel, a finalist for the National Book Award. Her works of nonfiction include Anne Frank: The Book, The Life, The Afterlife, and the New York Times bestseller Reading Like a Writer. The recipient of numerous grants and honors, including a Guggenheim, a Fulbright, and a Director's Fellow at the Center for Scholars and Writers at the New York Public Library, she is a former president of PEN American Center and a member of the American Academy of Arts and Letters and the American Academy of Arts and Sciences. She lives in New York City.