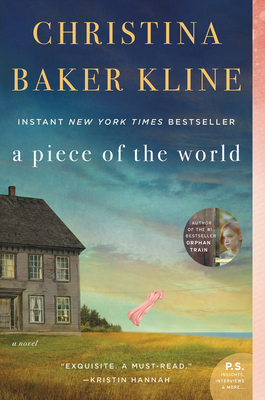 A Piece of the World
A Novel
Paperback

* Individual store prices may vary.
Other Editions of This Title:
Digital Audiobook (2/20/2017)
Hardcover (2/21/2017)
Paperback, Large Print (2/21/2017)
CD-Audio (2/6/2018)
Description
A New York Times bestseller.
"Exquisite. A must-read." --Kristin Hannah
From the #1 New York Times bestselling author of the smash bestseller Orphan Train, a stunning and atmospheric novel of friendship, passion, and art, inspired by Andrew Wyeth's mysterious and iconic painting Christina's World.
"Later he told me that he'd been afraid to show me the painting. He thought I wouldn't like the way he portrayed me: dragging myself across the field, fingers clutching dirt, my legs twisted behind. The arid moonscape of wheatgrass and timothy. That dilapidated house in the distance, looming up like a secret that won't stay hidden."
To Christina Olson, the entire world is her family farm in the small coastal town of Cushing, Maine. The only daughter in a family of sons, Christina is tied to her home by health and circumstance, and seems destined for a small life. Instead, she becomes Andrew Wyeth's first great inspiration, and the subject of one of the best-known paintings of the twentieth century, Christina's World.
As she did in her beloved bestseller Orphan Train, Christina Baker Kline interweaves fact and fiction to vividly reimagine a real moment in history. A Piece of the World is a powerful story of the flesh-and-blood woman behind the portrait, her complicated relationship to her family and inheritance, and how artist and muse can come together to forge a new and timeless legacy.
This paperback edition includes a color reproduction of Andrew Wyeth's painting Christina's World, along with a Q&A with the author, and a bonus short story, "Stranded in Ice."
Praise For A Piece of the World: A Novel…
"The novel evokes the somber grace of [Wyeth's] paintings … Christina's yearning, her determination, her will to dream, occupy the emotional center in both the novel and the painting. A Piece of the World is a story for those who want the mysterious made real." — New York Times Book Review
"Another winner from the author of Orphan Train. In this beautifully observed fictional memoir, Kline uses Andrew Wyeths' iconic painting Christina's World as the taking-off point for a moving portrait of the artist's real-life muse. Book of the week." — People
"Fans of Kline's phenomenal 2013 best seller Orphan Train will recognize the way the new novel...brings to vivid life a little-known corner of history...Avoiding sentimental uplift, A Piece of the World offers unsparing insight into the real woman behind the painting." — USA Today
"The novel provides gorgeous, complicated answers to all the questions the painting stirs, beginning with the day a young painter appears on her porch. Kline has created a memorable and unforgettable voice for Anna Christina Olson, the girl in the field." — Portland Tribune (Oregon)
"Kline herself is an artist, drawing on the real history of Christina Olson and Andrew Wyeth to conjure up her own haunting portrait.... Kline's deep research into characters, place, and time period provides the outlines of a compelling story, which she then expertly brings into three dimensions." — Christian Science Monitor
"Like Wyeth's paintings, this is a vivid novel about hardscrabble lives and prairie grit and the seemingly small but significant beauties found there." — Minneapolis Star Tribune
"Artfully (pun intended) inspired by the Andrew Wyeth painting Christina's World." — Marie Claire
"Absorbing...A portrait of Maine farm life, of an iron-willed spinster with polio and the accidental friendship that changes everything...Kline has a graceful, arresting style that lifts the narrative, and her portrayal of Andy leavens the entire story." — Portland Press Herald
"With beautiful and stunning prose, the novel explores the sensitive and complex bond between artist and muse against the beauty of the rural American landscape." — Daily Beast
"Christina Baker Kline's remarkable novel, A PIECE OF THE WORLD, is the perfect book club pick.  An evocative, beautifully written, exquisitely researched historical novel that will both teach and enthrall the reader.  A must read for anyone who love history and art. " — Kristin Hannah
"Kline's portrait of her main character is moving in an unsentimental way as she evokes the New England landscape, the torment of crippling disease, and the piece of history embodied in Olson's story." — Sydney Morning Herald
"With delicate palette, stark images, subtle tones, nuanced brushstrokes, and consummate craftsmanship, Christina Baker Kline has written this novel the way Andrew Wyeth painted the canvas. It is a masterpiece." — Historical Novel Society
"A novel about not just art, but family and home — things that last, and what it takes for them to do so." — San Diego Union-Tribune
"[Kline's] insightful, evocative prose brings Christina's singular perspective and indomitable spirit to life." — Publishers Weekly
"Superb...The beauty of Kline's writing and her grasp of her characters is such that at first you want to sink into this book like a warm bath....Gentle and profound, A Piece of the World shows the healing power of simple, unexpected friendship." — BookPage
"Baker Kline clearly has done her research on the Olson family, but it is her empathy and imagination that make this book sing....Like the woman in the Wyeth painting, the Christina Olson of this novel is unbowed, confounding, and ultimately inspiring."  — Providence Journal
"A gorgeous read." — Real Simple
"Kline's gift is to dispense with the fustiness and fact-clogged drama that can weigh down some historical novels to tell a pure, powerful story of suffering met with a fight. In fiction, in her quiet way, Christina triumphs - and so does this novel." — O, the Oprah Magazine
"Skillfully interweaving fact and fiction, Kline creates a starkly lovely, intricately layered portrait...By turns profoundly sad and deeply hopeful." — First for Women
"Epic." — Cosmopolitan
With remarkable precision and compassion, A PIECE OF THE WORLD transports us to a mid-century farmhouse on the coast of Maine. But just like the painting that inspired it, this gorgeous novel is about so much more. Heartbreaking and life-affirming." — Nathan Hill, author of The Nix
"Andrew Wyeth's celebrated painting Christina's World has her back to the viewer, but Kline turns her to face the reader, simultaneously equipping her with a back story and a lyrical voice...A character portrait that is painterly, sensuous, and sympathetic." — Kirkus Reviews
"A graceful, moving and powerful demonstration of what can happen when a fearless literary imagination combines with an inexhaustible curiosity about the past and the human heart." — Michael Chabon
"The inscrutable figure in the foreground of Wyeth's Christina's World is our American Mona Lisa, and Christina Baker Kline has pulled back the veil to imagine her rich story. Tender [and] tragic." — Lily King, author of Euphoria
"A brilliantly imagined fictional memoir of the woman in the famed Wyeth painting 'Christina's World,' so detailed, moving, and utterly transportive that I'll never be able to look at the painting again without thinking of this book and the characters who populate its pages." — Erik Larson
"Kline expertly captures the essence of Wyeth's iconic masterpiece and its real-life subject, crafting a moving work of historical fiction — Library Journal (starred review)
"Readers will savor the quotidian details that compose Christina's 'quiet country life.' Orphan Train was a best-seller and popular book-discussion choice, so expect demand."- — Booklist
"Fantastic and touching." — Library Reads
"Who has not gazed on Wyeth's picture and wondered, why does that girl have so very far to go?... A pure, powerful story of suffering met with a fight. In fiction, in her quiet way, Christina triumphs--and so does this novel." — O, the Oprah Magazine
William Morrow Paperbacks, 9780062356277, 352pp.
Publication Date: January 30, 2018
About the Author
Christina Baker Kline is the author of six novels, including the #1 New York Times bestseller Orphan Train as well as A Piece of the World. She lives outside New York City and spends as much time as possible on the coast of Maine. Learn more about Christina at www.christinabakerkline.com.
1. Christina Olson's life is limited by her parents, her illness, and the realities of a rural life in the first half of the 20th century. But she does make decisions that affect the course of her life. What are some of the major consequences of Christina's choices? Which choices did you agree with, and with which did you disagree?
2. Consider Christina's relationship with her parents and her relationship with Mamey. What does Mamey offer Christina that her parents do not? What are the limitations of that relationship? How do Christina's brothers have different relationships with both Mamey and their parents?
3. How do the poems of Emily Dickinson engage with the themes of this novel?
4. How might Christina's life have been different if Walton had actually married her? What do you think their marriage might have been like?
5. What does Christina's behavior toward her brother reveal about her character?
6. What is it about Andy that compels Christina to share her very private world with him? Why does she allow him to paint her, and why does she like being a model more than Al does?
7. What draws Andy toward Christina? How are they similar? How does Betsy's relationship with each influence the relationship with the other?
8. Discuss the ways in which Andrew Wyeth's iconic painting "Christina's World" interacts with this story. Were you familiar with the painting before you read the novel? How did that familiarity (or lack of familiarity) color your reading of the novel?
9. Which parts of Christina's life are probably based on biographical fact? What parts do you think the author added? Did your reading of Kline's Author's Note at the end of the novel change the way you thought about any aspect of the book? What about seeing the painting at the end of the novel?
10. Would you characterize Christina as an unlikeable narrator? Why or why not?
11. Is A Piece of the World a "New England" novel? To what extent do the characters and the setting take into account their New England roots?
12. The majority of historical fiction revolves around important or influential figures— monarchs, cultural beacons or warmongers. Christina, by contrast, lives a 'quiet, ordinary life.' How does Kline extract drama and complexity in Christina's character?