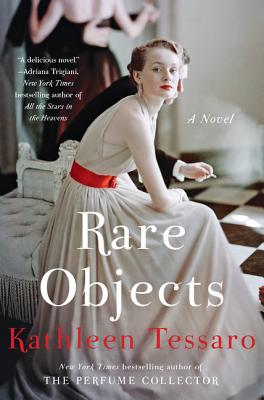 Rare Objects (Hardcover)
A Novel
Harper, 9780062357540, 400pp.
Publication Date: April 12, 2016
Other Editions of This Title:
Digital Audiobook (4/11/2016)
Paperback (4/11/2017)
Compact Disc (4/12/2016)
MP3 CD (4/12/2016)
Compact Disc (4/12/2016)
* Individual store prices may vary.
Description
In Depression-era Boston, a city divided by privilege and poverty, two unlikely friends are bound by a dangerous secret in this mesmerizing work of historical fiction from the New York Times bestselling author of The Perfume Collector.
Maeve Fanning is a first generation Irish immigrant, born and raised among the poor, industrious Italian families of Boston's North End by her widowed mother. Clever, capable, and as headstrong as her red hair suggests, she's determined to better herself despite the overwhelming hardships of the Great Depression.
However, Maeve also has a dangerous fondness for strange men and bootleg gin—a rebellious appetite that soon finds her spiraling downward, leading a double life. When the strain proves too much, Maeve becomes an unwilling patient in a psychiatric hospital, where she strikes up a friendship with an enigmatic young woman, who, like Maeve, is unable or unwilling to control her un-lady-like desire for freedom.
Once out, Maeve faces starting over again. Armed with a bottle of bleach and a few white lies, she lands a job at an eccentric antiques shop catering to Boston's wealthiest and most peculiar collectors. Run by an elusive English archeologist, the shop is a haven of the obscure and incredible, providing rare artifacts as well as unique access to the world of America's social elite. While delivering a purchase to the wealthy Van der Laar family, Maeve is introduced to beautiful socialite Diana Van der Laar—only to discover she's the young woman from the hospital.
Reunited with the charming but increasingly unstable Diana and pursued by her attractive brother James, Mae becomes more and more entwined with the Van der Laar family—a connection that pulls her into a world of moral ambiguity and deceit, and ultimately betrayal. Bewitched by their wealth and desperate to leave her past behind, Maeve is forced to unearth her true values and discover how far she'll to go to reinvent herself.
About the Author
Kathleen Tessaro is the author of Elegance, Innocence, The Flirt, The Debutante, The Perfume Collector, and Rare Objects. She lives in Pittsburgh, Pennsylvania, with her husband and son.
Praise For Rare Objects: A Novel…
"A beautifully written, thoroughly absorbing novel, full of rich historical detail and intriguing characters. A delight from start to end."
— Hazel Gaynor, New York Times bestselling author of The Girl Who Came Home and A Memory of Violets

"Excellent. . . Tessaro has the skill to transport the reader to another time and place. She put me on the streets of Boston's North End. But her description of places and sensations throughout the book are wonderful."
— Charles Belfoure, New York Times bestselling author of HOUSE OF THIEVES AND THE PARIS ARCHITECT

"Tessaro's eye for historical detail is impressive, blending the fashion, music, and cultural attitudes of 1930s Boston into a richly layered story. . . . cleverly crafted with a beguiling heroine amid sumptuous scenery. RARE OBJECTS examines the fragility of self-preservation and the power of personal reinvention."
— Booklist

"Period details, exquisite antiques, and Maeve's resilient immigrant community enhance this understated story. Tessaro's sixth novel (after THE FLIRT) will please her fans as well as historical fiction readers seeking a detailed sense of place and a character's journey."
— Library Journal

"Set in Depression-era Boston, Kathleen Tessaro's lovely novel about prized possessions, slick façades, broken lives, and a young woman with a past is a treasure!"
— Stephanie Lehmann, author of Astor Place Vintage

"Rare Objects is a delicious novel by the imaginative and deft Kathleen Tessaro, who creates unforgettable worlds, and within them, compelling characters who stay with the reader long after she reaches the end."
— Adriana Trigiani, New York Times bestselling author of All the Stars in the Heavens

"I love Tessaro's novels and Rare Objects does not disappoint. A glamorous tale of ambition and deception, it is beautifully written, meticulously researched and so vividly characterised that I felt I knew Diana and Mae. A wonderfully absorbing and diverting read with a clever twist in the tale."
— Isabel Wolff, author of Ghostwritten

"Tessaro's complicated heroines—and the shattering reveal of secret after secret—will keep readers guessing until the final page."
— Publishers Weekly
or
Not Currently Available for Direct Purchase