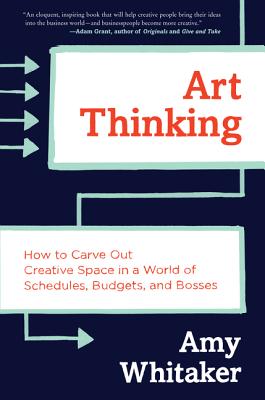 Art Thinking
How to Carve Out Creative Space in a World of Schedules, Budgets, and Bosses
Hardcover

* Individual store prices may vary.
Other Editions of This Title:
Digital Audiobook (4/20/2020)
Description
An indispensable and inspiring guide to creativity in the workplace and beyond, drawing on art, psychology, science, sports, law, business, and technology to help you land big ideas in the practical world.
Anyone from CEO to freelancer knows how hard it is to think big, let alone follow up, while under pressure to get things done. Art Thinking offers practical principles, inspiration, and a healthy dose of pragmatism to help you navigate the difficulties of balancing creative thinking with driving toward results.
With an MBA and an MFA, Amy Whitaker, an entrepreneur-in-residence at the New Museum Incubator, draws on stories of athletes, managers, writers, scientists, entrepreneurs, and even artists to engage you in the process of "art thinking." If you are making a work of art in any field, you aren't going from point A to point B. You are inventing point B.
Art Thinking combines the mind-sets of art and the tools of business to protect space for open-ended exploration and manage risks on your way to success. Art Thinking takes you from "Wouldn't it be cool if . . . ?" to realizing your highest aims, helping you build creative skills you can apply across all facets of business and life. Warm, honest, and unexpected, Art Thinking will help you reimagine your work and life—and even change the world—while enjoying the journey from point A.
Art Thinking features 60 line drawings throughout.
Praise For Art Thinking: How to Carve Out Creative Space in a World of Schedules, Budgets, and Bosses…
In an age of engineering, it also helps to think like an artist. In this fascinating book, Amy Whitaker explores how to apply art thinking to our businesses and our lives. — Walter Isaacson, author of Steve Jobs and The Innovators
An eloquent, inspiring book that will help creative people bring their ideas into the business world-and businesspeople become more creative. — Adam Grant, author of Originals and Give and Take
Let Amy Whitaker introduce you to Art Thinking a way of looking at your career that marries commerce and creativity. Whether you're in a large organization looking for a way to carve out time for innovation, or a lone artist who wants to work smarter, there's something for you in this book. — Daniel H. Pink, author of Drive and To Sell is Human
Art Thinking is a spiritual guide to practical endeavor. It embodies a deep belief in both art and the market and the capacity of each to draw out and support our individuality. It also embodies a belief in the power of collectives: of conversations, businesses, and networks. Wise, savvy, humane, and beautifully written, Art Thinking is a celebration of the act of bringing new things into the world, including yourself — William Deresiewicz, author of Excellent Sheep
Insightful and engaging, Amy Whitaker has important things to say about the business of art, the art of business, and the art and business of being human. — Daniel Gilbert, author of Stumbling on Happiness
A singular book that can help starving artists be better fed, and empower business leaders with the agility and openness of an artist's thinking process. Through thoughtful examples that span centuries and industries, Amy makes the case that innovation, empathy, mindfulness, and commercial success are inevitable outcomes of art thinking. — John Maeda, Design Partner, Kleiner Perkins Caufield & Byers, and author of The Laws of Simplicity
The beautifully written, Art Thinking, shows us that a mindset of art and tools of business don't need to be mutually exclusive-we can all dream big, embrace uncertainty, work passionately and live a sustainable life of creativity. — Ayse Birsel, Designer and author of Design the Life You Love
What color is your parachute? Art Thinking brings right and left brain together to create a palette of possibilities. — Barry Nalebuff, Milton Steinbach Professor, Yale School of Management, and coauthor of Why Not?
"A cheerful, encouraging, and practical guide to creativity… Whitaker proves herself a genial, informed companion for a journey toward 'creative flexibility.'" — Kirkus Reviews
This book is for anyone who wants to make art that is commercially viable as well as those who wish to strengthen business with the vision and energy of innovative integrity. — Library Journal
Whitaker's approach could not be more timely. Whitaker takes the human from the humanities and injects it back into the business world. She provides a program to cultivate art thinking, and how to leverage creative failure into progress, invention, and new products and services. — Success
Whitaker offers a rich array of theoretical challenges and practical solutions as she reflects on the thorny question of financial compensation for creative work… Art Thinking can be read as a business book for artists (however defined), a handbook for managing creative teams or a philosophical treatise on the nature of art and how it is made. — Shelf Awareness
Harper Business, 9780062358271, 384pp.
Publication Date: July 5, 2016
About the Author
Amy Whitaker is a writer, artist, and teacher working at the intersection of creativity, business, and everyday life. She holds an MBA from Yale and an MFA in painting from the Slade School of Fine Art at University College London. She is currently an entrepreneur-in-residence at the New Museum Incubator and a principal in the curriculum development company Eggshell Knight. She was the recipient of the Sarah Verdone Writing Award from the Lower Manhattan Cultural Council. She lives in New York City.
Book Videos
or
Not Currently Available for Direct Purchase