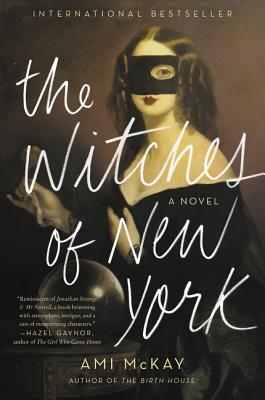 The Witches of New York
A Novel
Paperback

* Individual store prices may vary.
Other Editions of This Title:
Digital Audiobook (7/10/2017)
Compact Disc (7/11/2017)
Description
A Buzzfeed Best Gift Book of the Year
"A dark, atmospheric, and feminist story of three women in New York City's Gilded Age, each determined to thrive in a society hell-bent on keeping them down, and using their coven to do so."    —Buzzfeed
INTERNATIONAL BESTSELLER
Respectable Lady Seeks Dependable Shop Girl. Those averse to magic need not apply.
New York in the spring of 1880 is a place alive with wonder and curiosity. Determined to learn the truth about the world, its residents enthusiastically engage in both scientific experimentation and spiritualist pursuits. Séances are the entertainment of choice in exclusive social circles, and many enterprising women—some possessed of true intuitive powers, and some gifted with the art of performance—find work as mediums.

Enter Adelaide Thom and Eleanor St. Clair. At their humble teashop, Tea and Sympathy, they provide a place for whispered confessions, secret cures, and spiritual assignations for a select society of ladies, who speak the right words and ask the right questions. But the profile of Tea and Sympathy is about to change with the fortuitous arrival of Beatrice Dunn.

When seventeen-year-old Beatrice leaves the safety of her village to answer an ad that reads "Respectable Lady Seeks Dependable Shop Girl. Those averse to magic need not apply," she has little inclination of what the job will demand of her. Beatrice doesn't know it yet, but she is no ordinary small-town girl; she has great spiritual gifts—ones that will serve as her greatest asset and also place her in grave danger. Under the tutelage of Adelaide and Eleanor, Beatrice comes to harness many of her powers, but not even they can prepare her for the evils lurking in the darkest corners of the city or the courage it will take to face them.
Praise For The Witches of New York: A Novel…
"An excellent read."
— Bustle

"In this weighty, wonderful novel, McKay takes a sidelong glance at misogyny through a veil of witches, ghosts, and other mystical entities in 1880 New York.... Skillful worldbuilding, fascinating characters, and a suspenseful plot make McKay's novel an enchanting, can't-put-down delight."
— Publishers Weekly, starred review

"Wonderfully wicked and deliciously dark, The Witches of New York had me totally spellbound. Reminiscent of Jonathan Strange & Mr Norrell, Ami McKay has written a book brimming with atmosphere, intrigue, and a cast of mesmerising characters. I loved it."
— Hazel Gaynor, author of The Girl Who Came Home

"With a remarkable cast of characters… McKay has crafted a stunning work that bridges the gap between historical and contemporary women's issues. The novel is ambitious in its scope yet still delves deep into the thoughts and motivations of characters who normally exist on society's outskirts—or even beyond the earthly realm…. McKay's elegant prose bridges the gap between the real world and the spiritual realm with skill and compassion."
— Kirkus, starred review

"[An] enchanting novel, the characterization is particularly adept…. The writing… is woven together with depth and intensity into a vibrant tapestry…. Highly recommended."
— Booklist, starred review

'In the tradition of Susanna Clarke's Jonathan Strange & Mr Norrell, Ami McKay recreates not just a historically confident vision of 1880's New York, but a richly imagined, detailed subculture of witchcraft, occultism, and sinister dark forces that coexist precariously, in plain sight; stealthily encroaching upon the affairs of the Gilded Age. Skillfully written, peopled with refreshingly authentic female characters and hurtling forward at a furious pace, McKay delivers that most precious of all experiences to discerning readers — a refuge of intelligence, insight, and genuine invention. Easily one of my favorite books of the year.'
— Kathleen Tessaro, author of Rare Objects and The Perfume Collector

"Nasty women, your party has arrived. Ami McKay's witches are in town…. The real aim of McKay's new novel is to show a group of believable women leading "an unconventional life"…. McKay is a fine plotter….The layering of narratives and styles is lively, and the multiple characters' pasts are especially absorbing…. Society types straight out of Edith Wharton pursue spiritualism for fun… but McKay widens her scope with grimier episodes…. She has a nose for the Dickensian."
— Alix Hawley, Globe and Mail

"A labour of love, and a testament to the craft…. The novel unfolds with a hurtling intensity. But McKay doesn't let the compulsive momentum interfere with her deeper explorations of her characters….McKay is able to tease out hidden depths and contradictions with ease, revealing the characters in their confounding (and occasionally off-putting) complexity…. One cannot help but want to spend more time in the company of these witches."
— Robert J. Wiersema, National Post

"The book is richly researched, and packed with enticing historical detail. McKay's prose is, as always, superb — the descriptions enchanting, the narrative arcs compelling, the characters dear (or deliciously sinister, as the case may be). But it is the emotion of the novel that lingers longest, the pervading horror over the persecution of women — and what this persecution has done to repress women's talents, impede their progress and stamp out their voices."
— Tara Henley, Toronto Star

"Step into an exciting and spellbinding world, brought to us by the soaring imagination of Ami McKay…. McKay's seductive novel unfurls slowly amidst a miasma of menace, mischief, mystery and mesmerising magic…. A clever, compelling story of determined, independent women fighting for a place in a man's world of chauvinism, oppression and prejudice."
— Lancashire Post, England

"Boasting a set of core characters that are perfectly realised… The Witches of New York is a compelling, fast paced read…. [McKay's research] shows particularly strongly in the strength of the link she makes between accusations of witchcraft, and their associated punishments, and a deeply ingrained, often religiously driven, sexism. McKay does not shy away from that, instead embracing the dark history of witch hunts and witch trials, and making it abundantly clear that this it was not just about stamping out magic, but stamping out a form of power that was, and still is, dominated by women."
— Jodie B. Sloan, AU Review (Australia)

"So well researched is this novel, so deep does it take readers into the dark and desperate life of Lower Manhattan that it is easy to believe it was written 150 years ago as a treatise decrying the fate that awaited so many impoverished young girls. . . . The novel is an immersive coming-of-age story, unnerving and powerful."
— Associated Press on The Virgin Cure

"Lyrical prose and deft storytelling."
— Chicago Sun-Times on The Birth House

"Strongly delineated characters and a vivid historical backdrop."
— Kirkus on The Virgin Cure
Harper Perennial, 9780062359926, 560pp.
Publication Date: July 11, 2017
About the Author
Ami McKay is the author of the number–one Canadian bestseller The Birth House, winner of three Canadian Booksellers Association Libris Awards, and a nominee for the International IMPAC Dublin Literary Award, and The Virgin Cure. Originally from Indiana, she now lives with her husband and two sons in Nova Scotia.