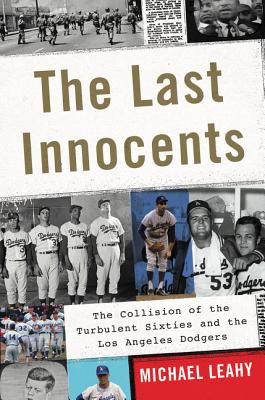 The Last Innocents (Hardcover)
The Collision of the Turbulent Sixties and the Los Angeles Dodgers
Harper, 9780062360564, 496pp.
Publication Date: May 10, 2016
* Individual store prices may vary.
Description
Winner of the 2016 CASEY Award for Best Baseball Book of the Year
Finalist for the 2017 PEN/ESPN Award for Literary Sports Writing
From an award-winning journalist comes the riveting odyssey of seven Los Angeles Dodgers in the 1960s—a chronicle of a team, a game, and a nation in transition during one of the most exciting and unsettled decades in history.
Legendary Dodgers Maury Wills, Sandy Koufax, Wes Parker, Jeff Torborg, Dick Tracewski, Lou Johnson and Tommy Davis encapsulated 1960s America: white and black, Jewish and Christian, wealthy and working class, pro-Vietnam and anti-war, golden boy and seasoned veteran. The Last Innocents is a thoughtful, technicolor portrait of these seven players—friends, mentors, confidants, rivals, and allies—and their storied team that offers an intriguing look at a sport and a nation in transition. Bringing into focus the high drama of their World Series appearances from 1962 to 1972 and their pivotal games, Michael Leahy explores these men's interpersonal relationships and illuminates the triumphs, agonies, and challenges each faced individually.
Leahy places these men's lives within the political and social maelstrom that was the era when the conformity of the 1950s gave way to demands for equality and rights. Increasingly frustrated over a lack of real bargaining power and an iron-fisted management who occasionally meddled in their personal affairs, many players shared an uneasy relationship with the team's front office. This contention mirrored the discord and uncertainty generated by myriad changes rocking the nation: the civil rights movement, political assassinations, and growing hostility to the escalation of the Vietnam War. While the nation around them changed, these players each experienced a personal and professional metamorphosis that would alter public perceptions and their own.
Comprehensive and artfully crafted, The Last Innocents is an evocative and riveting portrait of a pivotal era in baseball and modern America.
About the Author
Michael Leahy is the author of Hard Lessons and When Nothing Else Matters: Michael Jordan's Last Comeback, which was described by GQ Magazine as "the best sports book of the year…easily the most fully formed portrait of Jordan ever written and one of the best sports books in recent memory." His award-winning career has included thirteen years as a writer for The Washington Post and The Washington Post Magazine. Leahy's 2005 Washington Post Magazine story about a California sperm donor won the Society of Professional Journalists' Sigma Delta Chi Award for best magazine story of the year. His stories have been selected four times for the annual Best American Sports Writing anthologies. He lives outside Washington D.C.
Praise For The Last Innocents: The Collision of the Turbulent Sixties and the Los Angeles Dodgers…
"The Last Innocents is a great American story. Baseball in the southern California sun, Maury Wills stealing, Vin Scully narrating, life spinning and sweeping like a Koufax curveball toward the future—the tableau could not be richer for a writer as evocative as Michael Leahy."
— David Maraniss, author of Clemente: The Passion and Grace of Basball's Last Hero

"In an excavation as deep and probing as his splendid book on Michael Jordan, the prodigiously talented Michael Leahy sheds a revealing light on what now seems like an ancient era in baseball."
— Mark Kram, author of the PEN Literary Award-winning Like Any Other Day

"To read Michael Leahy's well-crafted, resolutely human The Last Innocents is to feel the anger that welled up inside the Dodgers of the era…Mr. Leahy thrives as he describes how the Dodgers navigated this strange new world."
— John Schulian, Wall Street Journal

"A book that seeks to place the team within a broader historical and cultural context... This is the strength of The Last Innocents, the way it moves beyond the game to the issues underneath."
— Washington Post

"The must-read baseball book of this spring and summer so far: The Last Innocents, by Michael Leahy..."
— Mike Vaccaro, New York Post

"Brilliantly reported and undeniably powerful... I can't count the times reading this book I stopped, looked up, and said 'Holy shit,' and long before reaching the halfway mark I was slowing down to savor every word… I can't recommend this book enough...The Last Innocents is an incredible read."
— Jeff Polman, CrookedScoreboard.com

"[A] gripping narrative... By using their personal experiences to tell the story of an oft-recounted era of American history, Leahy's book packs an unanticipated jolt of humanness."
— Publishers Weekly

Praise for When Nothing Else Matters: "The best sports book of the year...easily the most fully formed portrait of Jordan ever written."
— GQ

"Riveting, myth-shattering."
— Chicago Tribune

"Michael Leahy has written a heck of a book....Mr. Leahy combines an unrelenting eye for detail with extraordinary big-picture analysis."
— Washington Times

"A gripping behind-the-scenes book...an important corrective to our current celebrity culture."
— Seattle Post-Intelligencer

"When Nothing Else Matters gives us the best look we are likely to have of Jordan in decline...The result is a richly detailed, anecdote-driven account of one of the most famous men in the world approaching the end of his rope."
— Ron Rapoport, Chicago Sun-Times