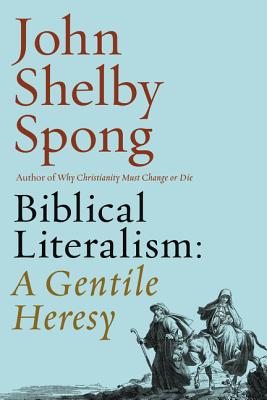 Biblical Literalism (Hardcover)
A Gentile Heresy: A Journey into a New Christianity Through the Doorway of Matthew's Gospel
HarperOne, 9780062362308, 416pp.
Publication Date: February 16, 2016
Other Editions of This Title:
Compact Disc (8/7/2018)
MP3 CD (8/7/2018)
* Individual store prices may vary.
Description
A global and pioneering leader of progressive Christianity and the bestselling author of Why Christianity Must Change or Die and Eternal Life explains why a literal reading of the Gospels is actually heretical, and how this mistaken notion only entered the church once Gentiles had pushed out all the Jewish followers of Jesus.
A man who has consciously and deliberately walked the path of Christ, John Shelby Spong has lived his entire life inside the Christian Church. In this profound and considered work, he offers a radical new way to look at the gospels today as he shows just how deeply Jewish the Christian Gospels are and how much they reflect the Jewish scriptures, history, and patterns of worship. Pulling back the layers of a long-standing Gentile ignorance, he reveals how the church's literal reading of the Bible is so far removed from these original Jewish authors' intent that it is an act of heresy.
Using the Gospel of Matthew as a guide, Spong explores the Bible's literary and liturgical roots—its grounding in Jewish culture, symbols, icons, and storytelling tradition—to explain how the events of Jesus' life, including the virgin birth, the miracles, the details of the passion story, and the resurrection and ascension, would have been understood by both the Jewish authors of the various gospels and by the Jewish audiences for which they were originally written. Spong makes clear that it was only after the church became fully Gentile that readers of the Gospels took these stories to be factual, distorting their original meaning.
In Biblical Literalism: A Gentile Heresy, Spong illuminates the gospels as never before and provides a better blueprint for the future than where the church's leaden and heretical reading of the story of Jesus has led us—one that allows the faithful to live inside the Christian story in the modern world.
About the Author
John Shelby Spong, the Episcopal Bishop of Newark before his retirement in 2000, has been a visiting lecturer at Harvard and at more than 500 other universities all over the world. His books, which have sold well over a million copies, include Biblical Literalism: A Gentile Heresy; The Fourth Gospel: Tales of a Jewish Mystic; Re-Claiming the Bible for a Non-Religious World; Eternal Life: A New Vision; Jesus for the Non-Religious, The Sins of Scripture, Resurrection: Myth or Reality?; Why Christianity Must Change or Die; and his autobiography, Here I Stand. He writes a weekly column on the web that reaches thousands of people all over the world. To join his online audience, go to www.JohnShelbySpong.com. He lives with his wife, Christine, in New Jersey.
Praise For Biblical Literalism: A Gentile Heresy: A Journey into a New Christianity Through the Doorway of Matthew's Gospel…
"After reading Spong's newest book, it will be difficult to read Matthew or any of the Gospels in quite the same way. He's done an amazing job of explaining how the book of Matthew was written as weekly liturgies for the Jewish Synagogue year. A wonderful book."
— Fred C. Plumer, President of ProgressiveChristianity.org

"This exciting book recovers the original meaning behind Matthew's Gospel with profound implications for the way we look at Jesus and follow him today. Spong is a truth-teller who stands up to the ignorance spawned by a 'Gentile Heresy' that has hijacked the story of Jesus for too long."
— Matthew Fox, author of Original Blessing

"Jack Spong confounds biblical literalists by being profoundly biblical. This exciting book is liberating for those looking for a rational and authentic Christian faith that honors its biblical roots and an essential building block in the search for a new Christianity for a new world."
— Peter Francis, warden and director of Gladstone's Library, Wales

"A brilliant challenge to biblical literalism, Bishop Spong reveals the tragic consequences of idolatry of the written word and why it matters today. A timely, important book."
— Michael Dowd, author of Thank God for Evolution

"Delightedly publishing another book as he nears 85, Spong returns to a main theme of his career, the Jewishness of Christianity, denial of which, he holds, amounts to a heresy so malign that it will destroy Christianity in the twenty-first century…vibrantly accessible."
— Booklist

"Skewers historical readings of Matthew and turns the passages toward issues of dignity, social justice, and transformation . . . worthwhile read for the progressive layperson concerned with living out one's faith and applying the Bible as a touchstone."
— Library Journal

"Spong offers a radical new way to look at the gospels."
— Publishers Weekly

"There is a powerful message that runs counter to the idea that faith offers nothing but a sweet and secure life."
— Religion Dispatches

"The release of Biblical Literalism - a Gentile Heresy brings him back to State of Belief to talk about his dive into a more contentious area of theology, his potentially-controversial use of the term 'heresy' and the future - and drive towards inclusiveness - of the progressive Episcopal community."
— State of Belief Radio

"For years-decades, really-the former Episcopal bishop of Newark, N.J., John Shelby Spong…has been proposing various controversial ways of understanding what Christianity is all about […] In his new-and, he says, perhaps final-book (he'll be 85 years old in June), he's at it again."
— Bill's 'Faith Matters' Blog

"If you're keen for a deeper tracing of its history and inscription, then rush to get your hands on a copy of respected theologian Spong's Biblical Literalism: A Gentile Heresy."
— Chicago Tribute Printers Row Journal
or
Not Currently Available for Direct Purchase