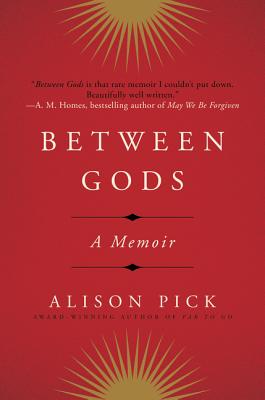 Between Gods
A Memoir
Paperback

* Individual store prices may vary.
Description
In this powerful memoir, bestselling author Alison Pick (nominated for the Man Booker Prize) channels Karen Armstrong and Anne Lamott as she explains the shocking family secret that eventually led to her mid-life conversion to Judaism—exploring powerful, provocative questions about family, faith, and the burdens of inheritance.
Alison Pick grew up in a tight-knit Christian family who went to church regularly and ate pork chops on Christmas Eve. But as a teenager, she stumbled into a remarkable family secret: her paternal grandparents, with whom she was very close, fled to Canada from the Czech Republic at the start of WWII because they were Jewish. But other members of her family hesitated to emigrate, and they paid the ultimate price for their choice when they were sent to Auschwitz.
Haunted by the Holocaust, Alison's grandparents established themselves in their new lives as Christians. Not even Alison's father knew of his parents' past until he visited the Jewish cemetery in Prague as an adult. This atmosphere of shame and secrecy dogged Alison's journey into adulthood, and by her early thirties she had fallen into a crippling depression.
Drowning in a sense of emptiness, she felt drawn to the Jewish community, and found inspiration for her international bestseller Far to Go in her family's harrowing past. Eventually she came to realize that her true path forward lay in reclaiming her history and identity as a Jew. Alison began attending classes about the conversion process and found a rabbi who would sponsor her participation. But the process was far from easy as old wounds were opened, and all of her relationships were tested.
Profound, insightful, honest—and masterfully written—Between Gods forces us to reexamine our beliefs and the extent to which they define us.
Praise For Between Gods: A Memoir…
"Pick is a marvelous writer, and she vividly recreates the transformation of her relationships…. Her path to conversion—complicated, nearly thwarted—is deeply moving in its culmination. Ultimately, this layered look at identity is a call for claiming one's true self." — New York Times Book Review
"Between Gods is that rare memoir I couldn't put down. Brilliantly well-written, Pick's quest for her Jewish roots is a deeply felt search for self, a profoundly moving journey of discovery of family history and the deep-seated grief silently passed through generations. Alison Pick's memoir is a beautifully woven story of family, partnership, love and reconciliation, not just with one's past but with oneself." — A. M. Homes, bestselling author of May We Be Forgiven
"Pick's lovely but unflinching narrative tackles relationships and depression, and many readers will identify with the struggle of loving your family while sometimes not understanding them at all.... It's an intimate portrait of one woman's journey to find the faith her grandparents buried with their past." — Booklist
"Brave and honest, this book offers an intimate portrait of a woman seeking to heal from inherited family trauma and find the beginnings of peace within her own soul. A poignant and powerful memoir of family, religion, love, and healing. " — Kirkus Reviews
"Thoughtful…. Pick writes her memoir by combining her fight against deep depression with the tenacious sense of hope she maintains in recovering her true identity as a Jew." — Publishers Weekly
"Pick provides a moving description of her ongoing battle…. Readers interested in memoirs, Judaism, World War II history, or the Holocaust will certainly be captivated by Pick's engaging and, at times, heart-wrenching narrative." — Library Journal
"There is…sometimes a document of private life so thrilling in its subjectivity that it shuts you right up. Alison Pick's Between Gods is such a book, a memoir ambitious as it is inclusive; …a sometimes wincingly honest diary, filled with…Pick's intelligence and intent to observe her moral possibilities." — Globe and Mail (Toronto)
"Alison Pick's story of real life–the undeniable fates of the dead, and the hard-won hope of the living-illuminates her powerful new memoir, Between Gods." — Toronto Star
"A powerful book that has the author reclaiming the heritage her grandparents had abandoned. Readers will not want to put the book down because this memoir is a beautifully woven story of family, partnership, religion, love and reconciliation as she connects her present life to the past." — WorkingMother.com
Harper Perennial, 9780062362469, 400pp.
Publication Date: October 20, 2015
About the Author
Alison Pick was the Bronwen Wallace Award winner for the most promising writer under thirty-five in Canada. Her first novel is The Sweet Edge, and her second novel, the bestseller Far to Go, was nominated for the Man Booker Prize, won the Canadian Jewish Book Award for Fiction, and was named a "Top 10 of 2010" book by the Toronto Star. Between Gods, named a "Best Book" by both the Globe and Mail and CBC, has been nominated for the prestigious BC National Award for Nonfiction.