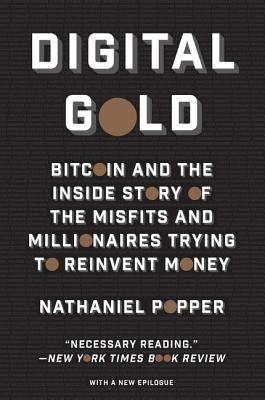 Digital Gold
Bitcoin and the Inside Story of the Misfits and Millionaires Trying to Reinvent Money
Paperback

* Individual store prices may vary.
Other Editions of This Title:
Digital Audiobook (5/18/2015)
Description
New York Times Book Review Editor's Choice
SHORTLISTED FOR THE 2015 FINANCIAL TIMES AND MCKINSEY BUSINESS BOOK OF THE YEAR
A New York Times technology and business reporter charts the dramatic rise of Bitcoin and the fascinating personalities who are striving to create a new global money for the Internet age.
Digital Gold is New York Times reporter Nathaniel Popper's brilliant and engrossing history of Bitcoin, the landmark digital money and financial technology that has spawned a global social movement.
The notion of a new currency, maintained by the computers of users around the world, has been the butt of many jokes, but that has not stopped it from growing into a technology worth billions of dollars, supported by the hordes of followers who have come to view it as the most important new idea since the creation of the Internet. Believers from Beijing to Buenos Aires see the potential for a financial system free from banks and governments. More than just a tech industry fad, Bitcoin has threatened to decentralize some of society's most basic institutions.
An unusual tale of group invention, Digital Gold charts the rise of the Bitcoin technology through the eyes of the movement's colorful central characters, including an Argentinian millionaire, a Chinese entrepreneur, Tyler and Cameron Winklevoss, and Bitcoin's elusive creator, Satoshi Nakamoto. Already, Bitcoin has led to untold riches for some, and prison terms for others.
Praise For Digital Gold: Bitcoin and the Inside Story of the Misfits and Millionaires Trying to Reinvent Money…
"An amazing story. Bitcoin is about to transform both finance and how we use the internet, and this fascinating book chronicles its unlikely genesis. Popper has produced a riveting tale filled with colorful innovators that is crucial reading for anyone who wants to understand the future." — Walter Isaacson, author of The Innovators
"Bitcoin may be a product of computer science, but it is a very human story. This highly entertaining history reminds us yet again that truth can be stranger than fiction and can be peopled with even more unusual and compelling characters." — Larry Summers, former Secretary of the Treasury
"So, yes, it's a totally awesome book" — Justin Fox, Bloomberg
"This excellent work is the book on Bitcoin you've been waiting for" — Tyler Cowen, Marginal Revolution
"An elegant, thrilling tour-de-force. . . . Nathaniel Popper gives us a front-row seat on the origins of Bitcoin and its captivating cast of characters. The fast-paced action never stops." — William D. Cohan, author of House of Cards
"Finally, the book so many of us have been waiting for: A riveting and smart account of the strange history of Bitcoin. You'll start knowing nothing about Bitcoin and finish with deep knowledge, but you won't realize you're learning along the way -- you'll just think it's a lot of fun." — Adam Davidson, co-founder of NPR's Planet Money
"An engrossing introduction to one of the most transformative innovations in finance of the last few decades. Digital Gold paints a vivid portrait of the economics and technology of Bitcoin as well as the people behind it." — Susan Athey, The Economics of Technology Professor, Stanford Graduate School of Business and Winner of the John Bates Clark Medal in Economics
"The most compelling and in-depth investigation into the world of Bitcoin and digital currency. Nathaniel Popper charts Bitcoin's fascinating transformation from fringe oddity to a truly global currency. If you want to understand the future of money, read this book." — Joshua Davis, author of Spare Parts
"Nathaniel Popper's new book, Digital Gold, is as close as you can get to being the definitive account of the history of Bitcoin." — Felix Salmon, Fusion
"An engrossing look at a system creatively designed to bring money into the 21st century." — Library Journal
"Necessary reading" — Bethany McLean, New York Times Book Review
"Digital Gold is as strong a narrative achievement as a reporting one" — Chris Wilson, Bookforum
"A vivid guide to the characters who met online and built bitcoin" — John Gapper, Financial Times
"It's a tale told quickly and well" — John Biggs, TechCrunch
"An impressive accomplishment" — Tim Fernholz, Quartz
"Bitcoin may be inherently speculative, but Digital Gold is a sound investment" — Edward Chancellor, Reuters
"A family saga... structured like a tech thriller" — John Naughton, The Guardian
Harper Paperbacks, 9780062362506, 432pp.
Publication Date: May 24, 2016
About the Author
Nathaniel Popper is a reporter at The New York Times. Before joining The Times, he worked at the Los Angeles Times and the Forward. Nathaniel grew up in Pittsburgh and is a graduate of Harvard College. He lives in Brooklyn with his family.