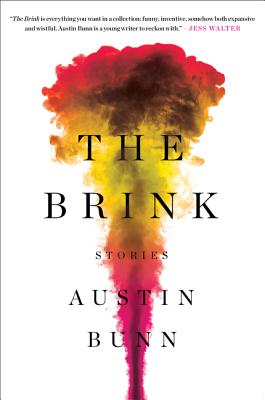 The Brink
Stories
Paperback

* Individual store prices may vary.
Description
A brilliant, inventive debut story collection in the vein of Kevin Wilson and Wells Tower.
Brimming with life and unforgettable voices, the stories in Austin Bunn's dazzling collection explore the existential question: what happens at "the end" and what lies beyond it? In the wry but affecting "How to Win an Unwinnable War," a summer class on nuclear war for gifted teenagers turns a struggling family upside down. A young couple's idyllic beach honeymoon is interrupted by terrorism in the lush, haunting "Getting There and Away." When an immersive videogame begins turning off in the heartbreaking "Griefer," an obsessive player falls in love with a mysterious player in the final hours of a world.
Told in a stunning range of voices, styles, and settings—from inside the Hale-Bopp cult to the deck of a conquistador's galleon adrift at the end of the ocean—the stories in Bunn's collection capture the transformations and discoveries at the edge of irrevocable change. Each tale presents a distinct world, told with deep emotion, energizing language, and characters with whom we have more in common that we realize. They signal the arrival of an astonishing new talent in short fiction.
Praise For The Brink: Stories…
"Austin Bunn is a young writer to reckon with, and The Brink is everything you want in a story collection: funny, inventive, somehow both expansive and wistful. He whistles through the graveyard beautifully in the face of all manner of ends of the world."
— Jess Walter

"Bunn's stories are interested in all kinds of extremity, but their attention is subtle and nuanced, the details pitch-perfect. They evoke longing and confusion with tremendous tenderness, like a lantern set at the edge of a dark crevice: the light falls softly and precisely, illuminating mysteries."
— Leslie Jamison

"An impressive debut from a writer with his ear well attuned to the strange, often rough paths we take in search of intimacy in a fractured world. Bunn captures with nuance everything from online gaming to end-time cults, his characters all struggling with the old human problem of solitude."
— Adam Haslett

"Austin Bunn's stellar debut, The Brink, is rich and extremely satisfying. His characters -- an array of memorable voices -- are all perched on thresholds of life-altering change. I began marking passages I wanted to return to, marveling at the precise language and fresh vision, only to discover I was marking every page. The Brink is an extraordinary collection."
— Jill McCorkle

"Hooray for this brazen, poignant debut. Austin Bunn brings us to terrifying places, and also to funny and wondrous ones. He's got it all -- heart, danger, precision and music."
— Sam Lipsyte

"Bunn's debut story collection mixes genres and styles in ten ambitious, impressive tales. . . . Compelling. . . . Several of the stories are breathtaking."
— Publishers Weekly (starred review)

"A wide-ranging collection. . . . Bunn's compelling stories are at their best when navigating chaotic landscapes, whether emotional or literal."
— Kirkus

"A shimmering debut. . . . Humorous and affirming. . . . Each of Bunn's stories is permeated by a comic sense of the inevitable hope in a future even his characters know is unlikely."
— Booklist

"Innovative, emotional and well-crafted…a fast-paced, slim, engrossing collection…. I'm excited to read whatever comes next from him."
— Lambda Literary Review

"Austin Bunn's debut is an impressively taut work, delving into a variety of topics, including Cold War anxiety and childhood politics. It's a remarkably well-made and well-assembled collection."
— Vol. 1 Brooklyn
Harper Perennial, 9780062362612, 240pp.
Publication Date: April 28, 2015
About the Author
Austin Bunn is a fiction writer, playwright, screenwriter, and former journalist. His writing has appeared in The Atlantic Monthly, Zoetrope, The New York Times Magazine, Wired, Best American Science and Nature Writing, The Pushcart Prize, and elsewhere. He cowrote the screenplay to Kill Your Darlings (Sony Pictures Classics), starring Daniel Radcliffe, Dane DeHaan, and Michael C. Hall, which premiered at the Sundance Film Festival. He is a graduate of Yale University and the University of Iowa Writers' Workshop, and a recipient of a Michener-Copernicus Fellowship. Currently, he teaches at Cornell University in Ithaca, New York.
or
Not Currently Available for Direct Purchase