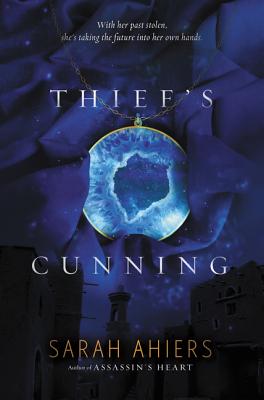 Thief's Cunning
Hardcover

* Individual store prices may vary.
Other Editions of This Title:
Paperback (5/8/2018)
Description
The companion novel to Assassin's Heart—an action-packed fantasy that Printz Award winner Laura Ruby said "will keep you turning the pages all night long"—Thief's Cunning picks up eighteen years later and follows Allegra Saldana as she uncovers the secrets about the line of killers she descends from.
Allegra has always had to look over her shoulder. As the niece of the infamous assassin Lea Saldana, Allegra is used to hiding from people who want her dead. Once the strongest clipper family in the Kingdom of Lovero, the Saldanas—or what's left of them—are now the most hunted. Their number one enemy is the Da Vias, whose thirst for retaliation is almost two decades in the making.
But lately Allegra's getting fed up with everything being kept from her—including her parents' identity. When she finally learns the truth about her family, though—that she's a Da Via—her world crumbles. Feeling betrayed by the people she trusted the most, Allegra turns to Nev, a Traveler boy whose presence makes her feel alive in ways she's only dreamed of.  But getting caught up in Nev's world has consequences Allegra never saw coming.
In this dark and enthralling fantasy that fans of Sarah Maas and Leigh Bardugo will devour, one girl must decide if she's destined to pay for the wrongs of her family's past—whether Saldana or Da Via—or if the future is hers for the taking.
Praise For Thief's Cunning…
"Thematically, love and freedom are set in compelling opposition. The climactic battles thrill. A well-realized fantasy with strong action and romance." — Kirkus Reviews
"[A] stunning sequel. The characters are richly developed and appealing to readers. Ahiers is certainly one to watch." — Booklist Online
"Just as the first title was full of fantasy and adventure, this companion does not disappoint." — School Library Journal
"An electrifying debut that captivated me from the first nail-biting chapter. Spellbinding!" — Gennifer Albin, New York Times bestselling author (on Assassin's Heart)
"Love, death, family—and vengeance. This gripping fantasy thriller will keep you turning the pages all night long." — Laura Ruby, author of the Printz Award-winning Bone Gap (on Assassin's Heart)
"A lavishly constructed fantasy world with an intricate society." — Kirkus Reviews (on Assassin's Heart)
"Equal parts adventure, romance, and politics, Ahiers' first novel is astonishingly good. This is a unique twist on a love story, and the exciting Godfather-esque plotline adds layers of intrigue. Fans of Robin LaFevers' His Fair Assassins series will snatch this one up in a heartbeat." — Booklist (starred review) (on Assassin's Heart)
"Ahiers's Romeo and Juliet-inspired world of gods, angry ghosts, and assassins is darkly lush, and Lea's voice is strong and pragmatic, making for a stylish and rich read." — Publishers Weekly (on Assassin's Heart)
HarperTeen, 9780062363831, 416pp.
Publication Date: June 13, 2017
About the Author
Sarah Ahiers spent her childhood running around outside with her siblings, drawing pictures, and writing stories. Now, as a grown-up, she has an MFA in writing for children and young adults, and while she does less running around outside, the writing has held fast. Her books include Assassin's Heart and Thief 's Cunning. Sarah lives in Minnesota with three dogs and a houseful of critters. She has a collection of steampunk hats, and when she's not writing she fills her time with good games, good food, good friends, and good family. To learn more about her, visit www.sarahahiers.com.
or
Not Currently Available for Direct Purchase