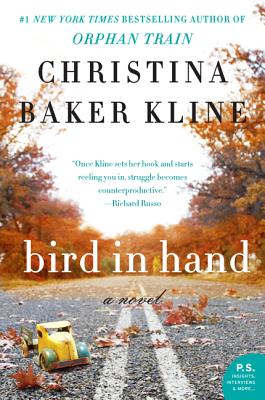 Bird in Hand
Paperback

* Individual store prices may vary.
Other Editions of This Title:
Hardcover (8/1/2009)
Paperback (6/29/2010)
Compact Disc (10/14/2014)
MP3 CD (10/14/2014)
Description
From the #1 New York Times bestselling author of Orphan Train, and the critically acclaimed author of The Way Life Should Be, comes a novel about the choices we make, how they shape our lives, and how they can change them forever—includes a special PS section featuring insights, interviews, and more.
Four people, two marriages, one lifelong friendship: Everything is about to change.
It was dark. It was raining.  It was just an accident.  On the drive home from a rare evening out, Alison collides with another car running a stop sign, and—just like that—her life turns upside down. 
When she calls her husband from the police station, his accusatory tone reveals cracks in their relationship she'd never noticed were there. Now she notices everything. And she begins to realize that the life she carefully constructed for herself is as tenuous as a house of cards. Exquisitely written, powerful, and thrilling, Bird in Hand is a novel about love and friendship and betrayal, and about the secrets we tell ourselves and each other.
Praise For Bird in Hand…
"In BIRD IN HAND, Christina Baker Kline looks at marriage, at parents and children, pain and sorrow, and at all the questions that life asks us. This is a wise and lovely book."
— Roxana Robinson, author of Cost

"Kline's razor-sharp novel about love, marriage and obligation is a beach book only because you could zip through it anywhere."
— More magazine

"Kline's unflinching gaze and lovely prose set [BIRD IN HAND] apart from the herd of infidelity/marital ennui novels. It's well-done, thoughtful and thought-provoking."
— Publishers Weekly

"A gripping tale about two crumbling marriages, [BIRD IN HAND] offers a realistic and, at times, heartbreaking look at love and friendship."
— RealSimple.com, Entertainment Pick

"[Bird in Hand] exhibits an unsparing eye for the telling details that reveal how people think and act."
— Library Journal

"Kline explores the complications of the lines and bonds between marriage and friendship with honest and complex emotions on all four narrative fronts."
— Booklist

"Christina Baker Kline is a relentless storyteller. Once she sets her hook and starts reeling you in, struggle becomes counterproductive. The narrative line is too taut, the angler at the other end too skillful."
— Richard Russo, author of Empire Falls and That Old Cape Magic

"It is both thrilling and terrifying to read this powerful new novel and think: this could be me. Christina Baker Kline takes us on an intimate journey with her characters, one that brings us dangerously close to the hidden truths about love, trust and friendship."
— Ellen Sussman, author of Dirty Words: A Literary Encyclopedia of Sex; Bad Girls: 25 Writers Misbehave; and On a Night Like This
William Morrow Paperbacks, 9780062363992, 320pp.
Publication Date: October 14, 2014
About the Author
Christina Baker Kline is the author of six novels, including the #1 New York Times bestseller Orphan Train as well as A Piece of the World. She lives outside New York City and spends as much time as possible on the coast of Maine. Learn more about Christina at www.christinabakerkline.com.
Bird in Hand is told from the perspectives of the four main characters. How do they see themselves individually and how do they see each other?
What is your opinion of each of the four characters? Which character, if any, did you relate to the most? Do you recognize yourself— or elements of your own life—in any of the characters and their dilemmas?
What is the significance of the car accident at the beginning of the novel? Would the events that followed have unfolded anyway?
Compare Alison and Claire. What does each one offer the other? Consider the two marriages, as well as the affair. How is the affair different from, and similar to, the marriages?
Though she had a copy of Claire's novel, Alison "couldn't bear" to read it. How would you feel if a close friend wrote a fictional account of his or her life? Would you have the same reaction as Alison? Do you think Alison's reaction to Blue Martinis would have been different if she'd
read it before the accident and its aftermath?
Much of the pain in the novel is caused by avoidance, by not wanting to know the truth. How does avoidance affect the lives of the characters in Bird in Hand? How might their lives have been different if they'd been honest from the start?
"You would think that two people who had built a life together over eight years, who'd seen each other at all hours of the day and night, who were raising two children together, might know each other better than anyone else in the world. But Charlie had the peculiar sense with Alison that he might never know her. She'd always been a kind of mystery to him." How well can you
know your partner? Your best friend? Your child? Your sibling?
What do you think the future holds for the four characters and especially for Charlie and Claire?
When she was dying, Charlie's mother offered him advice. "Here's what I learned. It's not enough to hope that happiness will find you. You have to seek it. And another thing: no matter how complicated your life seems, you have the power to change it. Don't make the mistake I did and waste precious decades because you're too afraid to act." Do you agree with this?
At Claire's book tour reading, she chooses a passage about love. "She came to believe that there was such a thing as true love, and that it was the most important thing in the world—more important than kindness or constancy, more important even than trust." Did Claire and Charlie share true love? How might they define it?
The author not only tells the story from the perspectives of each of the four characters, but she also interweaves past and present. How does knowing their backgrounds influence your perceptions of the characters and events ? How does this structure add depth to the story's telling?
or
Not Currently Available for Direct Purchase