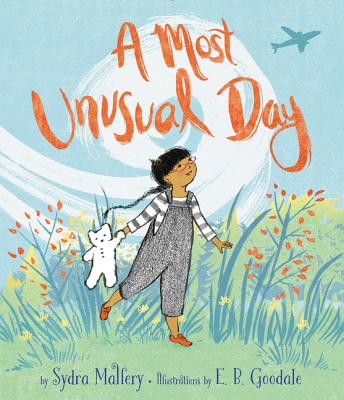 A Most Unusual Day
Hardcover

* Individual store prices may vary.
Description
Something rather extraordinary is happening in Caroline's life today . . . her family is adopting a new baby sister! A warm and loving story about school, family, siblings, and adoption, for anyone eagerly awaiting the arrival of a new sibling.
Today is a very unusual day! Caroline wakes up late, forgets her socks, and feels strange all the way to school. She tries to help her teacher, but everything is mixed up today and all Caroline manages to do is make a great big mess. Finally, the school day ends and Caroline rushes outside to greet her parents, who are having a rather extraordinary day themselves. In their arms they hold Caroline's new baby sister, who has just arrived from far away.
Sydra Mallery's debut picture book is a loving celebration of family, adoption, and sisters. Exquisitely realized by the acclaimed illustrator E. B. Goodale, this charming adoption story is perfect for anyone welcoming a new brother or sister into the family.
Praise For A Most Unusual Day…
"A heartwarming adoption story from a new big sister's perspective. ...this acknowledgement that adoptive families come in as many variations as the general population is most welcome. An unusually good adoption book." — Kirkus Reviews (starred review)
"Mallery and Goodale skillfully embed clues to the big event throughout the text and illustrations...At book's end, when we find out why the day is unusual—it's the day Caroline meets her new baby sister—it's clear that she and her family wouldn't have it any other way." — The Horn Book
"There's a sweetness to this story of Caroline's topsy-turvy day, one that comes from the quiet understanding of classmates and her teacher. ...A lovely, charming addition to the growing canon of adoption stories." — Booklist
"This book could be read with any child expecting a new siblings...Caroline and her world are lovingly rendered by Goodale in ink and watercolors. ...This adoption story fills an important need in most picture book collections while also representing the general experience of becoming an older sibling." — School Library Journal (starred review)
"Everything is off-kilter for Caroline . . . Mallery makes expert use of rhythm and repetition . . . while Goodale's standout ink-and-watercolor digital collages reflect . . . the sweeping enormity of her feelings. An adoption story from the fresh viewpoint of an older sister, Mallery's debut captures a child's universal feelings with remarkable warmth and sensitivity." — Publishers Weekly
"What a delightful choice this book is for Big Brother or Big Sister. It documents the emotions of what it is like to go through a big, unknown but wonderful change in life." — Florida Times-Union
Greenwillow Books, 9780062364302, 40pp.
Publication Date: April 10, 2018
About the Author
Sydra Mallery is an elementary school teacher, a poet, and an adoptive parent. She lives in Brooklyn, New York, with her family, a cat, and a bearded dragon. A Most Unusual Day is her first book. www.sydramallery.com
E. B. Goodale is an illustrator, designer, and printmaker. She is also the illustrator of two acclaimed books for children: Windows, by Julia Denos, and A Most Unusual Day, by Sydra Mallery. The artist lives with her family in Salem, Massachusetts, where the autumn leaves are gold and red and occasionally purple. www.ebgoodale.com