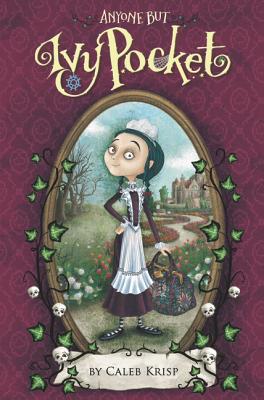 Anyone but Ivy Pocket (Hardcover)
Greenwillow Books, 9780062364340, 400pp.
Publication Date: April 21, 2015
* Individual store prices may vary.
Description
Are you ready for Ivy Pocket? A darkly whimsical and wickedly funny tale of a twelve-year-old maid of no importance who finds herself at the very heart of a conspiracy involving mischief, ghosts, and murder. School Library Journal says, "Fans of . . . Lemony Snicket's A Series of Unfortunate Events will love Ivy Pocket's zany adventures." Featuring extensive black-and-white interior art by Barbara Cantini.
Ivy Pocket is a walking disaster, at every turn enraging and appalling the aristocrats she works for. But our protagonist doesn't see herself that way at all. In fact, she's convinced that she's rather wonderful, perfectly charming, and extremely talented. When Ivy finds herself abandoned and penniless in Paris, she has no idea how she will get back to England. Fate intervenes when Ivy is called to the sickbed of a dying duchess and is charged with delivering a spectacular (and possibly cursed) diamond necklace to Matilda Butterfield on her twelfth birthday. From that moment on, Ivy Pocket is propelled towards her remarkable destiny in a surprising adventure full of intrigue, villains, mayhem, and misunderstandings. ALA Booklist calls Anyone but Ivy Pocket "A droll chapter book with a Victorian setting and a one-of-a-kind protagonist."
Praise For Anyone but Ivy Pocket…
"Krisp's sharp, fresh dialogue and the action-packed illustrations keep the story light and funny. Fans of . . . Lemony Snicket's 'A Series of Unfortunate Events' will love Ivy Pocket's zany adventures."—School Library Journal

"[Readers] will enjoy the ride, transported by Ivy's amusing narration and Cantini's expressive, stylized drawings . . . A droll chapter book with a Victorian setting and a one-of-a-kind protagonist."

"Ivy is hilarious."

"There's reward here in the period backdrop (Ivy begins in Paris, where her mistress disappears, and then returns to England) and in the Snickety self-awareness . . . A plucky orphan who's too big for her britches, and . . . ghosts, visions, and other supernatural elements."