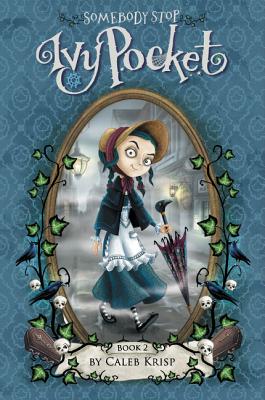 Somebody Stop Ivy Pocket (Hardcover)
Greenwillow Books, 9780062364371, 416pp.
Publication Date: May 31, 2016
Other Editions of This Title:
Paperback (5/2/2017)
* Individual store prices may vary.
Description
Are you ready for Ivy Pocket? The wickedly funny, completely unreliable maid of no importance returns—this time as a coffin maker's daughter—in this action-packed sequel to Anyone but Ivy Pocket. School Library Journal says, "Fans of . . . Lemony Snicket's A Series of Unfortunate Events will love Ivy Pocket's zany adventures." Featuring extensive black-and-white interior art by Barbara Cantini throughout.
Everyone seems to want a piece of Ivy Pocket. Her adoptive parents keep trying to get her to clean the funeral home, even though Ivy's certain she's already the picture of a perfect daughter. A beautiful heiress named Estelle wants Ivy to uncover the dark truth behind her brother's death. Her new friend, Miss Carnage, keeps asking Ivy the most curious questions (the poor, clueless dear). To top it all off, Ivy must protect the Clock Diamond from the evil Miss Always, who seems to be lurking around every corner! A fast-paced and hilarious follow-up to Anyone but Ivy Pocket, which Booklist praised as "a droll chapter book with a Victorian setting and a one-of-a-kind protagonist." This is the second of three books about Ivy Pocket!
About the Author
Caleb Krisp lives in an abandoned cottage deep in the woods. For many years he has devoted himself to writing about a twelve-year-old lady's maid of no importance. His only communication with the outside world is via Morse code or kettledrum.
Praise For Somebody Stop Ivy Pocket…
"Everyone's favorite maid of mass destruction is back, so baddies beware! …Krisps's writing also proves to be as hilarious as ever …After this book, readers will demand to know more about Ivy's background, even as they clamor for her next outing. Please, nobody stop Ivy Pocket."
— Kirkus Reviews

"The writing has moments of brilliance and plenty of entertainment value. Dauntless, ruthless, and clueless (a dangerous combination), Ivy ricochets from one escape to the next in book two of the Ivy Pocket series."
— Booklist

"This story is chock-full of ridiculous pratfalls and thrilling escapes, sure to leave any reader eager to persevere. …The brash and riotous character of Ivy will delight readers through another gripping and laugh-out-loud adventure."
— School Library Journal