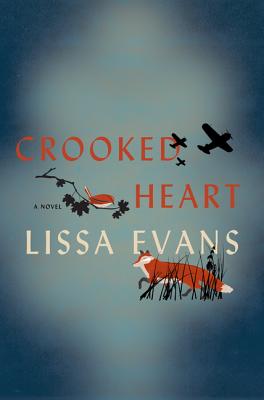 Crooked Heart
A Novel
Hardcover

* Individual store prices may vary.
Other Editions of This Title:
Digital Audiobook (7/27/2015)
Digital Audiobook (7/27/2015)
Digital Audiobook (12/3/2014)
Paperback (7/5/2016)
Compact Disc (7/28/2015)
Description
Paper Moon meets the Blitz in this original black comedy, set in World War II England, chronicling an unlikely alliance between a small time con artist and a young orphan evacuee.
When Noel Bostock—aged ten, no family—is evacuated from London to escape the Nazi bombardment, he lands in a suburb northwest of the city with Vera Sedge—a thirty-six-year old widow drowning in debts and dependents. Always desperate for money, she's unscrupulous about how she gets it.
Noel's mourning his godmother Mattie, a former suffragette. Wise beyond his years, raised with a disdain for authority and an eclectic attitude toward education, he has little in common with other children and even less with the impulsive Vee, who hurtles from one self-made crisis to the next. The war's provided unprecedented opportunities for making money, but what Vee needs—and what she's never had—is a cool head and the ability to make a plan.
On her own, she's a disaster. With Noel, she's a team.
Together, they cook up a scheme. Crisscrossing the bombed suburbs of London, Vee starts to make a profit and Noel begins to regain his interest in life. But there are plenty of other people making money out of the war—and some of them are dangerous. Noel may have been moved to safety, but he isn't actually safe at all. . . . 
Praise For Crooked Heart: A Novel…
"I try not to say, 'If there's one novel you should read this summer..' but Crooked Heart tempts me to say it." — Scott Simon, NPR
"Wonderful." — Boston Globe
"Glorious. I loved every line of this book." — Paula Hawkins, author of The Girl on the Train
"Evans' exceptionally engaging "Crooked Heart" brings effervescent wit and oddball whimsy to a venerable formula....The entire novel is a joy from start to finish: briskly paced, taut and snappy with humor and, ultimately, sweet." — Minneapolis Star Tribune
"At the crooked heart of this lovely novel is an odd-couple relationship reminiscent of Moses and Addie in the film Paper Moon, between an odd, clever, and lonely boy and a dodgy, desperate woman. Their reliance on each other is credible, touching and funny." — Nick Hornby, author of High Fidelity and About a Boy
"I loved this book. Lissa Evans is a wonderful writer; Vee and Noel are utter originals, and their journey made me laugh and cry." — Jojo Moyes, author of Me Before You
"In 'Crooked Heart,' Lissa Evans's absorbing and atmospheric comic novel, another quietly heroic orphan joins the canon….This is a wonderfully old-fashioned Dickensian novel, with satisfying plot twists….Both darkly funny and deeply touching….It's a crooked journey, straight to the heart." — New York Times Book Review
"The most purely charming read of the summer…. The novel's heart may be crooked, but it is completely in the right place. And if wanting a happy ending for this offbeat pair is wrong, I can't imagine a reader on earth who would want to be right." — Christian Science Monitor
"A heartwarming tale about a lonely young boy and a cunning middle-aged woman who find solace in each other." — Nylon
"Crooked Heart explores the Blitz during World War II from two utterly inventive perspectives…. A charming, slanted counterpoint to Anthony Doerr's All the Light We Cannot See." — Library Journal, starred review
"Evans tidily unfolds a satisfying plot…. But it's the over-arching development of the lost little boy and the harried woman's affection and admiration for one another that really tugs the reader's own heart crooked.... There's great galloping joy in it." — The Independent
"Entertaining … The story starts in the London blitz, in a dazzling, tragicomic prologue…. Crooked Heart is a dark comedy, moving between drollery, pathos, farce and harrowing moments of tragic insight." — The Guardian
"In conjuring a vivid portrait of two lost souls -- Vera Sedge, a petty criminal, and Noel Bostock, orphan and boy genius -- who find an unlikely kinship amid the privation of wartime London, Evans has written a sensitive, intelligent novel that revises Sartre's old axiom: Home is other people." — Boris Fishman, author of A Replacement Life
"Deceptively complex and utterly charming." — Sunday Mirror
"[A] dark comedy with heart….[Evans] is especially adept at capturing Noel's appealing blend of sophisticated bravado and naive fragility-all without lapsing into sentimentality. Most valuable, though, is the tragicomic portrayal of the petty betrayals and profound losses that characterized ordinary people's everyday wartime experiences." — Publishers Weekly
"With not a single combatant and only a few bombs, Lissa Evans has written a wonderful novel about the Second World War. Her two main characters are utterly irresistible, as is their unlikely alliance; I was cheering them on with every page." — Margot Livesey, author of The Flight of Gemma Hardy
"Cherishable…. Engaging and comic, Evans' U.S. debut takes a different slant on Britain during World War II….Aided by spot-on dialogue and low-key charm, Evans does a noticeably good job of spanning a wide range of emotional notes, from genuine sadness to absurd humor." — Kirkus
"An absolute dream of a book … joyful and wonderful - I completely and utterly loved it." — Alexandra Heminsley, BBC Radio 2 Arts Show
"Crooked Heart is tender, humane, funny, comforting and touching. Escapism in the best possible way. I loved it." — Marian Keyes, author of The Mystery of Mercy Close
"This autumn's feel-good novel teams up two unlikely characters at the outbreak of World War II…. Evans has written an old-fashioned comedy of manners, which is heartwarming, without being mawkish, and extremely funny." — Daily Mail
"I'm pretty sure that Crooked Heart shows the real, practical, opportunistic, Blitz spirit. The chaotic, semi-feral teaming up of Vera and Noel is as sparky and funny charming and touching, but then every now and again comes the vertiginous feeling of peering into something unutterably, dangerously sad." — Louisa Young, author of My Dear I Wanted to Tell You
"What will become of this fragile, touching pair? It's a mark of how charming this novel is that you worry…. Even hard-bitten book reviewers occasionally feel a moisture around the eyes. I did." — Daily Express, four stars
"I'm putting Crooked Heart on the shelf of my most treasured books, between I Capture the Castle and The Pursuit of Love." — India Knight, author of My Life on a Plate
"Beautifully written, moving, funny -- just perfect. I don't usually like novels about the Second World War—I think 'what's the point? The true stories are so good'—but this one, and Evelyn Waugh, are way up in a class of their own. Superb." — Juliet Gardiner, author of The Wartime Years and The Blitz
Harper, 9780062364838, 288pp.
Publication Date: July 28, 2015
About the Author
Lissa Evans has written internationally bestselling books for both adults and children, including Crooked Heart, Old Baggage, and Their Finest Hour and a Half, which was made into the feature film Their Finest. Her books have twice been longlisted for the Women's Prize for Fiction. She lives in London with her family.
Coverage from NPR
or
Not Currently Available for Direct Purchase