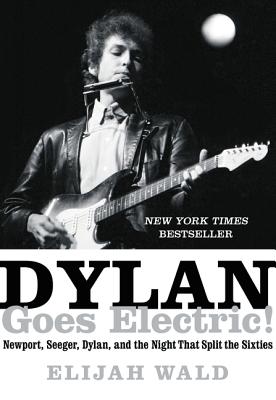 Dylan Goes Electric!
Newport, Seeger, Dylan, and the Night That Split the Sixties
Hardcover

* Individual store prices may vary.
Other Editions of This Title:
Digital Audiobook (5/15/2017)
Paperback (6/14/2016)
MP3 CD (5/16/2017)
Compact Disc (5/16/2017)
Description
One of the music world's pre-eminent critics takes a fresh and much-needed look at the day Dylan "went electric" at the Newport Folk Festival, timed to coincide with the event's fiftieth anniversary.
On the evening of July 25, 1965, Bob Dylan took the stage at Newport Folk Festival, backed by an electric band, and roared into his new rock hit, Like a Rolling Stone. The audience of committed folk purists and political activists who had hailed him as their acoustic prophet reacted with a mix of shock, booing, and scattered cheers. It was the shot heard round the world—Dylan's declaration of musical independence, the end of the folk revival, and the birth of rock as the voice of a generation—and one of the defining moments in twentieth-century music.
In Dylan Goes Electric!, Elijah Wald explores the cultural, political and historical context of this seminal event that embodies the transformative decade that was the sixties. Wald delves deep into the folk revival, the rise of rock, and the tensions between traditional and groundbreaking music to provide new insights into Dylan's artistic evolution, his special affinity to blues, his complex relationship to the folk establishment and his sometime mentor Pete Seeger, and the ways he reshaped popular music forever. Breaking new ground on a story we think we know, Dylan Goes Electric! is a thoughtful, sharp appraisal of the controversial event at Newport and a nuanced, provocative, analysis of why it matters.
Praise For Dylan Goes Electric!: Newport, Seeger, Dylan, and the Night That Split the Sixties…
"Provides a deeply researched and entertaining chronicle of the culture clash that Dylan sparked from the Newport stage." — David Remnick, The New Yorker
"It is a great work of scholarship, brimming with insight – among the best music books I have ever read." — The Guardian
"Wald contextualizes the deeply divisive event in illuminating detail . . . a major contribution to modern musical history." — Booklist (starred review)
"Wald is a superb analyst of the events he describes. And his analyses fly in the face of conventional wisdom. Even his introduction includes enough startling context to indicate 'Dylan Goes Electric!' will be seeing the old story with new eyes." — Janet Maslin, New York Times
"Wald's personal knowledge seems encyclopedic . . . An enjoyable slice of 20th-century music journalism." — Kirkus Reviews
"Anyone interested in Dylan, folk music, or rock and roll will adore this volume. It might not resolve the questions of what really happened in Newport in 1965, but it comes very close." — Library Journal
"In this tour de force, Elijah Wald complicates the stick-figure myth of generational succession at Newport by doing justice to what he rightly calls Bob Dylan's 'declaration of independence' . . . This is one of the very best accounts I've read of musicians fighting for their honor." — Todd Gitlin, author of The Sixties and Occupy Nation
"What Wald reveals about that most mystified of singer-songwriters and the folk and rock worlds that then surrounded and elevated him changed my own view of a moment I thought I had all figured out-and of the songwriterly 1960s as a whole." — Ann Powers, author of Weird Like Us: My Bohemian America and, with the artist, Tori Amos: Piece by Piece
"Devastatingly smart analysis . . . Wald is a remarkably sharp and graceful writer, capable of drawing extraordinary connections between artists, genres, and cultural moments. There's simply no one better when it comes to unpacking not just the mechanics of American music, but the mythology of American music." — Amanda Petrusich, author of Do Not Sell At Any Price: The Wild, Obsessive Hunt for the World's Rarest 78rpm Records
"Elijah Wald's book reflects the many directions in which America's music scene evolved in those extraordinary years, 1963-1970-I can't recommend it enough." — George Wein, Founder of the Newport Folk Festival
"Concise and entertaining . . . a great story, masterfully told, of how the times were, indeed, a-changin'-and why." — Ed Ward, rock and roll historian for NPR's Fresh Air with Terry Gross and author of Michael Bloomfield: The Rise and Fall of an American Guitar Hero
"Easily the definitive account of Newport '65." — CounterPunch Magazine
"There is no shortage of books about Bob Dylan . . . but Elijah Wald's heavily researched book manages to offer new information and unique insight into the social context of this controversial moment in music history." — Buzzfeed
Dey Street Books, 9780062366689, 368pp.
Publication Date: July 14, 2015
About the Author
Elijah Waldis a writer and musician whose books include Escaping the Delta: Robert Johnson and the Invention of the Blues and How the Beatles Destroyed Rock 'n' Roll: An Alternative History of American Popular Music. A respected expert on the folk revival, he collaborated with Dave Van Ronk on The Mayor of MacDougal Street, the inspiration for the Coen Brothers' film Inside Llewyn Davis. His awards include a 2002 Grammy, and he has taught blues history at UCLA and lectured widely on American, Mexican, and world music. He currently lives in Medford, Massachusetts.
Coverage from NPR
or
Not Currently Available for Direct Purchase