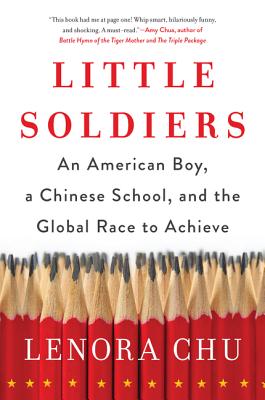 Little Soldiers
An American Boy, a Chinese School, and the Global Race to Achieve
Paperback

* Individual store prices may vary.
Other Editions of This Title:
Digital Audiobook (9/18/2017)
Hardcover (9/19/2017)
Paperback, Chinese (9/6/2019)
Description
New York Times Book Review Editor's Choice; Real Simple Best of the Month; Library Journal Editors' Pick
In the spirit of Battle Hymn of the Tiger Mother, Bringing up Bébé, and The Smartest Kids in the World, a hard-hitting exploration of China's widely acclaimed yet insular education system that raises important questions for the future of American parenting and education
When students in Shanghai rose to the top of international rankings in 2009, Americans feared that they were being "out-educated" by the rising super power. An American journalist of Chinese descent raising a young family in Shanghai, Lenora Chu noticed how well-behaved Chinese children were compared to her boisterous toddler. How did the Chinese create their academic super-achievers? Would their little boy benefit from Chinese school?
Chu and her husband decided to enroll three-year-old Rainer in China's state-run public school system. The results were positive—her son quickly settled down, became fluent in Mandarin, and enjoyed his friends—but she also began to notice troubling new behaviors. Wondering what was happening behind closed classroom doors, she embarked on an exploratory journey, interviewing Chinese parents, teachers, and education professors, and following students at all stages of their education.
What she discovered is a military-like education system driven by high-stakes testing, with teachers posting rankings in public, using bribes to reward students who comply, and shaming to isolate those who do not. At the same time, she uncovered a years-long desire by government to alleviate its students' crushing academic burden and make education friendlier for all. The more she learns, the more she wonders: Are Chinese children—and her son—paying too high a price for their obedience and the promise of future academic prowess? Is there a way to appropriate the excellence of the system but dispense with the bad? What, if anything, could Westerners learn from China's education journey?
Chu's eye-opening investigation challenges our assumptions and asks us to consider the true value and purpose of education.
Praise For Little Soldiers: An American Boy, a Chinese School, and the Global Race to Achieve…
"No reporter has gone as deep as she has into what makes Chinese and American schools different today, or given more reasons we should not copy the Chinese. Yet her rollicking account has hope for both cultures, because they share a deep interest in what children learn."
— Washington Post

"Chu's narrative is told with the honesty of a journalist, allowing readers to understand the conclusions she draws from her journey but also to form their own view of Chinese education. For anyone who wishes to expand their understanding about Chinese society and its impact on education."
— Library Journal, starred review

 "This book had me at page one! Whip smart, hilariously funny, and shocking. A must-read."
— Amy Chua, author of The Battle Hymn of the Tiger Mother and The Triple Package

"Anyone will understand [China] better after reading this book…. Chu vividly sketches these differences [between Chinese and American school systems] in terms that will make readers ponder what they actually think about rote memorization and parents question their preferences for their own children."
— New York Times

"This engaging narrative is personalized by Chu's often humorous recollections of attending American schools as the daughter of immigrants. Little Soldiers offers fascinating peeks inside the world's largest educational system and at the future intellectual "soldiers" American kids will be facing."
— Booklist

"Undoubtedly revealing, fascinating, and filled with 'aha' moments."
— Christian Science Monitor

"This is a rare look inside the gates of Chinese schools that helps demystify many traits and behaviors of the Chinese people."
— Deborah Fallows, contributing writer for The Atlantic and author of Dreaming in Chinese

"Lenora Chu, a gifted journalist, has written a fascinating comparison of the US and Shanghai education systems. Little Soldiers offers important insights into the strengths and weaknesses of each. There is much to be learned here about the elements of a better education system for the 21st century."
— Tony Wagner, Expert in Residence, Harvard University Innovation Lab and author of The Global Achievement Gap and Creating Innovators

"An investigative look at the Chinese educational system and how it produces such a large number of high-performing students."
— Book Riot

"This provocative investigation examines cultural differences between the East and West, and the benefits and shortcomings of how both approach education."
— Real Simple, "The Best New Books to Read This Month"

"The American and Chinese ways of educating children are approaching a head-on collision begging the question 'which system best prepares kids for success?' In Little Soldiers, Lenora Chu deploys her journalistic inquiry and her motherly heart to investigate the attributes that underlie this urgent question. Chu's fascinating storytelling urges the reader to ask questions like, 'Do the ends justify the means?' 'Is a child's life for a parent or government to dictate, or is it their own?' . . . Necessary reading for educators, parents, and anyone interested in shaping the character and capabilities of the next generation of Americans."
— Julie Lythcott-Haims, New York Times bestselling author of How to Raise an Adult
Harper Paperbacks, 9780062367860, 368pp.
Publication Date: September 18, 2018
About the Author
Lenora Chu is a Chinese American writer whose work explores the intersection of culture, policy, and behavior. Her stories and op-eds have appeared in the New York Times, Wall Street Journal, Business Insider, Christian Science Monitor, and on various NPR shows. Raised in Texas, Chu holds degrees from Stanford and Columbia Universities.
or
Not Currently Available for Direct Purchase