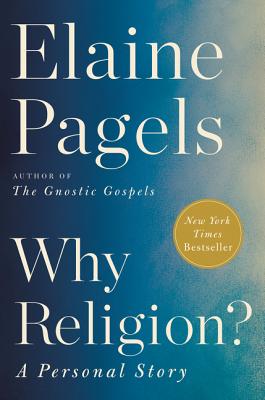 Why Religion?
A Personal Story
Hardcover

* Individual store prices may vary.
Other Editions of This Title:
Digital Audiobook (11/5/2018)
Digital Audiobook (1/14/2019)
Paperback, Large Print (11/6/2018)
Paperback (1/21/2020)
Compact Disc (1/15/2019)
MP3 CD (1/15/2019)
Compact Disc (1/15/2019)
Compact Disc (11/6/2018)
MP3 CD (11/6/2018)
Compact Disc (11/6/2018)
Description
New York Times bestseller
One of PW's Best Books of the Year
One of Amazon's Best Books of the Month
Why is religion still around in the twenty-first century? Why do so many still believe? And how do various traditions still shape the way people experience everything from sexuality to politics, whether they are religious or not? In Why Religion? Elaine Pagels looks to her own life to help address these questions.
These questions took on a new urgency for Pagels when dealing with unimaginable loss—the death of her young son, followed a year later by the shocking loss of her husband. Here she interweaves a personal story with the work that she loves, illuminating how, for better and worse, religious traditions have shaped how we understand ourselves; how we relate to one another; and, most importantly, how to get through the most difficult challenges we face.
Drawing upon the perspectives of neurologists, anthropologists, and historians, as well as her own research, Pagels opens unexpected ways of understanding persistent religious aspects of our culture.
A provocative and deeply moving account from one of the most compelling religious thinkers at work today, Why Religion? explores the spiritual dimension of human experience.
Praise For Why Religion?: A Personal Story…
"A minimalist work of great majesty, akin to a shimmering Agnes Martin Painting, whose stripped-down aesthetic allows light to pour forth from her canvas."
— New York Times Book Review

"Searing and wise. . . . tender and wrenching, sketched with exquisite detail."
— Boston Globe

"An intimate, evocative memoir."
— Ron Charles, Washington Post

"A wide-ranging work of cultural reflection and a brisk tour of the most exciting religion scholarship over the past 40 years. . . . Pagels is as fearless as she is candid."
— Washington Post

"In clear, unsparing prose, Pagels enmeshes personal mourning, scholarly rigor, and one of the smartest modern testaments to the consolations as well as the inadequacies of spirituality. A small revolution in memoir to match the one she led in theology decades ago."
— New York magazine

"Lucid, inspiring personal testimony."
— National Book Review, "5 Hot Books"

"Looks back on a rich life of learning, writing, loving, seeking truth and, inevitably, suffering. . . achingly beautiful . . . Readers of all faiths and none can learn from her brilliance and courage."
— Dallas Morning News

"You don't have to be religious yourself to enjoy her thought-provoking work."
— Bustle

"Beautiful . . . Pagels treats readers to the examined life behind her intellectual feats with extreme grace and depth. This luminous memoir strips religion to its elementary particles: love, suffering, and mystery."
— Publishers Weekly (starred review)

"Engaging both head and heart . . . this brilliant book . . . stimulates intellectual curiosity and thought while giving equal weight to Pagel's emotional life."
— Booklist (starred review)

"Both fascinating and heart-wrenching, Pagels's highly personal account presents behind-the-scenes glimpses into the inner workings of a brilliant scholar's mind."
— Library Journal

"A raw and often moving autobiography . . . The story of her grief . . . will touch all. A meaningful tale of pain and hope on the edges of faith."
— Kirkus

"Pagels unpacks the relevance of religion in the twenty-first century—how religious traditions continue to shape the way we understand ourselves and the world and provide a framework for facing our most painful losses."
— Lion's Roar

"In this compelling, honest, and learned memoir, Elaine Pagels, takes us inside her own life in a stirring and illuminating effort to explain religion's enduring appeal. This is a powerful book about the most powerful of forces."
— Jon Meacham, author of The Soul of America

"With characteristic intelligence and wisdom, Elaine Pagels lays bare her own life-shattering losses, offering up the possibility that suffering might afford each of us membership in a profoundly connected human—and cosmic—community. Why Religion? is a revelation and an immense consolation."
— Tracy K. Smith, Poet Laureate of the United States

"Elaine Pagels has written an extraordinary memoir of loss, spiritual struggle, illumination and insight—emotionally heartrending, intellectually exciting, a model of what a memoir should be."
— Joyce Carol Oates

"Pagels has done it again, but more personally. The scholar's tale of loving, grieving, enduring, and searching will grab readers at the outset and never let them go. A memorable story unforgettably told."
— Madeleine Albright, author of Fascism: A Warning

"Elaine Pagels' study of new gospels and revelations challenged our understanding of ancient Christianity.  In this mesmerizing memoir, we see how she was also grappling with devastating loss and struggling within to find "the light that never fails," even in deepest anger and guilt, grief and desolation. A must read."
— Karen L. King, Hollis Professor Divinity, Harvard University

"A magnificent, searing, soul-affirming memoir. Pagels shines the bright light of her brilliant mind on the most essential of human dilemmas: how do we go on in the face of immeasurable loss?  I came away from this book transformed."
— Dani Shapiro
Ecco, 9780062368539, 256pp.
Publication Date: November 6, 2018
About the Author
Elaine Pagels is a preeminent academic whose impressive scholarship has earned her international respect. The Harrington Spear Paine Professor of Religion at Princeton University, Pagels was awarded the Rockefeller, Guggenheim, and MacArthur Fellowships in three consecutive years. She is the author of The Gnostic Gospels, Beyond Belief, and Revelations.
Coverage from NPR