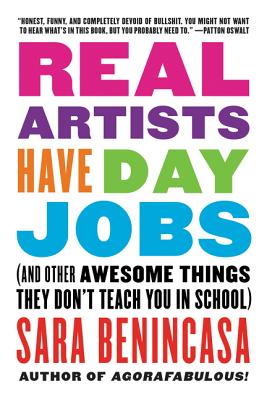 Real Artists Have Day Jobs
(And Other Awesome Things They Don't Teach You in School)
Paperback

* Individual store prices may vary.
Description
For readers of Lena Dunham, Mindy Kaling, and #Girlboss, a hilarious—yet heartfelt—guide to growing up and taking your place in the world by the popular comedian and author of the highly praised Agorafabulous!
While the practical aspects of new adulthood can be nerve-wracking—dating, job-hunting, money-managing—the most important task of all is figuring out who you are and where you fit in the world. Author and comedian Sara Benincasa, now in her mid-thirties, had an absolutely harrowing early twenties and now, on the other side, she has a LOT of hard-earned wisdom and common sense to share.
Real Artists Have Day Jobs includes 52 witty, provocative essays on how to live like a real adult—especially for those who have chosen a slightly more offbeat path to get there. Chock full of information and advice, Sara's warm, smart, empathetic, and quirky voice is relatable to everyone from twenty-somethings and recent college grads to anyone a bit older who's still trying to figure things out. While Sara doesn't have all of life's answers, this indispensable book has more than its share!
Essays include:
How to Read a Book
Real Artists Have Day Jobs
The Power of Being a Dork
Put Your Clutter in Purgatory
Ask for Exactly What You Want
Elect Your Own Executive Board

Equal parts entertaining and educational, Real Artists Have Day Jobs is a life-changing book for strivers and misunderstood creatives everywhere.
Praise For Real Artists Have Day Jobs: (And Other Awesome Things They Don't Teach You in School)…
"Honest, funny and completely devoid of bullshit. You might not want to hear what's in this book, but you probably need to."
— Patton Oswalt

"Sara's book is an incredible tour de force. If I could repeatedly hit my head so I could give myself a touch of memory loss so that I would be able to read this again for the first time, I would."
— Megan Amram

"Sara captures the chaos, horror, and joy of a life pursuit of creativity."
— Jim Gaffigan

"Sara Benincasa is a great wit, a great woman, and a great writer."
— Elizabeth Gilbert

"Inspiring self-help guidance on just about everything: sex, love, self-esteem, even flossing…It's hard to imagine an actual self-help book could be more inspirational…Benincasa's wisdom and humor will reverberate for days to come."
— Library Journal

"Hilarious…refreshingly frank…Benincasa provides solid tips for relationships, health, wellness, and employment…Raunchy and unabashedly unapologetic, this is useful, take-no-prisoners humor."
— Kirkus Reviews

"Sara Benincasa is brilliant on Twitter, in her comedy and on the printed page, and her latest, Real Artists Have Day Jobs, won't fail to make you laugh. It might make you tear up a little bit too… she's smart, heartfelt, relatable and just plain funny."
— New York Daily News

"It's educational, inspiring and entertaining in equal measure…That mix of empathy and realism is what makes 'Real Artists…' worth reading."
— The Malcontent
William Morrow Paperbacks, 9780062369819, 272pp.
Publication Date: April 26, 2016
About the Author
Sara Benincasa is a comedian and author of Real Artists Have Day Jobs (William Morrow 2016) as well as the books DC Trip (Adaptive Books 2015), Great (2014), and Agorafabulous!: Dispatches From My Bedroom (William Morrow 2012), a book based on her critically acclaimed solo show about panic attacks and agoraphobia. She is currently adapting DC Trip as a film with producers Albert Berger and Ron Yerxa (Little Miss Sunshine, Nebraska, Election), Van Toffler, and Adaptive Studios. She is currently adapting Agorafabulous! as a TV pilot with executive producers Diablo Cody (Juno, The United States of Tara), and Ben Stiller's Red Hour. She was born and raised in New Jersey and graduated from Warren Wilson College and Columbia University Teachers College. She lives in Los Angeles, California.