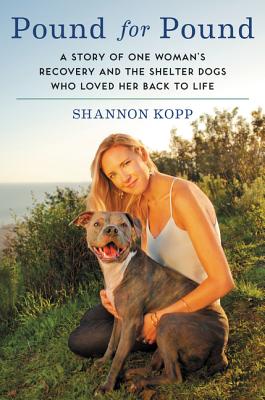 Pound for Pound
A Story of One Woman's Recovery and the Shelter Dogs Who Loved Her Back to Life
Hardcover

* Individual store prices may vary.
Other Editions of This Title:
Paperback (7/26/2016)
Description
The brave, inspiring story of one woman's recovery from a debilitating eating disorder, and the remarkable shelter dogs who unexpectedly loved her back to life.
"The dogs don't judge me or give me a motivational speech. They don't rush me to heal or grow. They sit in my lap and lick my face and make me feel chosen. And sometimes, it hits me hard that I'm doing the exact thing I say I cannot do. Changing."
Pound for Pound is an inspirational tale about one woman's journey back to herself, and a heartfelt homage to the four-legged heroes who unexpectedly saved her life.
For seven years, Shannon Kopp battled the silent, horrific, and all-too-common disease of bulimia. Then, at twenty-four, she got a job working at the San Diego Humane Society and SPCA, where in caring for shelter dogs, she found the inspiration to heal and the courage to forgive herself. With the help of some extraordinary homeless animals, Shannon realized that her suffering was the birthplace of something beautiful. Compassion.
Shannon's poignant memoir is a story of hope, resilience, and the spiritual healing animals bring to our lives. Pound for Pound vividly reminds us that animals are more than just friends and companions—they can teach us how to savor the present moment and reclaim our joy. Rich with emotion and inspiration it is essential reading for animal lovers and everyone who has struggled to change.
Praise For Pound for Pound: A Story of One Woman's Recovery and the Shelter Dogs Who Loved Her Back to Life…
"Anyone who has ever loved an animal, battled depression, or struggled with an addiction of any kind will not be able to put down Pound for Pound...brave account of the healing power of shelter dogs is not only a page-turner, but a true inspiration.."
— Laura Maloney, former Chief Operating Officer of the Humane Society of the United States, current COO of Panthera

Every now and again a book comes along that can help millions of people… POUND FOR POUND is one of those inspirational gems. Shannon Kopp's personal story… is a must read.
— -- Marc Bekoff, author of Rewilding our Hearts: Building Pathways of Compassion and Coexistence

"Don't miss POUND FOR POUND…It's a story you'll always remember, a testament to the healing energy of our canine companions, who ask only for love and then give it back in spades."
— --Glenn Plaskin, Author of KATIE Up and Down the Hall, The True Story of How One Dog Turned Five Neighbors Into a Family

Pound for Pound is an emotional reminder of the strength of the human spirit and how dogs are more than our best friend; they can also be guides, inspiring us to be compassionate, share joy, and live life in the moment.
— Booklist
William Morrow, 9780062370228, 288pp.
Publication Date: October 6, 2015
or
Not Currently Available for Direct Purchase