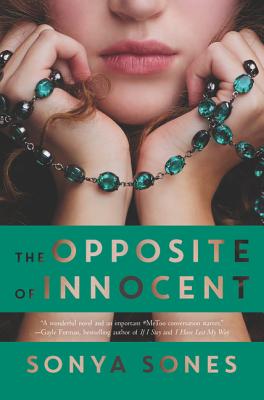 The Opposite of Innocent
Hardcover

* Individual store prices may vary.
Other Editions of This Title:
Paperback (6/15/2021)
Description
Poignant and chilling by turns, The Opposite of Innocent is award-winning author Sonya Sones's most gripping novel in verse yet. It's the story of a girl named Lily, who's been crushing on a man named Luke, a friend of her parents, ever since she can remember.
Luke has been away for two endless years, but he's finally returning today. Lily was only twelve when he left. But now, at fourteen, she feels transformed. She can't wait to see how Luke will react when he sees the new her. And when her mother tells her that Luke will be staying with them for a while, in the bedroom right next to hers, her heart nearly stops.
Having Luke back is better than Lily could have ever dreamed. His lingering looks set Lily on fire. Is she just imagining them? But then, when they're alone, he kisses her. Then he kisses her again. Lily's friends think anyone his age who wants to be with a fourteen-year-old must be really messed up. Maybe even dangerous. But Luke would never do anything to hurt her...would he?
In this powerful tale of a terrifying leap into young adulthood, readers will accompany Lily on her harrowing journey from hopelessness to hope.
Praise For The Opposite of Innocent…
"A wonderful novel, and an important #MeToo conversation starter." — Gayle Forman, author of If I Stay and I Have Lost My Way
"A series of free-verse poems full of adolsecent yearning, youthful naivete, and pubescent insecurity. Valuable for those wrestling with sexual and emotional abuse." — Horn Book Magazine
"Sones is a seasoned hand at the verse novel, varying her poetic forms and measuring pace and impact through line breaks as she develops a realistic picture of a young teen's thought patterns." — Bulletin of the Center for Children's Books
"A quick moving and emotionally charged novel that explores an important subject." — Kirkus Reviews
"In her signature style, Sones weaves a pulse-quickening tale of sexual abuse from young victim's view. A portrait of suffering that will break readers' hearts." — ALA Booklist
"This novel in verse concisely examines one girl's experience of sexual abuse in a way that is both timely and relevant. A must-have for YA collections." — School Library Journal
HarperTeen, 9780062370310, 272pp.
Publication Date: September 4, 2018
About the Author
Sonya Sones has written seven novels in verse: The Opposite of Innocent, Stop Pretending: What Happened When My Big Sister Went Crazy; What My Mother Doesn't Know and its companion, What My Girlfriend Doesn't Know; One of Those Hideous Books Where the Mother Dies; To Be Perfectly Honest; and Saving Red. Sonya's books have received many honors, but she was especially thrilled when she learned that she was on the American Library Association's list of the Most Frequently Challenged Authors of the 21st Century. She lives near the beach in California. You can visit her at www.sonyasones.com or write her at sonyasones@gmail.com.
or
Not Currently Available for Direct Purchase