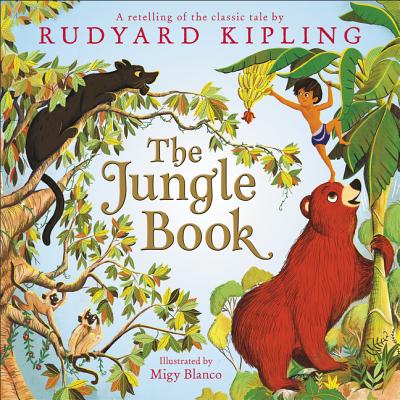 The Jungle Book
Hardcover

* Individual store prices may vary.
Other Editions of This Title:
Paperback (12/15/2015)
Paperback (11/23/2015)
Paperback (2/20/2015)
Paperback (4/24/2014)
Paperback (5/22/2018)
Paperback (7/8/2018)
Paperback (7/18/2018)
Paperback (3/25/2016)
Paperback (10/10/2018)
Paperback (8/1/2012)
Paperback (11/23/2015)
Paperback (10/24/2018)
Paperback (11/1/2014)
Paperback (11/19/2018)
Paperback (3/23/2016)
Paperback (10/31/2018)
Paperback (2/1/2014)
Paperback (7/17/2018)
Paperback (9/10/2015)
Paperback (1/21/2019)
Description
This must-have picture book adaptation of Rudyard Kipling's beloved classic The Jungle Book brings Mowgli's story to a new generation of readers.
Mowgli loves living in the jungle with his wolf family and his friends Baloo the bear and Bagheera the panther. He's been learning the ways of the jungle ever since he was a little boy. But when the tiger Shere Khan tries to turn the pack against Mowgli, making him feel unwelcome, Mowgli realizes he may not belong here after all. What will happen when it's time for the boy to leave the wolf pack that raised him to go live with his people?
The lively text coupled with Migy Blanco's beautiful, vibrant illustrations adapts the original story for the picture book audience. Fans of this classic about courage and the power of family will love to introduce little ones to the legendary cast of characters with this accessible take on Mowgli's timeless journey.
HarperCollins, 9780062370877, 32pp.
Publication Date: March 8, 2016
About the Author
Rudyard Kipling was born in Bombay (now known as Mumbai), India, but returned with his parents to England at the age of five. Among Kipling's best-known works are The Jungle Book, Just So Stories, and the poems "Mandalay" and "Gunga Din." Kipling was the first English-language writer to receive the Nobel Prize for literature (1907) and was among the youngest to have received the award. 
Migy Blanco started his career in London, where he lived for ten years after graduating from university. He then moved to the wilds of South America for some adventure before landing back in Frome, UK, with his wife and two children. Along the way, Migy has been imagining and developing his vibrant, magical, and bold art style. His eye-catching artwork has been featured everywhere from the Glastonbury Festival in the UK to the newsstands of Portland, Oregon. You can visit him at www.migy.com.
Laura Driscoll is the author of numerous first chapter and beginning reader books, including We Are Twins and The Bravest Cat! She lives in central Connecticut with her husband and two children.