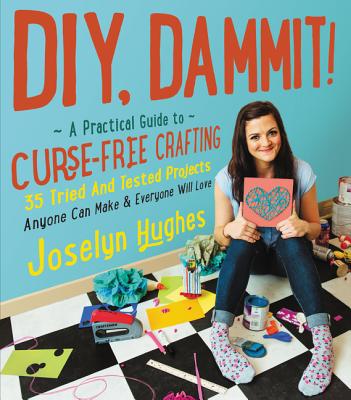 DIY, Dammit! (Hardcover)
A Practical Guide to Curse-Free Crafting: 35 Tried and Tested Projects Anyone Can Make & Everyone Will Love
HarperOne, 9780062371461, 272pp.
Publication Date: November 3, 2015
Description
Doing it yourself always seems so simple. Only 3 steps Just 5 supplies Less than 30 minutes Yeah right.
The truth is, craftin' ain't easy. But it also doesn't have to be an exasperating lesson in your own clumsiness.
Joselyn Hughes knows the struggle. She's lived it. And now, with DIY, Dammit , she offers up foolproof craftables that deliver maximum cute with minimal effort. There are easy-to-follow instructions and realistic shortcuts--because waiting for paint to dry is as boring as...well, you know.
With Joselyn by your side you'll laugh, learn, and end up with handcrafted creations that will impress your friends, family, and strangers you accost on the street. She's already made all the mistakes, so you don't have to. What are you waiting for? DIY, Dammit
Advertisement