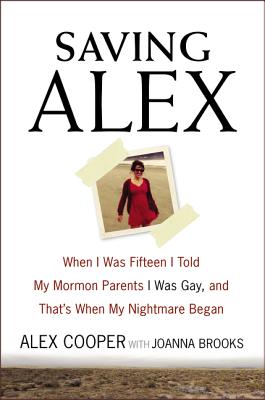 Saving Alex
When I Was Fifteen I Told My Mormon Parents I Was Gay, and That's When My Nightmare Began
Hardcover

* Individual store prices may vary.
Other Editions of This Title:
Digital Audiobook (2/29/2016)
Description
Now a Lifetime Original Movie--Trapped: The Alex Cooper Story!
Read the first-hand account of a young woman whose bravery, courage, and resilience while enduring gay conversion therapy inspires us all in the fight for freedom, acceptance, and truth.
When Alex Cooper was fifteen years old, life was pretty ordinary in her sleepy suburban town and nice Mormon family. But something was gnawing at her that made her feel different. These feelings exploded when she met Yvette, a girl who made Alex feel alive in a new way, and with whom Alex would quickly fall in love.
Alex knew she was holding a secret that could shatter her family, her church community, and her life. Yet when this secret couldn't be hidden any longer, she told her parents that she was gay, and the nightmare began. She was driven from her home in Southern California to Utah, where, against her will, her parents handed her over to fellow Mormons who promised to save Alex from her homosexuality.
For eight harrowing months, Alex was held captive in an unlicensed "residential treatment program" modeled on the many "therapeutic" boot camps scattered across Utah. Alex was physically and verbally abused, and many days she was forced to stand facing a wall wearing a heavy backpack full of rocks. Her captors used faith to punish and terrorize her. With the help of a dedicated legal team in Salt Lake City, Alex eventually escaped and made legal history in Utah by winning the right to live under the law's protection as an openly gay teenager.
Alex is not alone; the headlines continue to splash stories about gay conversion therapy and rehabilitation centers that promise to "save" teenagers from their sexuality. Saving Alex is a courageous memoir that tells Alex's story in the hopes that it will bring awareness and justice to this important issue.
Praise For Saving Alex: When I Was Fifteen I Told My Mormon Parents I Was Gay, and That's When My Nightmare Began…
"Alex Cooper's story is a call to action - we must put a stop to this brutal practice of conversion therapy and ensure that every child is embraced for who they are in their homes, schools and communities." — Chad Griffin, President, Human Rights Campaign
"Alex's engrossing and shocking story is the triumph of courage, authenticity and hope over shame, bigotry and ignorance. The nightmare of Alex's story is a key reason we will soon succeed in ending the cruel and dangerous practice of conversion therapy." — Kate Kendell, Executive Director of the National Center for Lesbian Rights
"In her new memoir, author Alex Cooper recounts her grisly experiences with reparative, or 'gay conversion,' therapy as a teen. Cooper's book, Saving Alex, details the 'exhausting and humiliating' time she allegedly spent at a home in St. George, Utah." — Huffington Post
"Heart-wrenching, suspenseful. Alex's hopeful story is a testament to the power of solidarity and compassion and a measure of how far our society has come. But it is also a chilling reminder that thousands in the U.S. are still subjected to deplorable conditions inside 'gay conversion programs' today" — BUST Magazine
"In this deeply personal book, Alex Cooper recounts her teenage years undergoing conversion therapy after her parents, devout Mormons, discovered she was gay. The story is riveting." — Mother Jones
"Ripped-from-the-headlines books often seemed forced, but not here. Alex's story is gripping as she comes across as a reliable witness against the cruelties of so-called reparative therapy. Because of her bravery, LGBTQ teenagers in Utah don't have to undergo what Alex endured." — The Bay Area Reporter
"Saving Alex is a sobering reminder of the unresolved trauma still out there." — Queerty
"The suspenseful, well-written account of Alex's eight months of 'reparative' therapy makes for compelling reading. Alex's horrifying story is one that needs to be heard, and her book is an eloquent testament to that. It is encouraging proof that, as Alex is told, things do get better." — Booklist (starred review)
"An affecting memoir. The positive ending to her story calls all readers to do more for vulnerable youth. Without offering any easy reconciliation between homosexuality and faith, Alex's story provides an example of how to not be consumed by anger and hate toward an abusive version of religion." — Publishers Weekly
"A 21-year-old gay woman is telling the harrowing tale of abuse and humiliation she faced at the hands of gay conversion therapists in Utah in her book Saving Alex." — Logo NewNowNext
"Alex Cooper fought a fierce battle for dignity, identity and family. Her courage led the State of Utah to recognize the fundamental human rights of gay teenagers. An inspiring story of a queer youth discovering her courage and raising her voice. In so doing, she liberates us all." — Troy Williams, Executive Director, Equality Utah
"Expressive, moving, and honest. . . Cooper's story demonstrates how it is still possible to endure and prevail." — Kirkus Reviews
"Alex's story is a gripping example of the reality too many LGBT youth face across the country. I am grateful Alex has shared her story, so others can see the dangers of 'conversion therapy,' and learn what LGBT youth need most of all: unconditional love and support." — Congresswoman Jackie Speier
"I empathize with Alex's fear of losing everything important to her, but Alex's story will help pave the road for more young people to accept who they are, and hopefully for families to understand how to better love their gay and lesbian children. A brave and important book." — Robbie Rogers, professional soccer player for LA Galaxy and author of Coming Out to Play
"I have seen far too many cases in which young gay people approach their religious family or church leaders and ask for bread but receive a stone. Saving Alex contributes toward saving the lives and dignity of our LGBTQ children, and saving the souls of our families and religions." — Carol Lynn Pearson, author of Goodbye, I Love You: The True Story of a Wife, Her Homosexual Husband, and a Love that Transcended Tragedy
"Saving Alex is sure to become a clarion call to LGBT teens everywhere." — The Toronto Star
"Exposes the stark reality of family rejection for LGBT youth while sharing the resilience, courage and resolve of a brave young woman to reclaim her life. We at the Family Acceptance Project know how to help families to support their LGBT children; this book will help us do that." — Caitlin Ryan, Director, Family Acceptance Project
"Alex's story is all too true for far too many LGBT young people who face a hostile family, religious tradition, or both. Thankfully, this is also a story of a brave young woman who received crucial support and expert legal assistance to retrieve her dignity, independence, and her family." — Mary Bonauto, Civil Rights Project Director
"It may have taken a dramatic case like the abuse that Alex Cooper suffered to bring this issue to the Mormon Church's attention, but the reality is that it's not just reparative therapy programs utilizing 'abusive practices' that need to go; it's all of them." — Religion News Service
"Saving Alex is a courageous memoir that tells Alex's story in the hopes that it will bring awareness and justice to this important issue. A bold, inspiring story of one girl's fight for freedom, acceptance and truth." — BookReporter.com
"As important as it is to tell the dark truth about conversion therapy, it is just as important that Alex's story has a happy ending. The message that LGBT kids can survive conservative religious contexts could not be more timely." — Religion Dispatches
"I saw this book's description and I couldn't stop myself from signing on. The cruel hypocrisy and her family's consent to torture is dispiriting, but Alex focuses on freedom, both the physical and spiritual, as hard as she can." — Edge Publications
"I commend Alex… her book is full of reflections and resolutions." — Patheos Friendly Atheist
"Alex Cooper is gay, and at 15, she was brave enough to come out to her strict Mormon parents. Alex's parents sent her to a gay conversion house [where she] was harassed and abused, all under the guise of "curing" her. Now, she is fighting to ban gay conversion therapy." — Seventeen.com
"SAVING ALEX raises the issue of what we can do to protect the rights of people who seek only to love whom they will. Cooper emphasizes the hopeful elements in her nightmarish experience: you are never alone; there is always help. May inspire others to try to find that help." — Bookreporter.com
"The story line in this autobiographical book, Saving Alex, would make a great soap opera. But the power of Alex's story is in her strength and stamina in adversity, and the resolution wherein she finds peace with her parents." — Association of Mormon Letters
"Cooper was subjected to emotional and physical abuse at an unlicensed treatment center. These examples show how dangerous it is, still, to identify as LGBT in the United States, not only because hate crimes and speech are rampant, but because LGBT individuals are often a danger to even themselves."  — The Spectrum
HarperOne, 9780062374608, 256pp.
Publication Date: March 1, 2016
About the Author
Alex Cooper made legal history in Utah by winning the right to live under the law's protection as an openly gay teenager. Now twenty-one, she lives in Portland, Oregon.
Joanna Brooks is an author and recognized expert on Mormonism and gender and LGBT issues, and Associate Vice President for Faculty Affairs at San Diego State University.
or
Not Currently Available for Direct Purchase