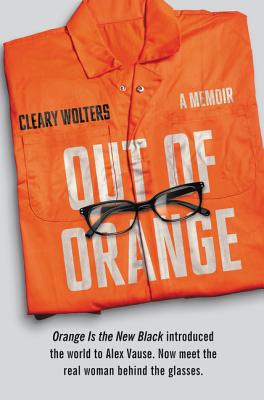 Out of Orange
A Memoir
Hardcover

* Individual store prices may vary.
Other Editions of This Title:
Digital Audiobook (5/4/2015)
Paperback (5/3/2016)
Compact Disc (5/5/2015)
Compact Disc (5/5/2015)
Description
The real-life Alex Vause from the critically acclaimed, top-rated Netflix show Orange Is the New Black tells her story in her own words for the first time—a powerful, surprising memoir about crime and punishment, friendship and marriage, and a life caught in the ruinous drug trade and beyond.
Fans nationwide have fallen in love with Orange Is the New Black, the critically acclaimed and wildly popular Netflix show based on Piper Kerman's sensational #1 New York Times bestseller. Now, Catherine Cleary Wolters—the inspiration for Alex Vause, Piper's ex-girlfriend, friend, and sometimes-romantic partner on the show—tells her true story, offering details and insights that fill in the blanks, set the record straight, and answer common fan questions.
An insightful, frustrating, heartbreaking, and uplifting analysis of crime and punishment in our times, Out of Orange is an intimate look at international drug crime—a seemingly glamorous lifestyle that dazzles unsuspecting young women and eventually leads them to the seedy world of prison. Told by a woman originally thrust into the spotlight without her permission—Wolters learned about Piper's memoir in the media—Out of Orange chronicles Wolter's time in the drug trade, her incarceration, her friendships and acquaintances with odd cellmates, her two marriages, and her complicated relationship with Piper. But Wolters is not solely defined by her past; she also reflects on her life and the person she is today.
Filled with colorful characters, fascinating tales, painful sobering lessons, and hard-earned wisdom, Out of Orange is sure to be provocative, entertaining, and ultimately inspiring.
Praise For Out of Orange: A Memoir…
"A powerful, surprising memoir about crime and punishment, friendship and marriage, and a life caught in the ruinous drug trade and beyond." — Publishers Weekly
"It's a riveting tale, told well and full of lessons for those willing to listen. ... detailed here in a voice that is heartfelt and honest, toughening when it needs to but remaining steadfast." — Eloise Kinney, Booklist
"Don't mistake Wolters's sticking to the facts for lack of engrossing intrigue. Anecdotes about her globetrotting and law-breaking—not to mention her affair with Kerman—make for can't-put-it-down entertainment." — Next Magazine
"Wolters's accessible and honest memoir opens the door and invites readers in. Patrons won't meet Alex Vause, the sultry drug-trafficking queen of OITNB. Instead, they'll meet Wolters—a woman with aspirations, whose missteps take her on unexpected journeys. — Library Journal
"Where Piper's account has given us a voyeuristic look at prison life that allows us as a nation to congratulate ourselves on being so well adjusted and normal compared to the people whose lives we can't stop watching, Wolters' book sounds much more authentic, insightful, and heartbreaking." — Tattle
"In [Wolter's] book, she tells an honest and emotional tale of the decisions and the mistakes she made, as well as the struggle to keep them from defining the rest of her life. — Amos Lassen, Reviews by Amos Lassen
In prose that is brilliant (at times breathtaking), Cleary also offers us a story of regret and redemption…She writes unflinchingly about her ordeals in the violent and overcrowded prison system." — Janet Mason, Huff Post Books
HarperOne, 9780062376138, 320pp.
Publication Date: May 5, 2015
About the Author
Cleary Wolters is the real-life inspiration for the character Nora Jansen in Piper Kerman's memoir and Alex Vause in the Netflix series Orange Is the New Black. Piper spent thirteen months in a Danbury, Connecticut, minimum-security prison beginning in 2004. Cleary, meanwhile, was charged with conspiracy to import heroin and served almost six years in a Dublin, California, prison before being paroled in 2008. Cleary has written poetry, fiction, and screenplays, the bulk of which were written during her prison sentence. This is her first memoir.
or
Not Currently Available for Direct Purchase