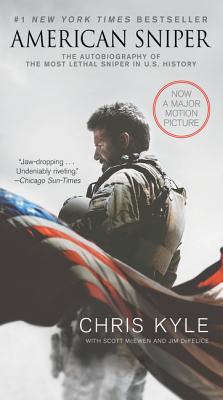 American Sniper [Movie Tie-in Edition]
The Autobiography of the Most Lethal Sniper in U.S. Military History
Mass Market

* Individual store prices may vary.
Other Editions of This Title:
Digital Audiobook (1/2/2012)
Mass Market (1/29/2013)
Paperback (5/10/2016)
Hardcover (10/15/2013)
Prebound (1/29/2013)
Paperback (11/25/2014)
Prebound (1/29/2013)
Paperback, Chinese (12/24/2014)
Description
The #1 New York Times bestselling memoir of U.S. Navy Seal Chris Kyle, and the source for Clint Eastwood's blockbuster movie which was nominated for six academy awards, including best picture.
From 1999 to 2009, U.S. Navy SEAL Chris Kyle recorded the most career sniper kills in United States military history. His fellow American warriors, whom he protected with deadly precision from rooftops and stealth positions during the Iraq War, called him "The Legend"; meanwhile, the enemy feared him so much they named him al-Shaitan ("the devil") and placed a bounty on his head. Kyle, who was tragically killed in 2013, writes honestly about the pain of war—including the deaths of two close SEAL teammates—and in moving first-person passages throughout, his wife, Taya, speaks openly about the strains of war on their family, as well as on Chris. Gripping and unforgettable, Kyle's masterful account of his extraordinary battlefield experiences ranks as one of the great war memoirs of all time.
Praise For American Sniper [Movie Tie-in Edition]: The Autobiography of the Most Lethal Sniper in U.S. Military History…
"Chris Kyle tells his story with the same courage and grit he displayed in life and on the battlefield. American Sniper is a compelling read." — CLINT EASTWOOD
"An amazingly detailed account of fighting in Iraq--a humanizing, brave story that's extremely readable." — PATRICIA CORNWELL, New York Times Book Review
"In the elite community of warriors, one man has risen above our ranks and distinguished himself as unique. Chris Kyle is that man. A master sniper, Chris has done and seen things that will be talked about for generations to come." — MARCUS LUTTRELL, author of Lone Survivor
"Chris Kyle was incredible, the most celebrated war hero of our time, a true American hero in every sense of the word." — D Magazine
"The raw and unforgettable narrative of the making of our country's record-holding sniper, Chris Kyle's memoir is a powerful book, both in terms of combat action and human drama. Chief Kyle is a true American warrior down to the bone, the Carlos Hathcock of a new generation." — CHARLES W. SASSER, Green Beret (US Army Ret.) and author of One Shot, One Kill
"Reads like a first-person thriller narrated by a sniper. The bare-bones facts are stunning. .... A first-rate military memoir." — BOOKLIST
"American Sniper is the inside story of what it's like to be in war. A brave warrior and patriot, Chris Kyle writes frankly about the missions, personal challenges, and hard choices that are part of daily life of an elite SEAL Sniper. It's a classic!" — RICHARD MARCINKO (USN, Ret.), First Commanding Officer of SEAL Team Six and #1 bestselling author of Rogue Warrior
Harper, 9780062376572, 480pp.
Publication Date: November 25, 2014
About the Author
SEAL Team 3 Chief Chris Kyle (1974–2013) was awarded two Silver Stars, five Bronze Stars with Valor, and numerous other citations. Following four combat tours in Iraq, he became chief instructor for training Naval Special Warfare sniper teams. He is the author of American Gun: A History of the U.S. in Ten Firearms. A native Texan, Kyle is survived by his wife, Taya, and their two children.
Scott McEwen is a trial lawyer in San Diego.
Jim DeFelice is the co-author, with former U.S. Navy SEAL Chris Kyle, of the multi-million-copy bestseller American Sniper, the source for Clint Eastwood's film starring Bradley Cooper. His other books include Omar Bradley: General at War; Rangers at Dieppe; and West Like Lightning: The Brief, Legendary Ride of the Pony Express. He lives in upstate New York.
or
Not Currently Available for Direct Purchase