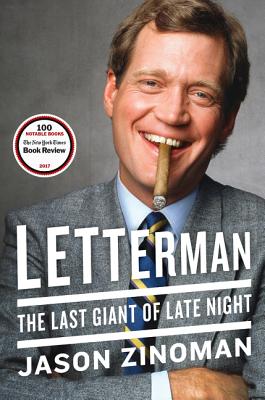 Letterman
The Last Giant of Late Night
Hardcover

* Individual store prices may vary.
Other Editions of This Title:
Digital Audiobook (4/10/2017)
Paperback (3/27/2018)
MP3 CD (4/11/2017)
Compact Disc (4/11/2017)
Compact Disc (4/11/2017)
Description
A New York Times Notable Book of 2017
New York Times Bestseller
New York Times comedy critic Jason Zinoman delivers the definitive story of the life and artistic legacy of David Letterman, the greatest television talk show host of all time and the signature comedic voice of a generation.
In a career spanning more than thirty years, David Letterman redefined the modern talk show with an ironic comic style that transcended traditional television. While he remains one of the most famous stars in America, he is a remote, even reclusive, figure whose career is widely misunderstood. In Letterman, Jason Zinoman, the first comedy critic in the history of the New York Times, mixes groundbreaking reporting with unprecedented access and probing critical analysis to explain the unique entertainer's titanic legacy. Moving from his early days in Indiana to his retirement, Zinoman goes behind the scenes of Letterman's television career to illuminate the origins of his revolutionary comedy, its overlooked influences, and how his work intersects with and reveals his famously eccentric personality.
Zinoman argues that Letterman had three great artistic periods, each distinct and part of his evolution. As he examines key broadcasting moments—"Stupid Pet Tricks" and other captivating segments that defined Late Night with David Letterman—he illuminates Letterman's relationship to his writers, and in particular, the show's co-creator, Merrill Markoe, with whom Letterman shared a long professional and personal connection.
To understand popular culture today, it's necessary to understand David Letterman. With this revealing biography, Zinoman offers a perceptive analysis of the man and the artist whose ironic voice and caustic meta-humor was critical to an entire generation of comedians and viewers—and whose singular style ushered in new tropes that have become clichés in comedy today.
Praise For Letterman: The Last Giant of Late Night…
"I devoured this book. Not only a rare and richly detailed account of the life of one of my comedy heroes, but I loved that you can feel Zinoman's curiosity about, and admiration for, Dave's singular sensibility on every page."
— Billy Eichner

"[Zinoman] writes…with great knowledge, high standards, and deep empathy. This is not only a revealing portrait of one of comedy's most challenging and enigmatic figures but an acute and insightful look at how...the mind of one restless, uncomfortable, elusive man can transform both comedy and late-night television."
— Mark Harris, author of Pictures at a Revolution and Five Came Back

"[Zinoman]...turns his rare combination of show-leather reporting, lively storytelling, and interpretive brilliance to an epochal moment in American entertainment, and, of course, to the giant, gloriously complicated, quintessentially American celebrity at its center: a man we know both intimately and not at all–at least until now."
— Brett Martin, author of Difficult Men

"Of all the performers who have put their imprints on late-night television, David Letterman may have done the most cleverly disruptive job. If you want to fully understand the Letterman DNA–and Dave's own quixotic legacy–[Zinoman] has delivered a smart and funny analysis that is your best opportunity yet."
— James Andrew Miller, author of Powerhouse

"This incisive, illuminating book shows the personal toll that success took on all responsible, the price paid for laughs."
— Kirkus

"… [A] book that does impressive triple duty as an acute portrait of stardom, an insightful chronicle of three rambunctious decades of pop-culture evolution, and a very brainy fan's notes… [Zinnoman is] especially sharp and engaging when he's breaking down Letterman's trademark predilections ."
— New York Times Book Review

"… [P]robably the finest profile ever written of a TV comic, which is praise not meant to be faint… You'll be entertained, enlightened… and even alarmed… If you even just liked Dave, and especially if you loved him, you'll get plenty of bang for your book bucks."
— Daily Beast

"Well researched, incorporating a nice mixture of interviews–with Jay Leno, Merrill Markoe, Chris Elliott, and Martin Short, among many others–and previously published material, the book is the Letterman biography fans have been waiting for."
— Booklist
Harper, 9780062377210, 368pp.
Publication Date: April 11, 2017
About the Author
Jason Zinoman writes the On Comedy column for the New York Times. He has also contributed to Vanity Fair, the Guardian, and Slate, and is the author of Shock Value and Searching for Dave Chappelle. He lives in Brooklyn, New York.
or
Not Currently Available for Direct Purchase